Sunshine returned to the ArkLaTex Friday and will stick around through Monday with a big warming trend. Our next disturbance will bring thunderstorms and some heavy rain once again by the middle of next week. Next week ends will cooler temperatures.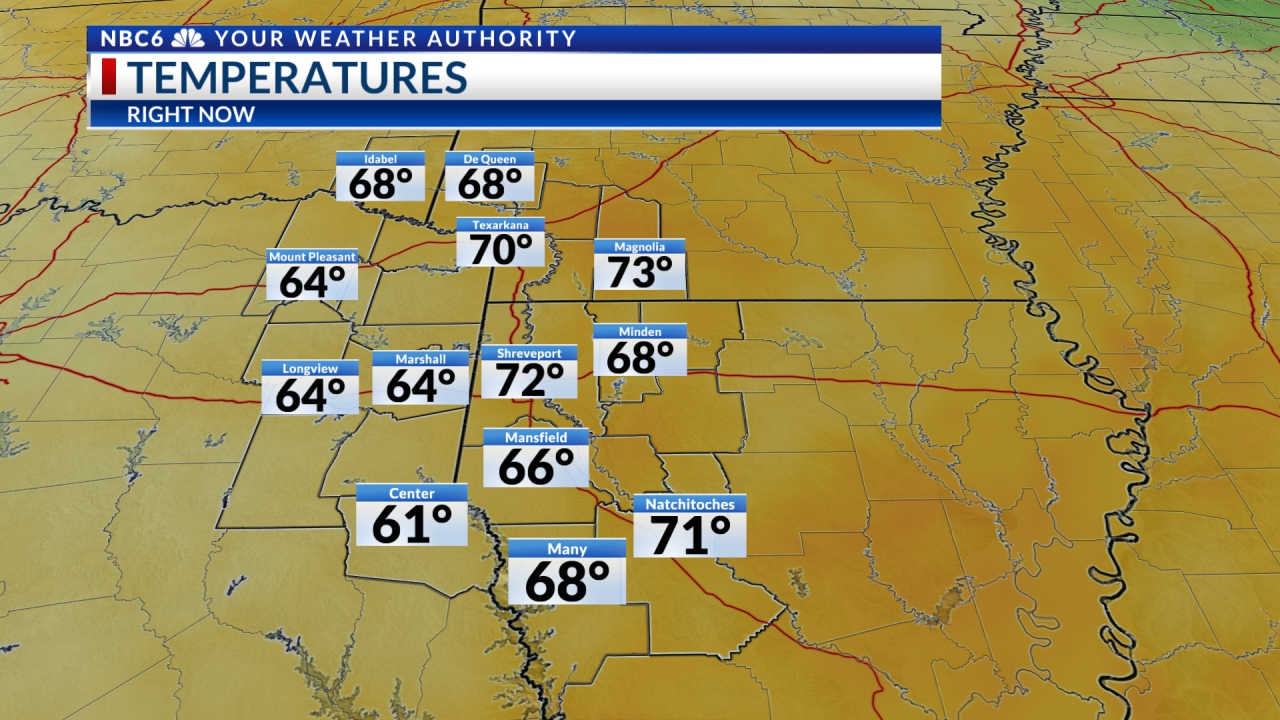 A cold start to the weekend: Thanks to the return of lots of sunshine, temperatures Friday were much warmer as we returned to the 50s. The weekend will begin with some cold temperatures Saturday morning. Lows will likely dip into the 20s over most of the area. Despite the cold start, the warming trend will continue Saturday as we will see highs warm into the upper 50s to lower 60s. The warm-up will continue. We will flirt with 70 as soon as Sunday and likely reach 70 degrees on both Monday and Tuesday.
Some weekend sunshine: Futurecast shows that we will see a mostly clear sky Friday night. The lack of clouds and wind will contribute to the cold temperatures. Expect a few high clouds to mix in with the sunshine Saturday. We will likely continue to see plenty of sunshine Sunday and Monday with a few more clouds in the mix Monday.
Here we go again…more heavy rain: A look at the long-range pattern shows our next shot at some rain will return by the middle of next week. Clouds will increase Monday night and a chance of rain will begin Tuesday and continue through Thursday. With warmer and more moist air in place, we will probably see a few thunderstorms. As of right now, it appears that any severe weather threat will be rather low. Rain chances will begin Tuesday, likely reach their peak Tuesday night into Wednesday, and then end probably Thursday. Next weekend should be quiet with the return of some sunshine.
Rainfall potential next week: Yesterday, a blend of the longer-range models started to show higher rainfall potential for next week.  That trend has continued today.  It now appears that most of the area will receive at least two inches of rain with some locations getting more than 3".  It still appears that the lightest totals will be over the southern edge of the area where amounts will be between 1.5 and 2".
Rising lakes and rivers:  With much of the area receiving over 6" of rain in the past week, lakes and rivers are on the rise. Flood Warnings are in effect for Lake Bistineau, Cross Lake, and Wallace Lake.  Lake Bistineau is probably already close to its crest.  Cross Lake is forecast to crest late this weekend at 173.5'. This is down from the 175' forecast yesterday. Wallace Lake will also crest late Sunday at 155'.  Although you have probably the rise on the Red River, it will likely remain well below flood stage.  There are some issues along the Sabine River.
Get daily forecasts and exclusive severe weather details on storms as they approach your area by downloading the Your Weather Authority app now available in the App Store and Google Play