We will see two more days of potential triple-digit heat before a change in the weather pattern finally settles in. Expect several chances of rain in the coming week as models continue to indicate that some drought relief could be coming.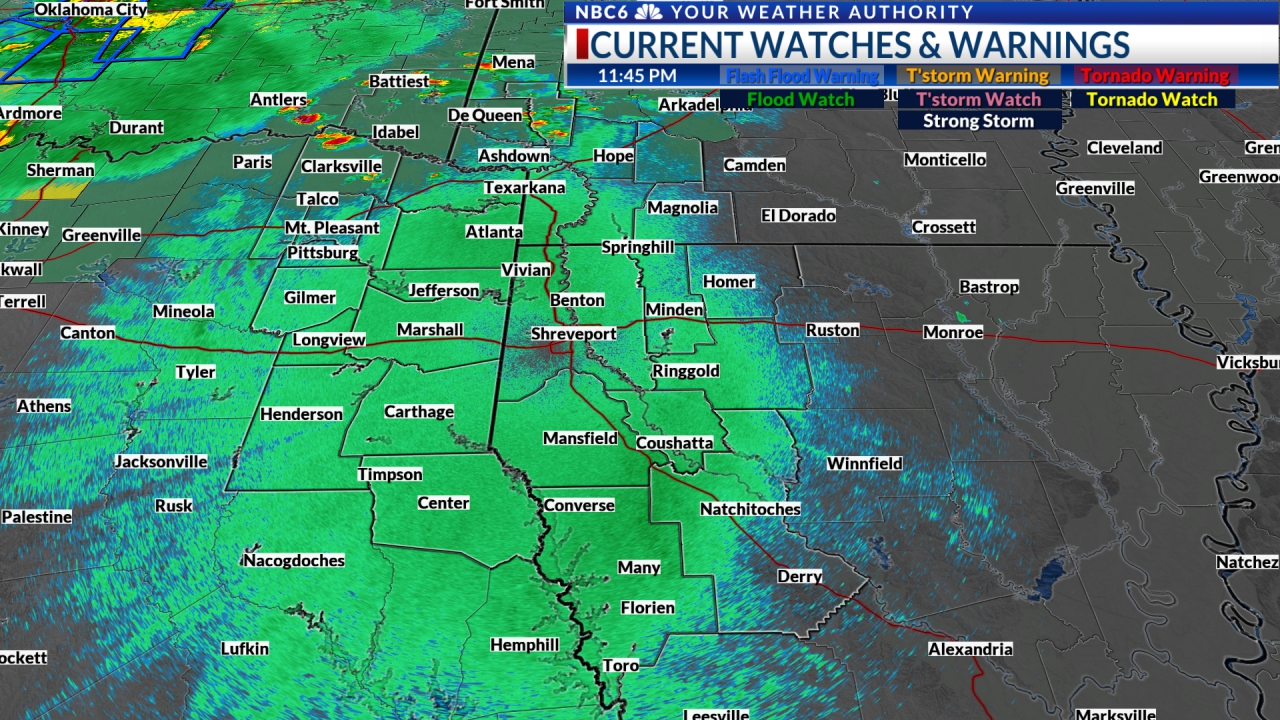 Spotty t'shower a sign of things to come? A weak frontal boundary will bring a chance of some isolated thundershowers. Today, the main focus of the rain has been over the northern half of the area. That focus will shift to the south on Thursday. Futurecast shows that any rain that develops across the northern half of the area today will quickly end as it moves south Wednesday evening. We will see a partly cloudy sky tonight. Look for a mix of sunshine and clouds Thursday with a few spotty thundershowers mainly over East Texas and Northwest Louisiana. That rain will quickly end Thursday evening and we will see a partly cloudy sky Thursday night. Most of Friday will feature a partly cloudy sky. During the afternoon, scattered showers and thunderstorms will begin to develop. This rain will likely increase in coverage Friday evening and Friday night. It will end from north to south on Saturday morning. We will then take a break from rain for a few days.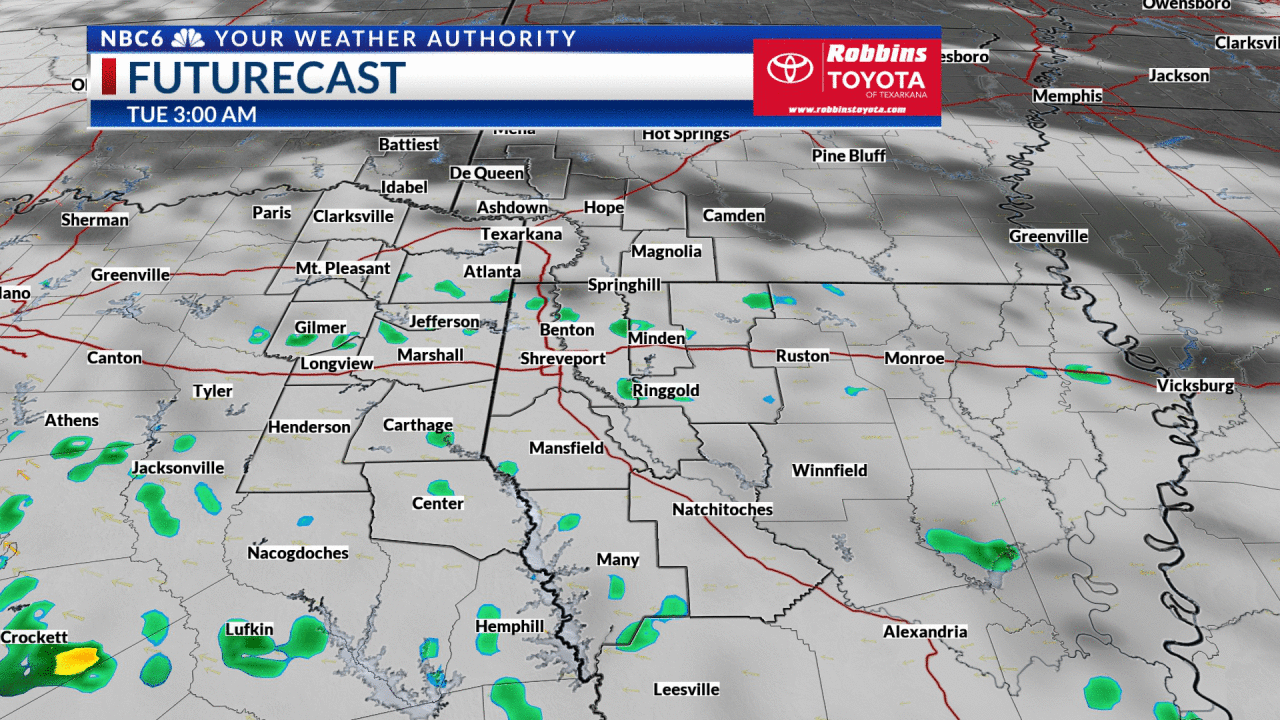 Two more days! Temperatures will stay very hot over most of the area from now through Friday. Lows Wednesday night will likely be in the mid to upper 70s. We will see daytime highs Thursday in the upper 90s to near 100 degrees. Expect similar temperatures Thursday night. Friday will be a little cooler over the northern half of the area but will likely stay close to 100 over East Texas and Northwest Louisiana. This will probably be our last two days this year with triple-digit heat!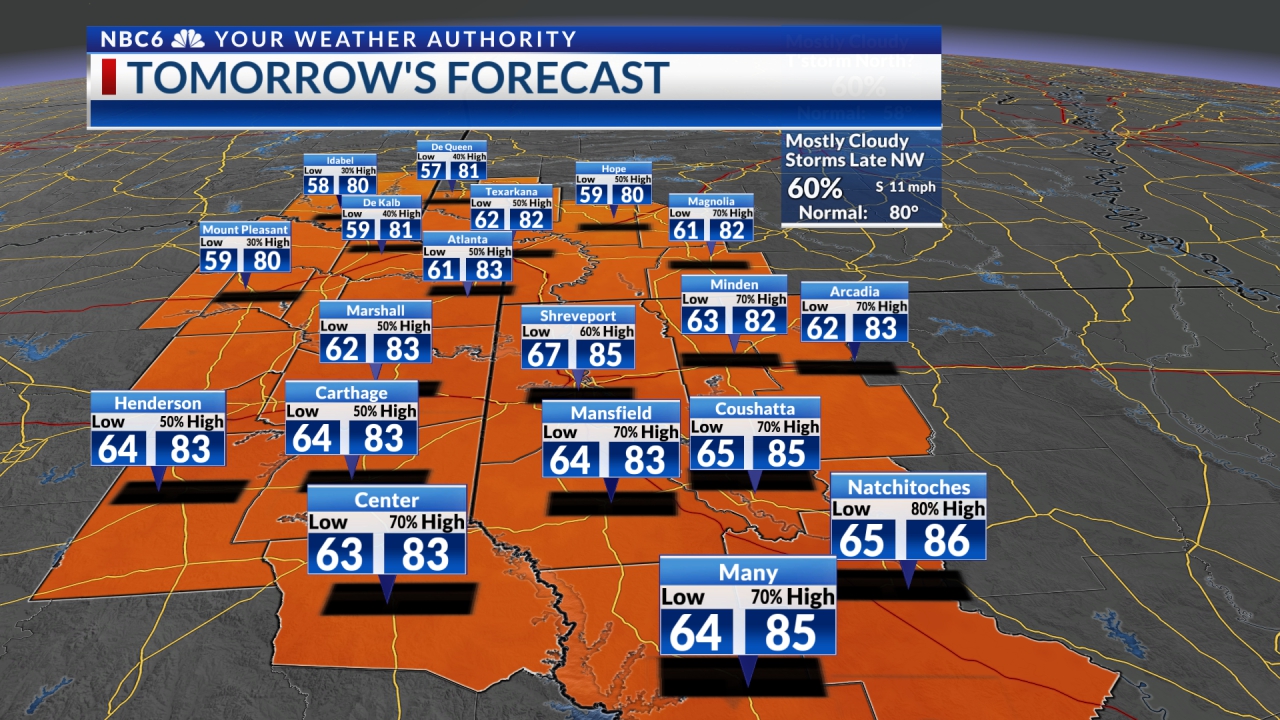 Cooler and potentially wet next week: The upper-level ridge that has produced the hot and dry conditions that we have experienced since the middle of July will finally break down in the coming week. This will allow for cooler temperatures and more rain! The heaviest rain during the next 10 days will likely come during the middle of next week. We now have a good model agreement that most of the area will receive at least 1" of rain. The 10-day rainfall potential outlook from a blend of models shows that much of the area could see at least two inches with three inches possible over the northwest corner of the area. This likely won't be enough to end the drought, but it will definitely help.
More rain = cooler temperatures: We will likely see below-normal temperatures next week as daytime highs will likely settle into the mid to upper 80s over most of the area. Overnight lows will also cool into the mid to upper 60s. The threat of rain will likely end by the end of next week. Consequently, temperatures will begin to heat up as highs return to the low 90s and lows eventually return to the upper 60s to lower 70s.
As I wrote in my article last week, on average the first morning with lows in the 50s in Shreveport is September 17th. It appears that will happen a little late this year. The good news is that we are finally seeing some hints that it could be just around the corner.
Get daily forecasts and exclusive severe weather details on storms as they approach your area by downloading the Your Weather Authority app now available in the App Store and Google Play