Sunshine returned Thursday and will stick around for one more day. Enjoy it while you can as more heavy rain will return in the week ahead. Most of the ArkLaTex received 1.5 to 2.5" of rain last week. It still appears that parts of the area could see more than 3" next week.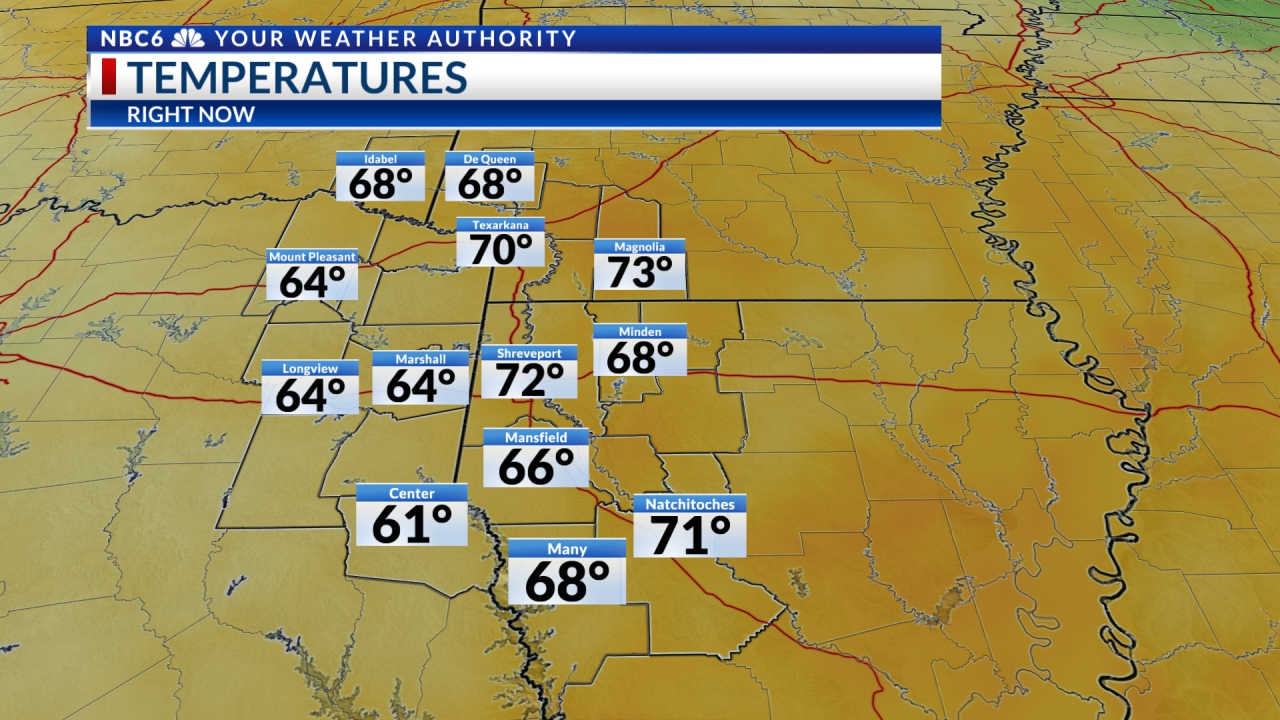 The good news? The warming trend continues: Temperatures across the ArkLaTex were rather chilly Thursday with highs staying in the 40s and low 50s. It was warmer than yesterday, but not by much. That warming trend will accelerate in the coming days. Lows Friday morning will once again be near freezing. Thanks to sunshine and a breezy southwesterly wind, daytime highs should return to the upper 50s to low 60s. It will get even warmer this weekend as highs warm to the mid to upper 60s by Sunday.
The bad news? Heavy rain to return: Futurecast shows that we will have one more day of sunshine Friday before a rather extended period of clouds and potentially heavy rain returns. Clouds will begin to invade the area Friday night. It is possible that we could see a few scattered areas of light rain Saturday morning. The rain will stay scattered Saturday and should be focused mainly over the northwestern half of the area. The rain will then increase in coverage and intensity Saturday night as it shifts to the southeast. We will likely see some lingering scattered showers around the area Sunday, Sunday night, and Monday.
A repeat of this week's disturbance?: The strongest disturbance that we will experience will arrive during the middle of next week.  We will likely see several periods of heavy rain Tuesday, Tuesday night, Wednesday, and possibly Wednesday night. The upper-level disturbance next week will take a course very similar to the one we experienced last week. That means that we will have the potential of seeing several inches of rain.  It also means that we will have to watch next Wednesday night and Thursday.  As the upper-level colder air associated with this system passes by, it might be close enough to have some light snow.  As of right now, snow is looking doubtful for our area, but it can not be totally ruled out.
Rainfall potential: A blend of models shows that rainfall totals from now through the end of next week will likely be above normal for most of the area.  Amounts will be heaviest over the southeast half of the region where 2.5 to over 3"  will be possible.  Expect amounts of 1 to 2" over the rest of the area. It still appears that severe weather will be highly unlikely.
Get daily forecasts and exclusive severe weather details on storms as they approach your area by downloading the Your Weather Authority app now available in the App Store and Google Play