We will begin a warming trend Thursday that will lead to a chance of strong to severe thunderstorms Friday. Next week will begin with some of the warmest air of the year so far and will end with several potentially rainy days.
Warmer air returns: Temperatures Wednesday were once again slightly below normal with highs mainly in the 60s and lower 70s. It will warm up Thursday as temperatures Thursday morning will once again begin in the 40s and lower 50s. Daytime highs Thursday will soar into the mid to upper 70s. We will likely see the above-normal temperatures stick around through all of next week with some of the warmest air of the year so far possible early next week. It is possible that some areas could hit 90 degrees on both Monday and Tuesday.
Futurecast shows that we will see a mostly cloudy sky Wednesday night. Thursday will also be mostly cloudy. Most of the area will be dry but a few scattered showers will be possible mainly over the west and northwestern edges of the area. That rain will exit the area Thursday evening. Thunderstorms will then develop to the northwest of the ArkLaTex Thursday night. These storms will weaken some as they enter the northwest edge of the area early Friday morning and then regain strength as they move through the area during the day Friday. The storms will move out Friday evening and the clouds will quickly decrease.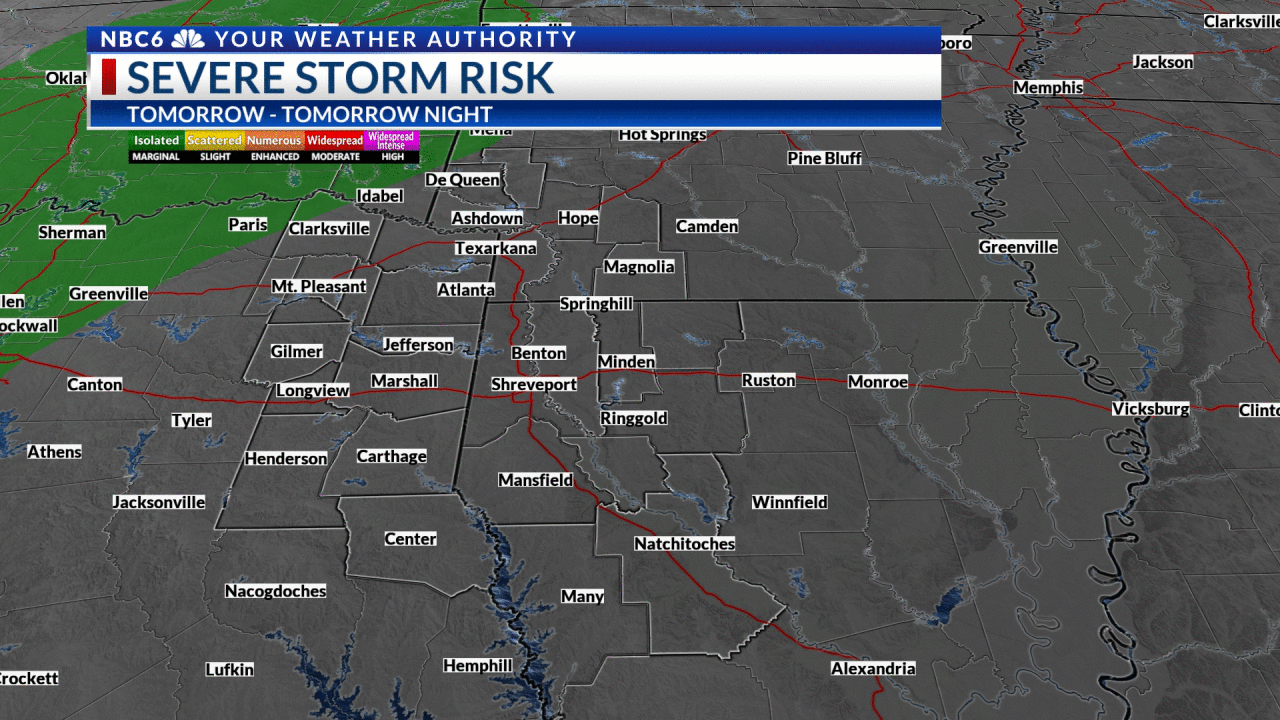 SPC Outlook: The Storm Prediction Center indicates that we will likely see a bit of range in the chances of severe weather. The risk will be highest over the northern part of the area where we have an enhanced risk. These areas could have numerous reports of severe weather. Severe weather reports will become more scattered and even isolated as you look south in the slight and marginal risk areas. All severe weather threats will be possible with damaging wind probably our biggest concern. A few tornadoes will also be possible and hi-res models suggest that risk will exist over all of our area.
Rain potential: Futurecast shows that rainfall totals from Friday's storms could exceed an inch over part of the area. Most of the area will see totals of around ½".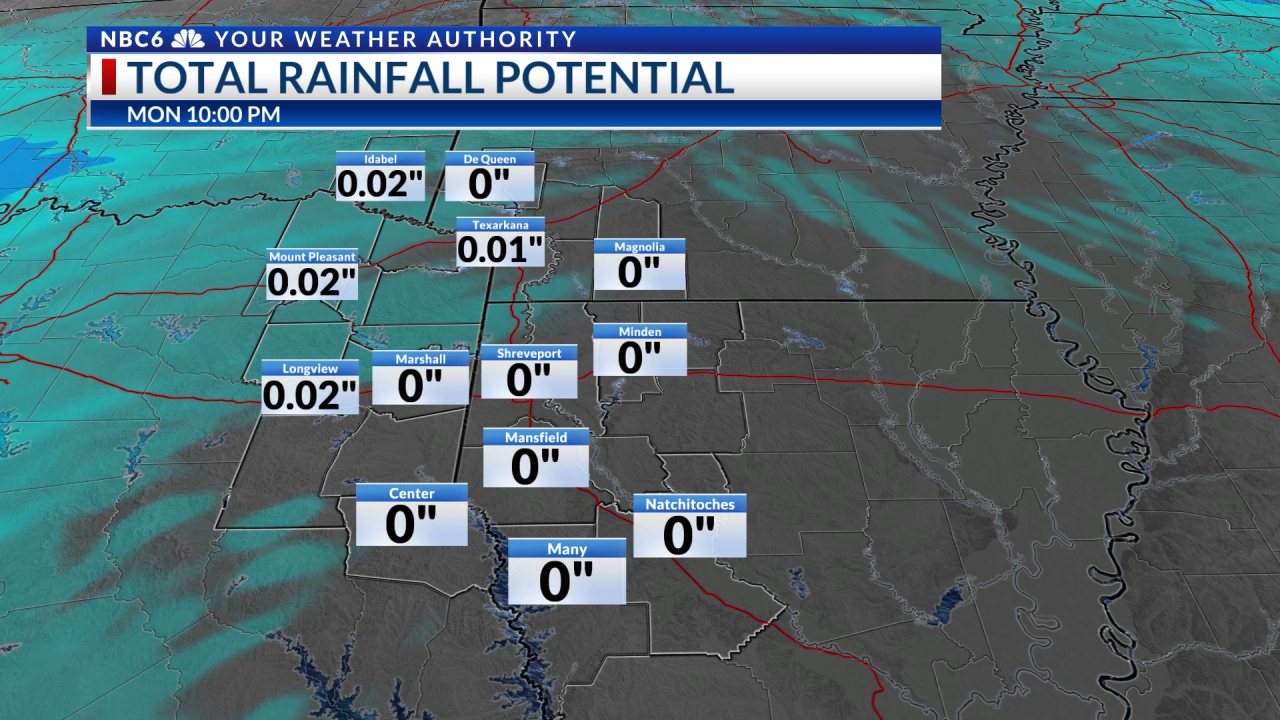 Very warm & wet next week: Some of the warmest air of the year so far could invade the ArkLaTex Monday and Tuesday when daytime highs will likely soar into the upper 80s. It's possible that we could see a few locations hit 90 degrees. Temperatures will likely ease by the end of next week, but highs will likely stay above normal in the 70s and 80s. We will also see plenty of rain next week with severe weather once again possible late Tuesday and Tuesday night. If you add Friday's rain to that expected next week, ten-day totals could exceed 2".
Get daily forecasts and exclusive severe weather details on storms as they approach your area by downloading the Your Weather Authority app now available in the App Store and Google Play