SHREVEPORT, La. (KTAL/KMSS) – The outlook for the next 7 days doesn't show much rain making its way into ArkLaTex, but if we do receive any showers and storms during this time period it will likely occur this afternoon.
Warm with a few more clouds around: Temperatures will have a familiar feel today as we'll be in the 60s this morning, with afternoon highs in the mid-80s with a light north breeze.
There will be early-day rain showers mainly near I-30, but as the day progresses an area of low pressure in central Texas will trigger rain and isolated storms across much of central and east Texas. The likelihood of rain is much higher west of the ArkLaTex towards Dallas/Ft. Worth, but a few of these showers and isolated storms may drift into our Texas and Oklahoma counties between noon and sunset. At this point, it looks doubtful the afternoon rain will move as far east as Shreveport or Texarkana, but we can't rule out a stray shower in Louisiana or Arkansas. Severe weather is not expected, but a few cloud-to-ground lightning strikes and brief heavy rain will occur near any thunderstorms.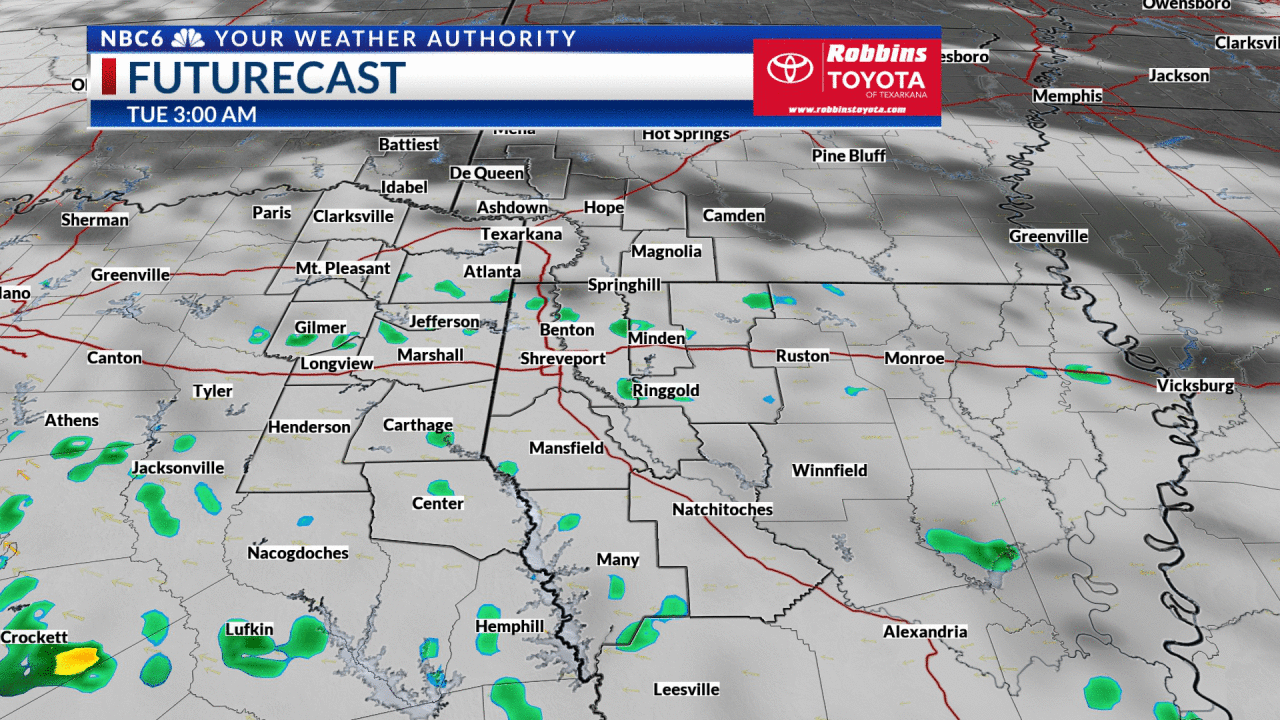 Quiet and warm weather Thursday through Memorial Day: High pressure will develop west of the ArkLaTex for the remainder of the week. This will cause the jetstream to move north towards Canada, steering the active and rainy weather pattern into the northern United States. These are the first signs of summer taking over as we will be dry during this stretch with highs regularly reaching the upper 80s and low 90s.
Fortunately, the humidity will remain low, so you should be able to maintain some level of comfort. A dry front passing through Friday will reinforce the north wind and low humidity through Sunday before the muggy conditions return around Memorial Day.
Once the humidity builds we will likely see the pattern of isolated to scattered showers and storms return by the middle of next week.
---