3:30 p.m. Monday update: The Tornado Watch that was issued for much of the ArkLaTex earlier this afternoon has been canceled for all of our area except for Sabine and Natchitoches Parishes. We still have some storms that are below severe limits over the southern edges of these parishes that will some move out. It appear that today's Tornado risk is wrapping up for our area. There is still a chance that we could see a few more showers and thunderstorms near an approaching cold front, but it is unlikely that we will have any issues from this activity. See more frequent radar updates here.
SHREVEPORT, La. (KTAL/KMSS) – Our Thanksgiving week will begin with a bang as strong to severe thunderstorms are possible from late this morning through the afternoon. All severe weather hazards are on the table.
The risk for severe storms will be highest along and south of I-20 in east Texas and northwest Louisiana. The Storm Prediction Center is forecasting a level 3 'Enhanced Risk' for severe storms for these areas where wind and hail will be the primary threats, but the potential for tornadoes will be highest in these areas of the ArkLaTex by the afternoon. A strong tornado (EF-2+) is possible.
The northern ArkLaTex is in a level 1 and 2 'marginal' and 'slight' risk outlook Storms could become severe in these areas by late this morning as a cold front approaches from the northwest. Storms in these areas will primarily be capable of large hail and damaging wind gusts, but a brief tornado can't be ruled out.
The severe weather threat will end by this evening with cool and breezy conditions arriving behind the cold front tonight. To recap, the severe weather window will be wide open from 10 a.m. until 5 p.m., closing around sunset.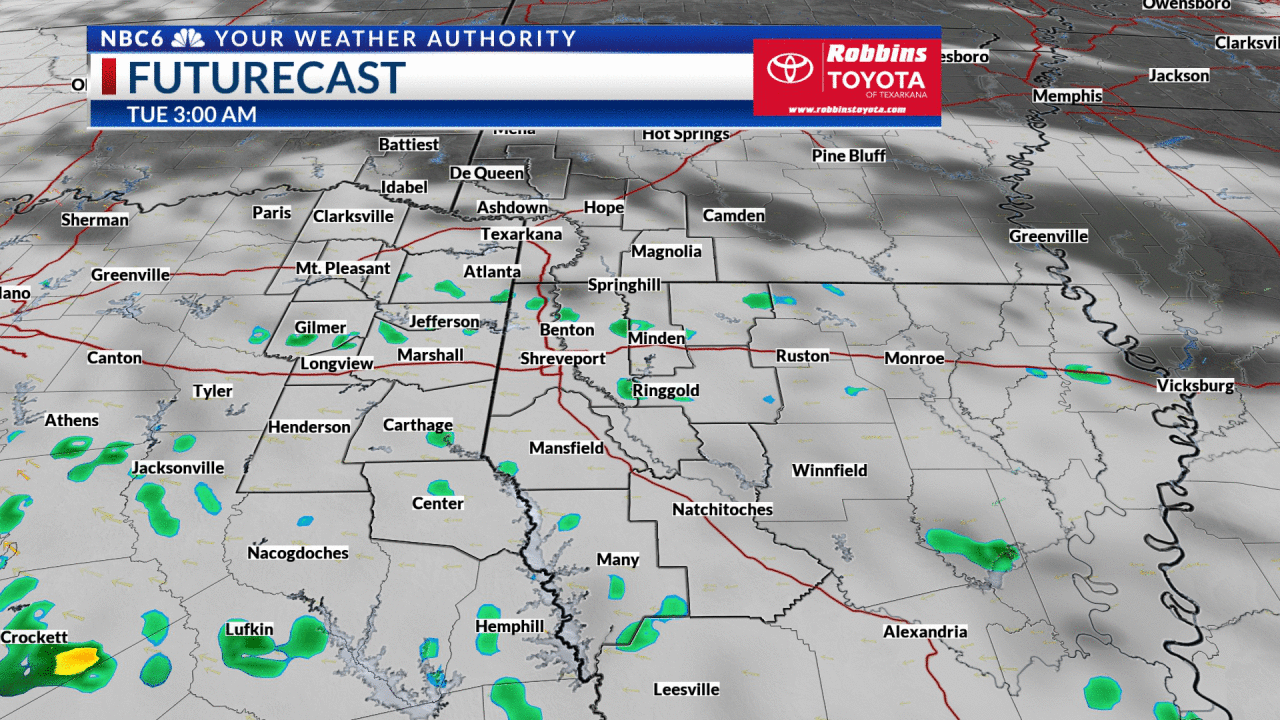 Be sure to review your severe weather safety plan today, and know where to go if a tornado warning is issued for your location. Have multiple ways to receive warnings also, such as your phone, tv, or weather radio. You can keep up with the weather and any watches and warnings via our weather authority app:
In addition to the severe weather threats, the storms today will be dropping intense rainfall, and it's possible areas under the strongest storms could receive over 2 inches of rain. While widespread flooding is not expected, localized flooding of roads and creeks will be possible where the heaviest rain falls.
Our temperatures will be in the 50s and 60s this morning, but warming into the upper 60s and 70s this afternoon. A breezy and cold north wind will develop behind the cold front tonight as the cold air pours into the region. Lows will settle into the 40s and 50s.
Don't expect much of a warmup on Tuesday as highs will be in the low to mid-50s, with a gusty north wind up to 20 or 25 miles per hour keeping wind-chill temperatures in the 40s. The wind should relax somewhat on Wednesday with highs remaining in the 50s
Thanksgiving will be mostly cloudy and cool with highs in the 50s. Rain showers are likely south of the ArkLaTex, but we may tap into some of this rain which is why we've included a 20 percent chance of showers Thanksgiving day.
The weather will be cool and dry on Black Friday thorugh the weekend. It will be a cool but storm-free weekend to put up your Christmas decorations outside.