SHREVEPORT, La. (KTAL/KMSS) – It will be a hot and humid Friday with a slight chance of rain in the northern ArkLaTex. No severe weather is expected today, but severe storms capable of damaging wind gusts and large hail are looking increasingly likely Saturday.
Hot and humid with a low chance for rain today: Temperatures will be near 70 degrees at sunrise with mostly sunny to partly cloudy skies throughout the day. Highs will wind up in the low to mid-90s again, with higher humidity bringing a heat index in the upper 90s this afternoon. Wind will be light and out of the northwest at 5 to 10 miles per hour.
A 'cool front' is moving into the northern ArkLaTex this morning, and this will be the trigger for isolated showers and a storm or two to develop along the I-30 corridor between noon and sunset. Severe weather is not expected, and the remainder of the ArkLaTex will be dry through tonight.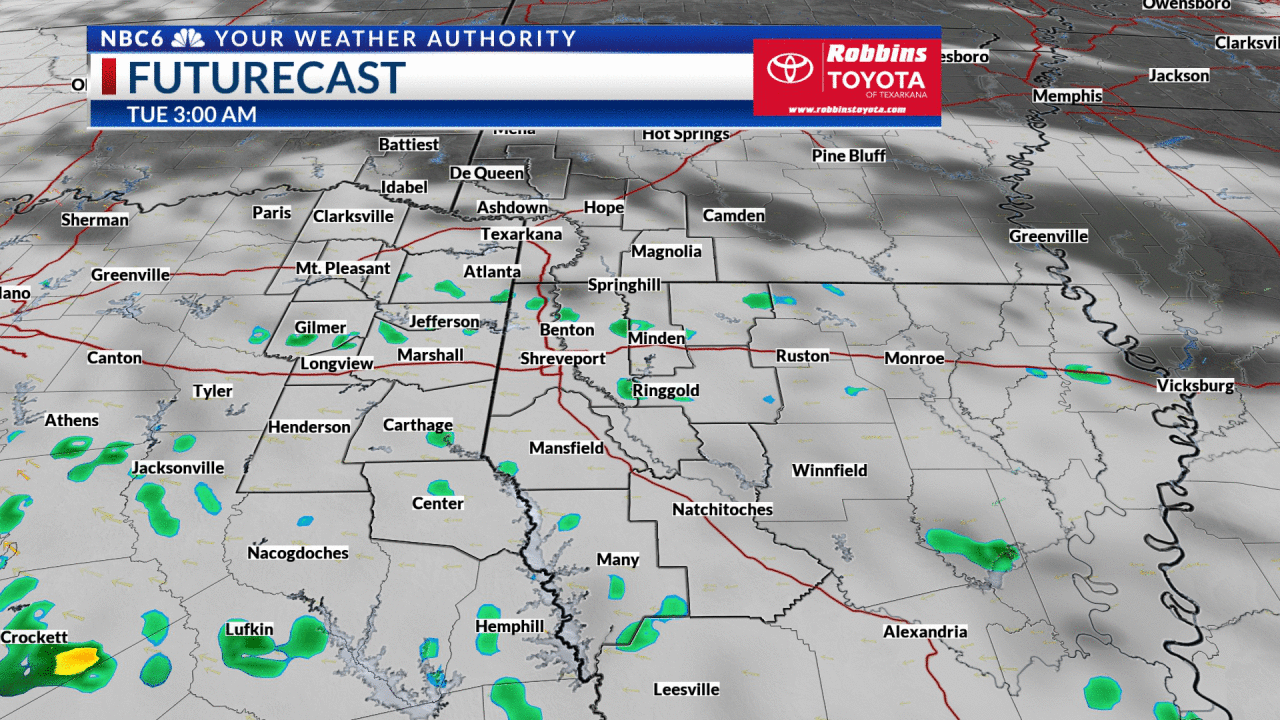 Severe thunderstorms expected Saturday: A complex of storms will be moving through north Texas and Oklahoma at sunrise tomorrow. The storms may move into the northern ArkLaTex between 7-10 a.m., shifting east into the remainder of the region during the late morning and afternoon.
The ingredients for severe storms will be high during the day, with a level 3 'Enhanced Risk' outlook issued by the Storm Prediction Center. Damaging wind gusts will be the primary threat, with a secondary threat for large hail, quarter to golf ball sized.
If the morning storms move through quickly, it will allow enough time for the atmosphere to warm up and recharge. There may be some additional thunderstorm development during the afternoon and evening that could also bring storms with large hail and high wind. We should be able to close the door on any severe weather a few hours after sunset.
In addition to the wind/hail threats, localized flash flooding will be possible. The strongest storms will be capable of 1 to 2 inches of rain with isolated amounts in the 3-inch range.
Isolated severe storms Sunday: The ingredients for severe storms may outrun the ArkLaTex Sunday, but there may be just enough juice left over for an isolated severe storm with a hail or high wind threat. The SPC has the northern ArkLaTex in a 'Marginal Risk' severe weather outlook where 1 or 2 severe storms may develop.
Heat builds next week: A few isolated showers may linger into next week but we will gradually dry out by midweek as high pressure builds. Highs are likely to reach the mid and upper 90s for much of the week.
---