Another disturbance will bring the threat of strong to severe thunderstorms Friday afternoon and evening. The weekend begins with sunshine and ends with some rain. Very heavy rain looks promising during the last half of next week.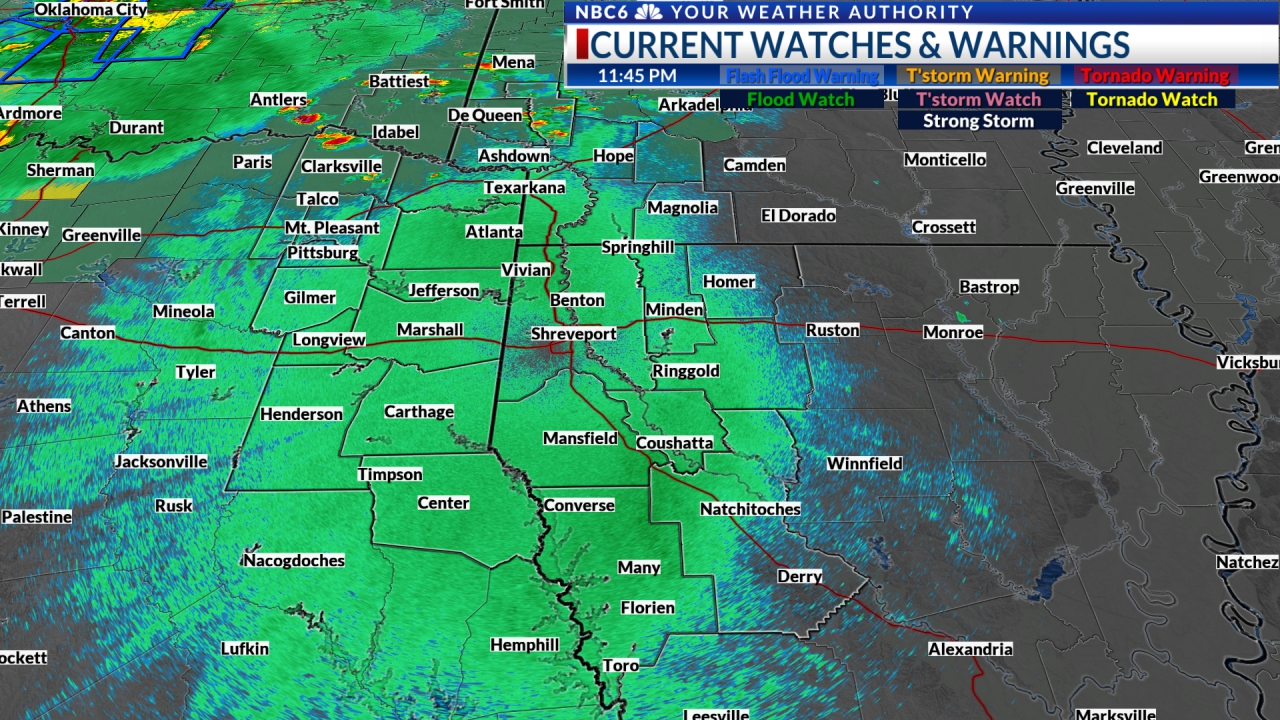 Update: The National Weather Service has issued a Tornado Watch for Bowie and Cass counties in NE TX and all of SW AR. This is a PDS Tornado Watch which means that it is possible that we could see a strong tornado or two. This watch is in effect until 8 pm.
Friday severe latest: Severe weather still looks possible for all of the ArkLaTex Friday. The latest outlook from the Storm Prediction Center still shows the highest risk over SW AR where we will have a slight to enhanced risk. The severe risk decreases to marginal over parts of Deep East Texas and the southern half of Northwest Louisiana.
Storm timing: Futurecast shows that we will see a mostly cloudy sky Thursday night with a few scattered showers and maybe a thunderstorm possible. The main severe weather threat will likely hold off until Friday afternoon and evening. A line of storms will develop late Friday morning over early Friday afternoon near the NW edge of our area. This line will move southeast through the area Friday afternoon and evening. As of this writing, it appears that the storms will arrive in Texarkana between 1 and 3 pm and in Shreveport between 5 and 7 pm. They will exit the SE edge of the area between 10 pm and midnight. Clouds will quickly decrease Friday night and we will see some sunshine Saturday in advance of more rain that will be possible Sunday.
Storm risks: All severe weather threats will be possible with the storms. The most widespread issue will likely come from damaging straight-line winds. Hail will be possible with some of the stronger storms. We will also see a chance for a few tornadoes. As of right now, it appears that the more widespread tornado issues will be to the northeast of the ArkLaTex.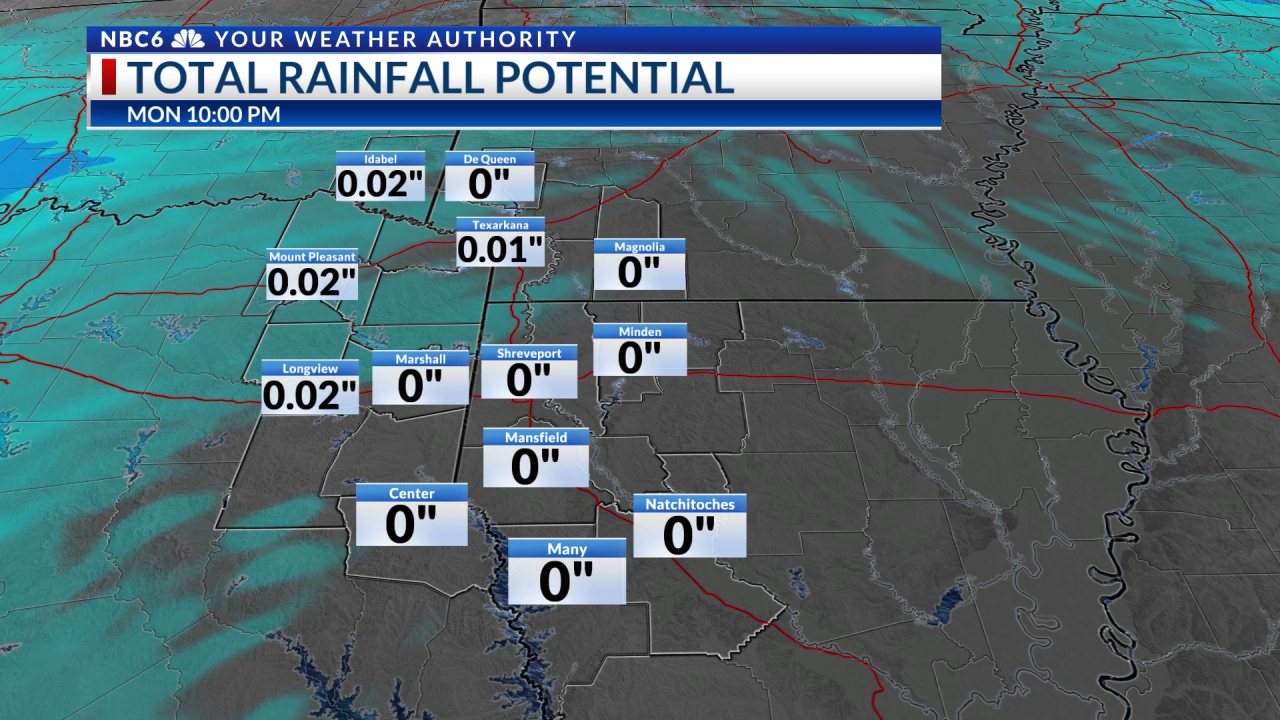 Rain potential: Futurecast shows that rainfall amounts Friday should be rather limited with amounts of 1/2 to 1″ over parts of the area. It's possible that many locations receive amounts well below 1/4″ A blend of models shows that amounts will probably be in the range of 1/4 to 1/2" for most of the area.
A month's worth of rain next week? The long-range weather picture is looking very wet in the ArkLaTex next week. We will see some rain return to the area Sunday. Monday and Tuesday are looking mainly dry. Showers and thunderstorms will become more likely starting Wednesday. It's possible that we could see periods of rain linger through next weekend. If you add the rain up from Friday, Sunday, and the end of next week, it's possible that most of the ArkLaTex could see anywhere from 5 to 7" of rain. Since they are already running a bit high, flooding could follow on area lakes and rivers. Stay tuned!
Get daily forecasts and exclusive severe weather details on storms as they approach your area by downloading the Your Weather Authority app now available in the App Store and Google Play