Severe weather threat ending: The severe weather threat has ended for most of the ArkLaTex. The strongest part of the line of storms will soon move out of the area. As of right now, it appears that the hardest-hit part of the area was the SW edge of the ArkLaTex in Rusk county. Damage reports appear to be somewhat isolated so far over the rest of the area.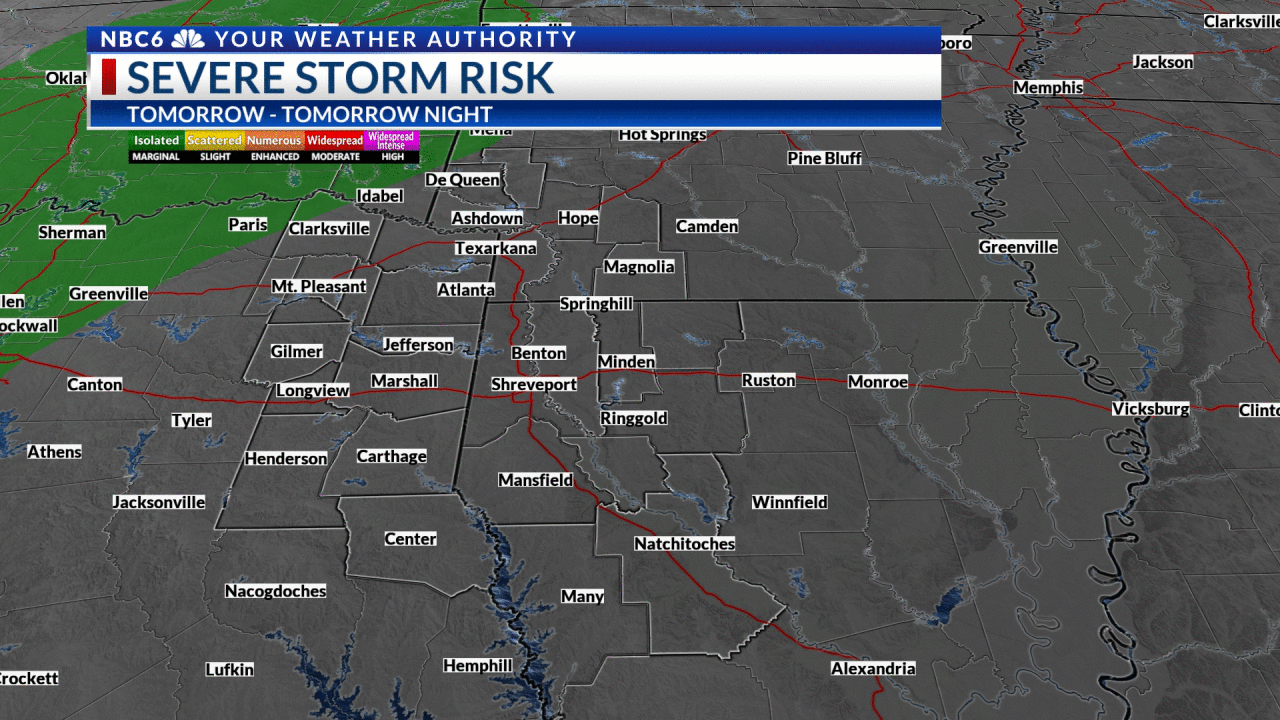 Thunderstorm timing: Futurecast shows that we will begin to see storms develop to our west Monday afternoon and evening and begin to move east. We will likely see the severe weather threat increase late Monday very late evening. It appears that we could see an organized complex of storms capable of very strong wind move across the area from about midnight to 4 am. Futurecast shows that it could produce the strongest wind between I-30 and I-20 over parts of NE TX, SW AR, and NW LA. This would be the part of the area that has the best shot at seeing the 70+ mph wind gusts. Keep in mind that this is not set in stone and that the eventual path of the strongest wind could shift north or south It would be a good idea to 'windproof' your property by securing anything that could be blown away.
Tornado threat: All hi-res models show that we will have the potential of a few tornadoes. The threat will be highest over the NW edge of the area and the risk should decrease a little as the storms move through the region overnight.
Rainfall Potential: As of right now, it looks like rainfall totals from our next round of storms could be somewhat heavier than what we received last week. Futurecast continues to show that most of the area will receive 1 to 1.5" of rain. We could see several locations receive more than 2" of rain and isolated locations receive over 4".
Pleasant weather for most of next week Once this next system moves out of the ArkLaTex early Tuesday morning, we will settle into a dry and pleasant weather pattern for the rest of this week. High temperatures will mainly be in the 60s & 70s with 80s returning by the end of this weekend. Overnight lows will mainly be in the 40s. Next week is looking warm and much soggier. Long-range models show that the threat of rain could return as soon as Monday and stick around through most of the week.
Get daily forecasts and exclusive severe weather details on storms as they approach your area by downloading the Your Weather Authority app now available in the App Store and Google Play