Update: The thunderstorms that will bring our biggest concerns for severe weather are now entering the southern edge of the ArkLaTex. So far, severe weather has been rather isolated over SE TX and SW LA. This activity will move across the SE quarter of our area during the next few hours and then the severe weather threat will end. The National Weather Service has issued a Tornado Watch for the SE quarter of the ArkLaTex. If we do see any severe weather, damaging wind will likely be our biggest threat, although an isolated tornado cannot be ruled out. Showers remain possible for the northern part of the ArkLaTex during the next few hours, but the rain should remain rather light so we have likely seen the worst of the flooding issues in these areas.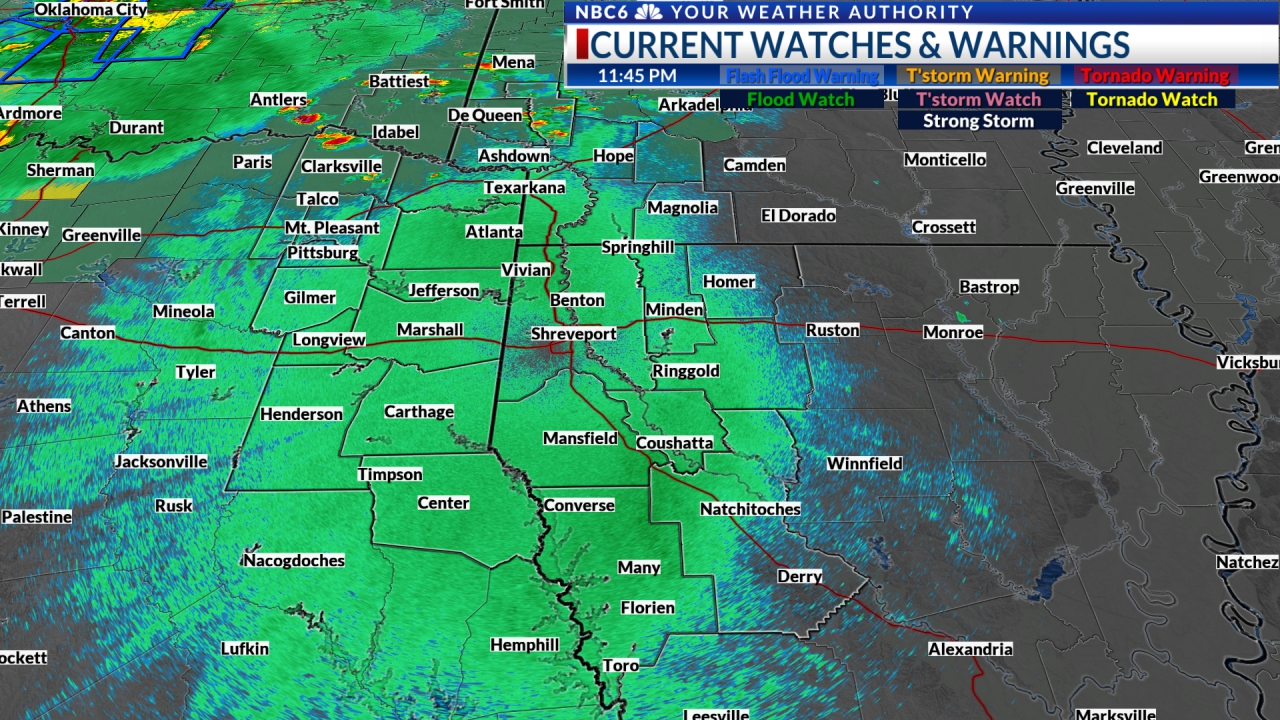 Today's setup: Warm and humid air is already in place with temperatures in the 60s this morning. An area of low pressure will move into the ArkLaTex soon, and this will add the wind shear and many of the ingredients that will aid in thunderstorm development. The severe weather threat will generally be highest in the areas that are able to warm into the mid and upper 70s, which will be across much of northwest Louisiana and southern Arkansas.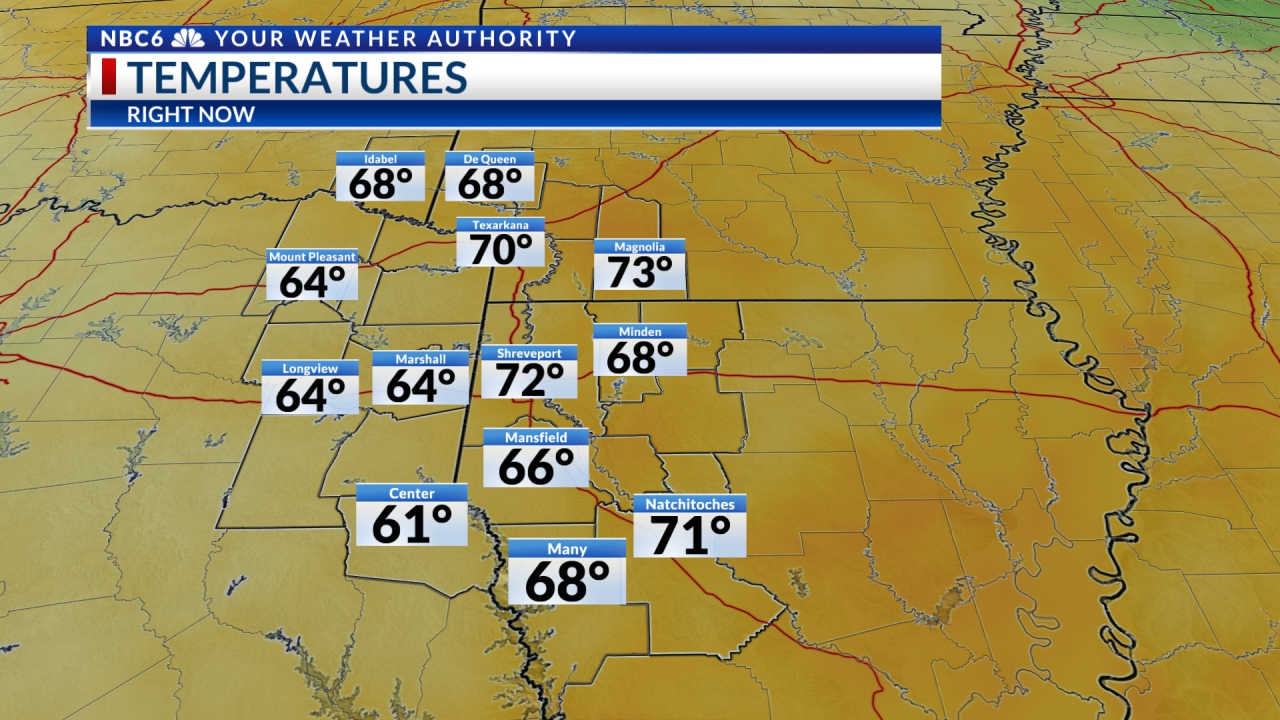 A 'Slight Risk' of severe thunderstorms is forecast for much of Louisiana and Arkansas. Damaging wind gusts in excess of 60 miles per hour will be the main threat, but a brief tornado or two can't be ruled out in the 'Slight Risk' zone. A 'Marginal Risk' extends east into Texas where storms will be ongoing for much of the morning and early afternoon. Severe weather is less likely in this area but can't be ruled out.
Storm timing: If we receive any severe weather in the Texarkana area it will be between noon and 3 p.m. The storms will move east into Shreveport/Bossier by the late afternoon. The areas of most concern will be east of Shreveport where the storms will strengthen in the hours near sunset. The severe threat should end in the ArkLaTex by 7 or 8 p.m. tonight.
Clearing and cooler tonight and tomorrow: Temperatures will fall into the 40s overnight as skies clear west to east after sunset. We have sunny skies in the forecast tomorrow, and it will be breezy and mild with highs in the 60s.
A dry cold front will pass through the ArkLaTex Thursday evening dropping our temperatures into the 50s Friday and Saturday. It will be a warmer and pleasant Sunday with highs in the 60s.
More rain is expected next week with showers and storms increasing late Monday into Tuesday. An additional 1 to 2 inches of rain is possible with this round. 7-day rainfall totals should average 2 to 4 inches, with isolated amounts as high as 5 inches through next Tuesday. Area lakes and rivers will remain near or above flood stage during this time.
View current and forecast water levels at: https://www.ktalnews.com/weather/lake-levels-and-forecasts/
---