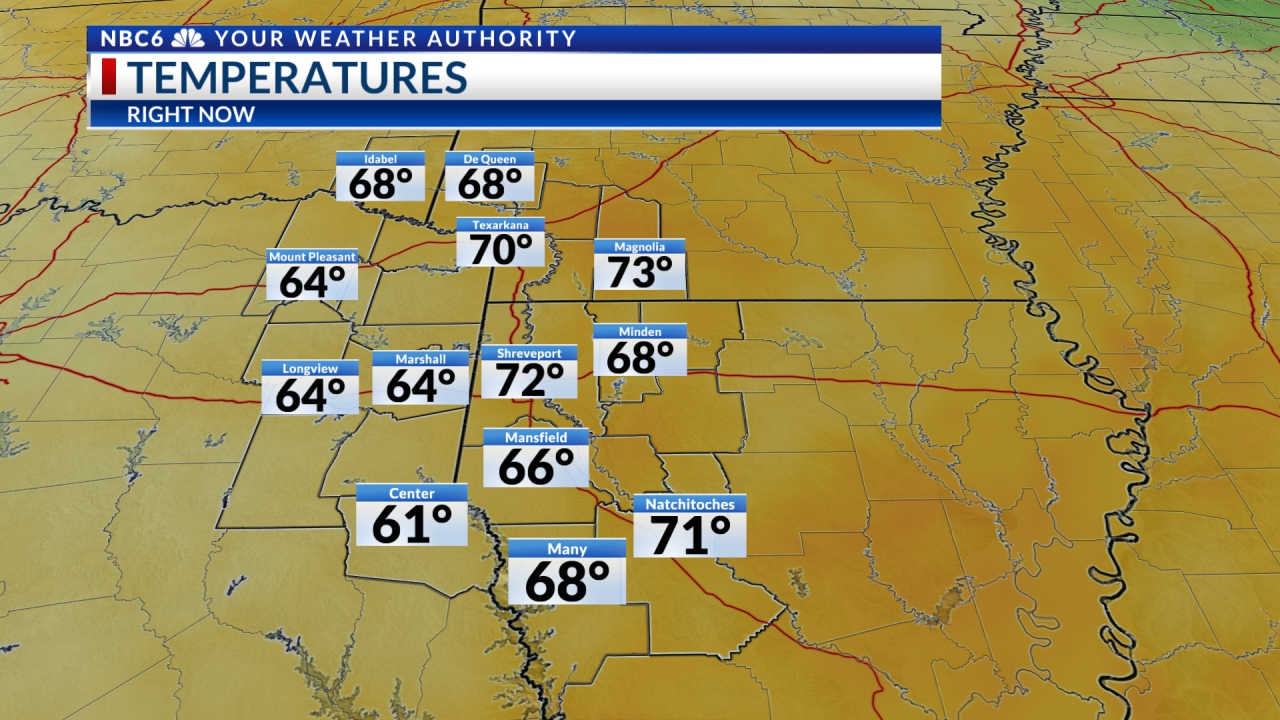 Don't expect much relief from the heat over the next several days. A cold front will move through the ArkLaTex next Wednesday night and Thursday bringing some rain. Some of the coolest air of the season looks possible next weekend!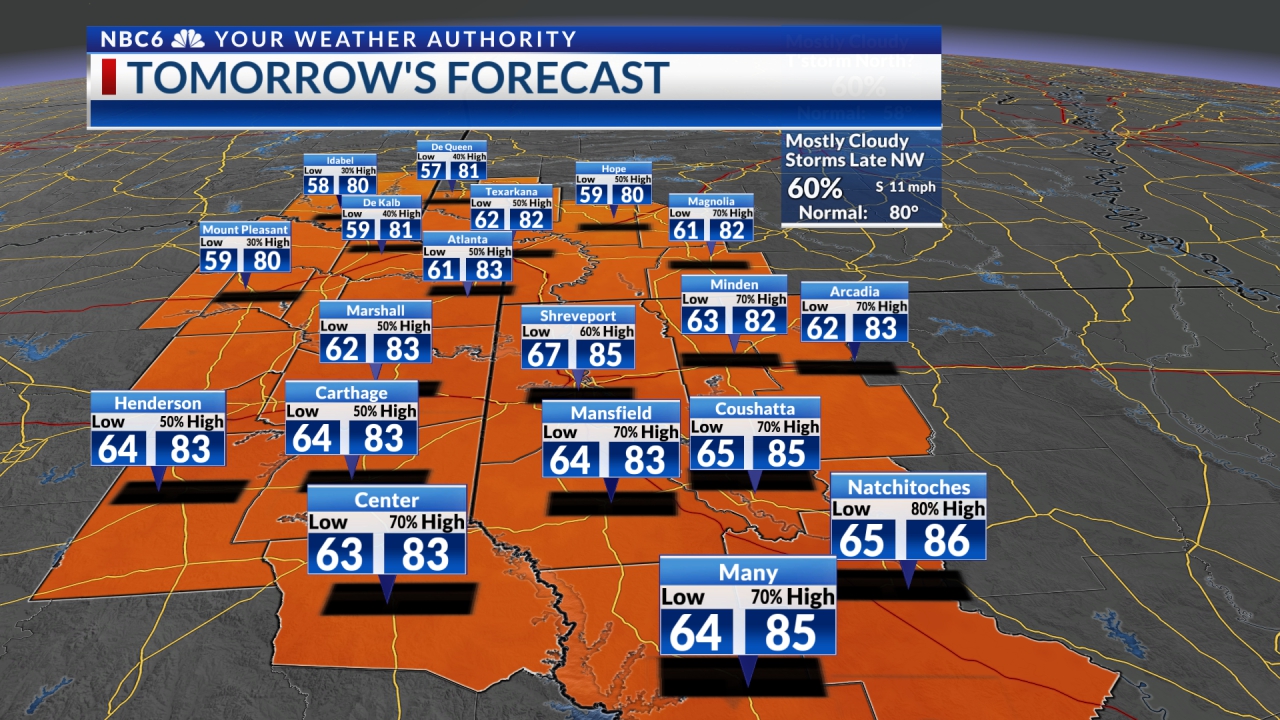 Near-record highs: Records for the next several days in Shreveport are close to 100 degrees. Yesterday's high in Shreveport made it to 97 degrees. It appears that we will not see much change in temperatures over the next few days. Lows Friday morning will likely retreat to the 60s and low 70s. Daytime highs will likely return to the middle 90s. Models are not showing that temperatures will get any hotter this weekend. However, with the upper-level ridge moving right over our area it is possible that we could see highs in the upper 90s to near 100. The good news is that the ridge will begin to weaken next week and temperatures will slowly cool down.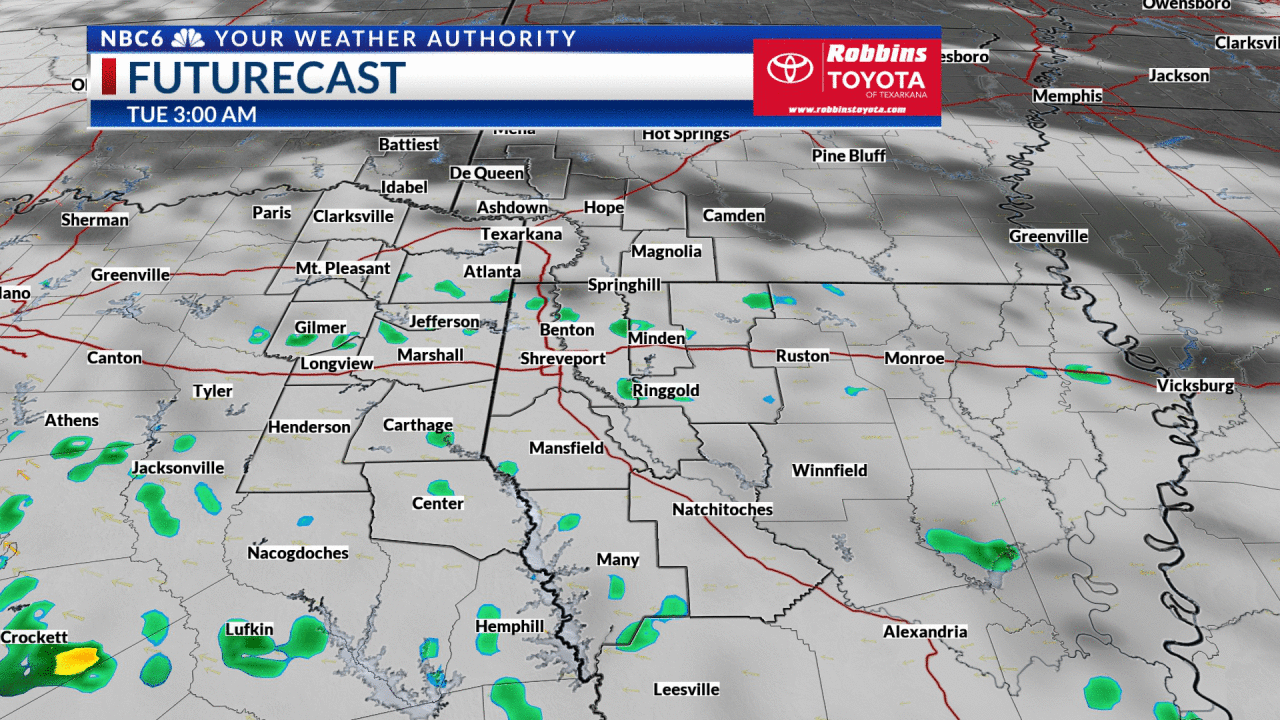 Dry weather continues: Thanks to the upper-level high pressure that will be building over us in the coming days, we will continue to see plenty of sunshine. Futurecast shows a mostly clear sky over the area Thursday night. Expect a mostly sunny sky once again Friday with a few clouds mixing in during the afternoon. We will become mostly clear once again Friday night and will continue to see plenty of sunshine again this weekend and probably Monday.
Cold front to bring rain? We are now starting to see some model agreement on a cold front that will move through the area next Wednesday night and Thursday. It now appears that rain is looking more promising as the front moves through. It is also looking promising that we will see much cooler temperatures behind this front. A look at the longer-range model blend now shows that most of the area will likely see rainfall totals of 1/2 to The upper end of the model blend rain projections continue to increase. If we were to get more rain than expected it appears that amounts could range from two to over three inches. Remember, the chances of seeing rain this heavy are less than 20%, but it is possible.
It could finally get cooler!: We are starting to see some better model agreement that cooler temperatures will invade the ArkLaTex behind the coming cold front. We will likely see daytime highs fall into the low to middle 80s. Overnight lows will likely dip into the upper 50s to lower 60s. The last time Shreveport experienced temperatures in the 50s was back on May 22.
Get daily forecasts and exclusive severe weather details on storms as they approach your area by downloading the Your Weather Authority app now available in the App Store and Google Play