SHREVEPORT, La. (KTAL/KMSS) – The worst of the weather is behind us, but we will continue to see scattered thunderstorms at times on Monday before most of the week settles into a dry and very warm pattern.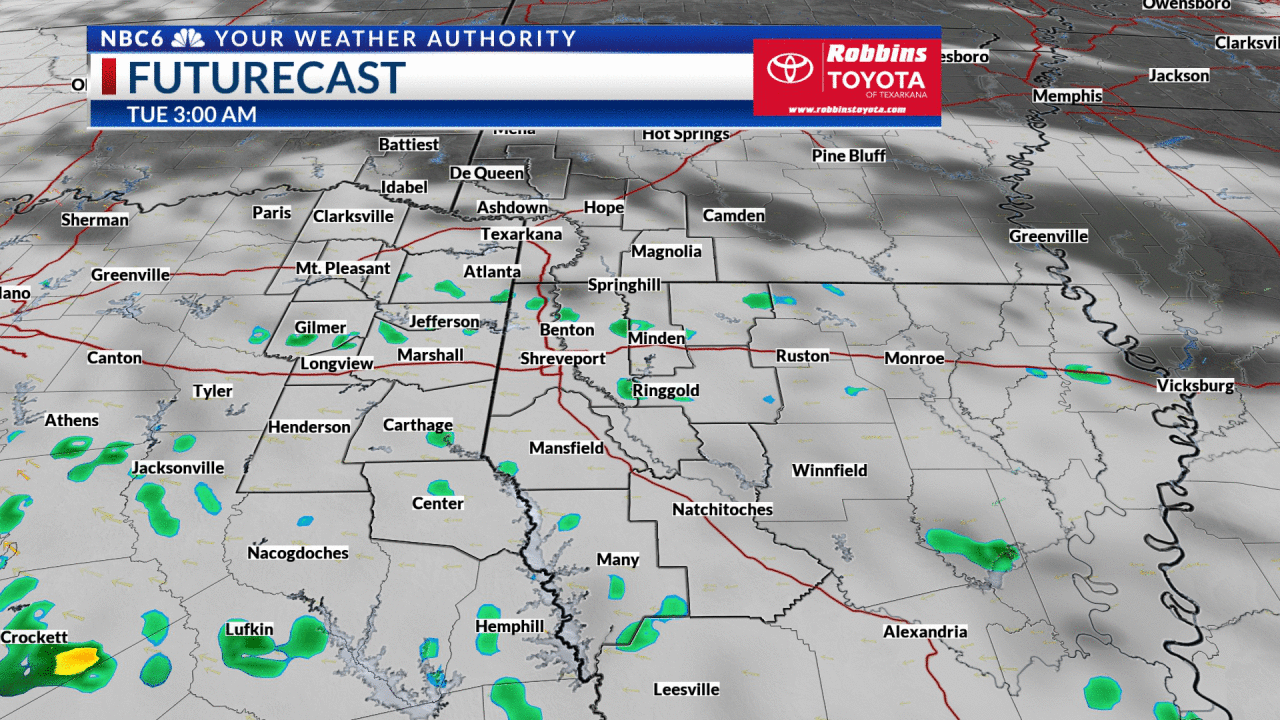 Overnight thunderstorms did cause a few clusters of wind damage throughout Shreveport/Bossier, and also in Rusk County, Texas. If you're out on the roads before the sun rises at 7 a.m. be on the lookout for downed tree limbs and power lines on roads.
The strongest storms prior to sunrise ( 4 a.m. – 7 a.m. ) will be passing through the Toledo Bend areas of Texas and Louisiana where a damaging wind gust can't be ruled out. Non-severe thunderstorms may develop along the I-30 corridor behind a cold front and move south through the morning.
The front will be south of us by mid-morning, and there will be a lull in thunderstorms during the late morning and early afternoon with mostly cloudy skies for much of the day. A few showers and storms may redevelop this afternoon but are not expected to become severe.
Heat relief is expected today with highs in the low to mid-80s, a few degrees below average for the date. Wind will be light and out of the northeast at 5 to 10 miles per hour.
High pressure will build in the upcoming days, and while a brief rain shower can't be ruled out tonight or tomorrow, we are trending towards a dry and very warm week. Highs will reach the upper 80s Tuesday, and we should settle into the low 90s each day Wednesday through the weekend.
We had almost a month's worth of rain in the past 2 days which should keep our ground damp this week, and that's a good thing because beyond today it's going to be difficult to find any rainfall. Dry and partly cloudy to mostly sunny skies are in the forecast each day Tuesday through Sunday.
---