SHREVEPORT, La. (KTAL/KMSS) – Expect dry weather for much of the day Thursday, but a round of storms will return late this afternoon into tonight, with another round of storms expected Friday. A cold front will bring even more chances for rain late this weekend into next week.
After starting comfortably in the low 70s, most of the day will be partly cloudy and warm. A few rain showers can't be ruled out north of I-30 where highs will be in the mid-80s. We will pick up more sun today pushing into the low to mid-90s across much of the ArkLaTex.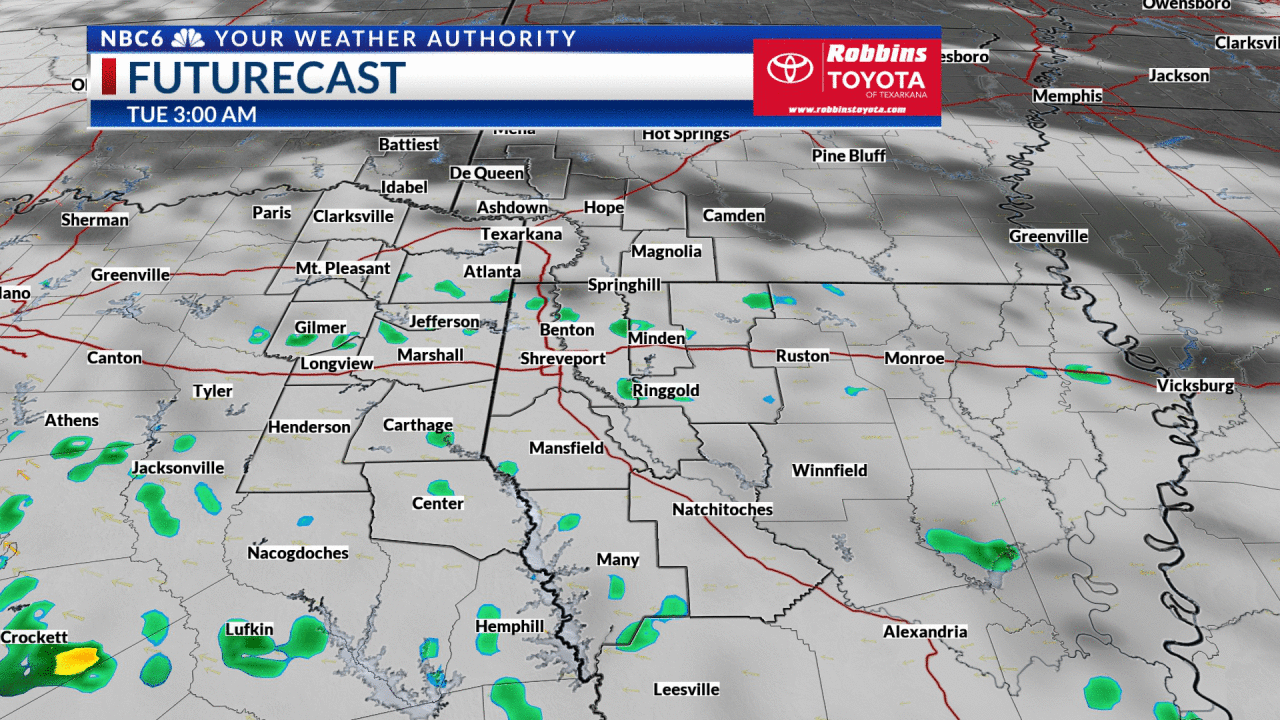 The chance of thunderstorms will ramp up late this afternoon into the evening as an area of low pressure in north Texas triggers a round of storms that will follow the Red River into Texas and Oklahoma prior to sunset. The thunderstorms may arrive with some strength, and there is potential for damaging wind gusts and large hail, particularly in east Texas and Oklahoma where a 'marginal risk' and 'slight risk' outlook has been issued by the Storm Prediction Center. This means isolated to scattered severe weather reports are expected.
The thunderstorms should lose their punch after sunset, but isolated storms and a large swath of rain may continue across much of the region between sunset and midnight.
The atmosphere may get a chance to recharge overnight and another round of storms can't be ruled out Friday morning. Keep the umbrella nearby if you have any outdoor plans today and tomorrow. The severe weather threat looks to be lower on Friday, but lightning and brief heavy rain can't be ruled out with tomorrow's storms.
It has been a while since we've mentioned heavy rain, but we may pick up 1 to 3 inches of rainfall near Red River and McCurtain counties where over an inch of rain fell yesterday. Isolated roadway flooding will be possible with the storms in these areas through tonight and tomorrow morning. A cold front arriving Sunday into Monday will drop more rain in the bucket, and 7-day rainfall totals will average 1 to 2 inches across much of the ArkLaTex. The heaviest rain will remain near and north of I-30 in northeast Texas and Oklahoma, with over 3 inches of rain expected between today and next Tuesday.
---