SHREVEPORT, La. (KTAL/KMSS) – A happy Friday to everyone! We are in for a hot and sunny end to the week, with scattered storms returning over the weekend.
A hot and dry Friday for most: Our humidity is gradually increasing and that will bring a warmer morning with temperatures in the 70s and 80s. We will feel the same afternoon heat, as highs will be in the low 90s, with the humidity adding a few degrees to how it feels. Wind will be light and out of the east at 5 to 10 miles per hour.
Isolated showers today, scattered storms likely this weekend: We will be dry and sunny through the morning with fair weather cumulus clouds bubbling up in the afternoon heat leaving us partly cloudy between noon and sunset. There is only a 10 percent chance of a brief rain shower developing.
Saturday morning will be dry, but scattered storms will develop around lunchtime, with scattered storms likely to impact all corners of the ArkLaTex during the afternoon and evening. Severe weather is not expected, but be mindful of gusty winds and frequent lightning near any storms. There won't be as much rain Sunday, but isolated to scattered storms may again develop during the afternoon and evening. Despite the rain highs will remain in the low 90s over the weekend.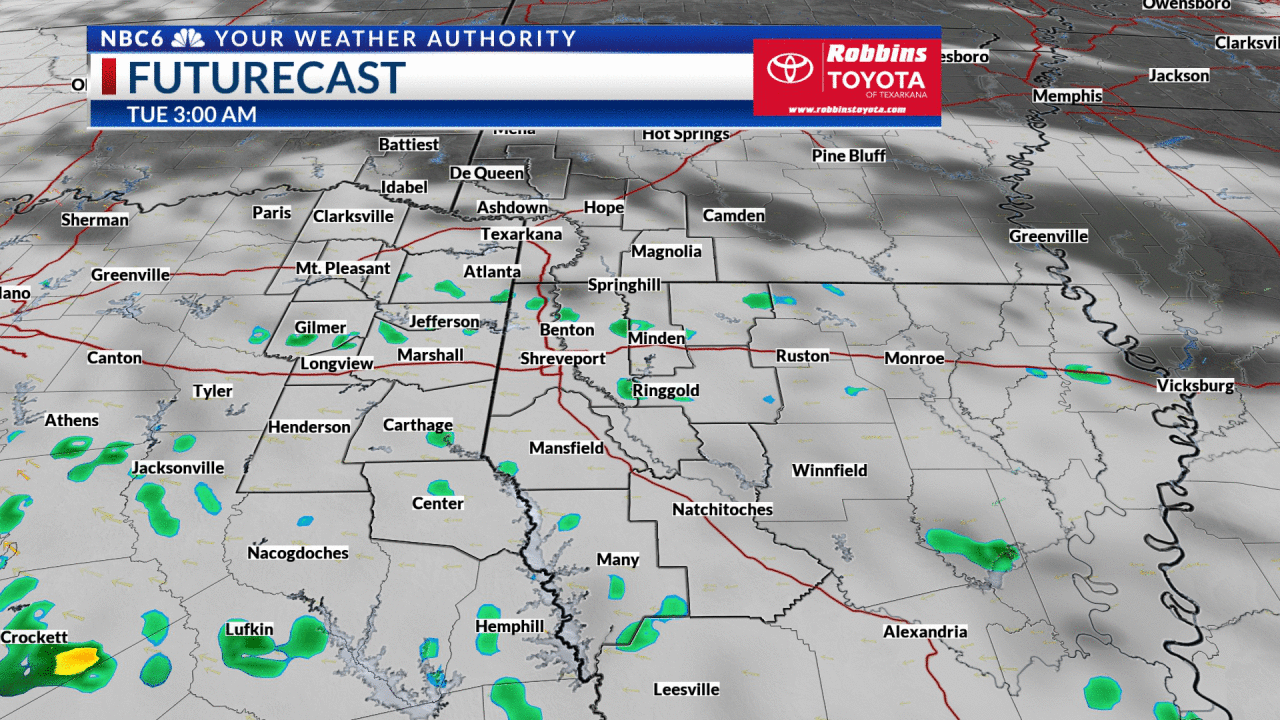 Summer pattern with scattered rain continues throughout next week: The pattern of morning temperatures near 70 degrees, and afternoon highs in the low 90s is locked in for the foreseeable future. A frontal boundary is expected to stall near the region next week, and this stalled front will be the trigger for isolated showers and storms each day. Given the scattered nature of the rain, you won't see it daily but expect to run into a few thunderstorms at times next week.
Rainfall accumulations will be less than an inch in most areas over the next 7 days, with localized areas receiving 1 to 2 inches of rain. No flash flooding is expected.
Tropical Depression Two forms in Gulf: The National Hurricane Center is now issuing advisories on Tropical Depression Two. This area of low pressure may organize into a named Tropical Depression or Tropical Storm in the next 48 hours. This storm poses no threat to the ArkLaTex as it will move south towards Cuba this weekend.
---