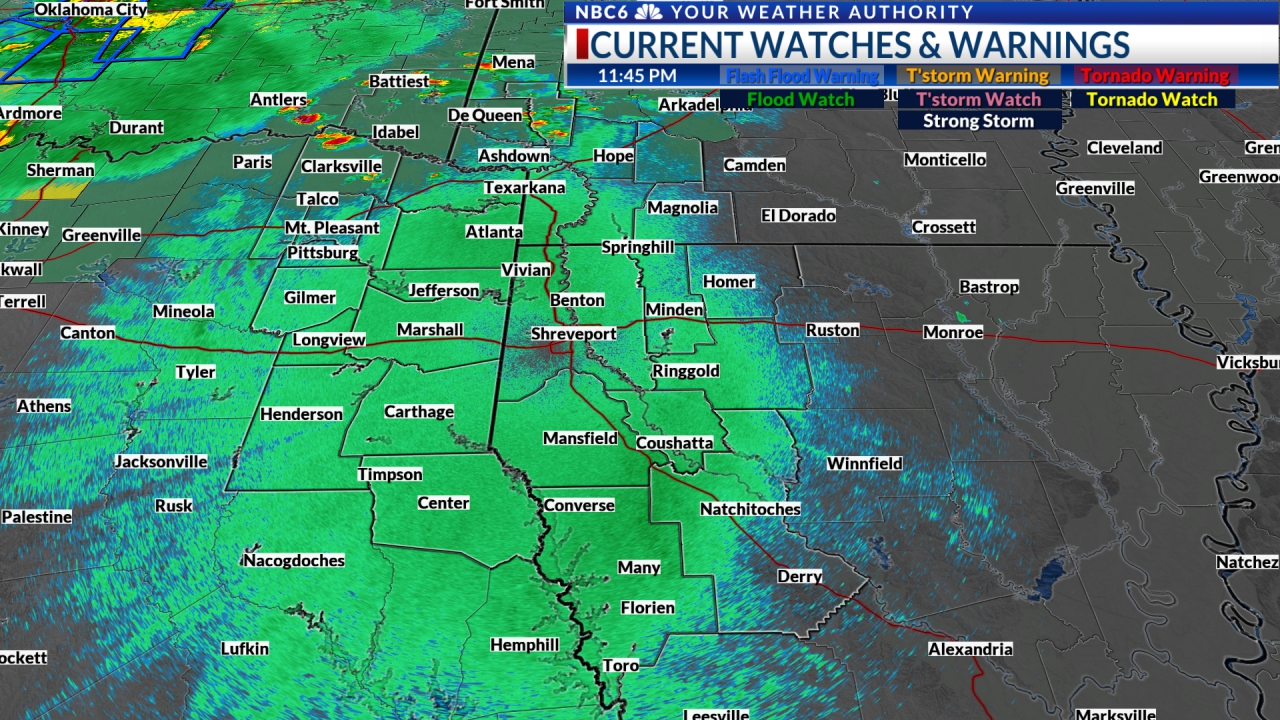 Parts of the ArkLaTex will see a little rain on Wednesday. Chances are that if you get some, it won't be much. The rather hot temperatures will continue until a cold front arrives this weekend. The front will bring a better chance of rain and slightly cooler temperatures very late this weekend.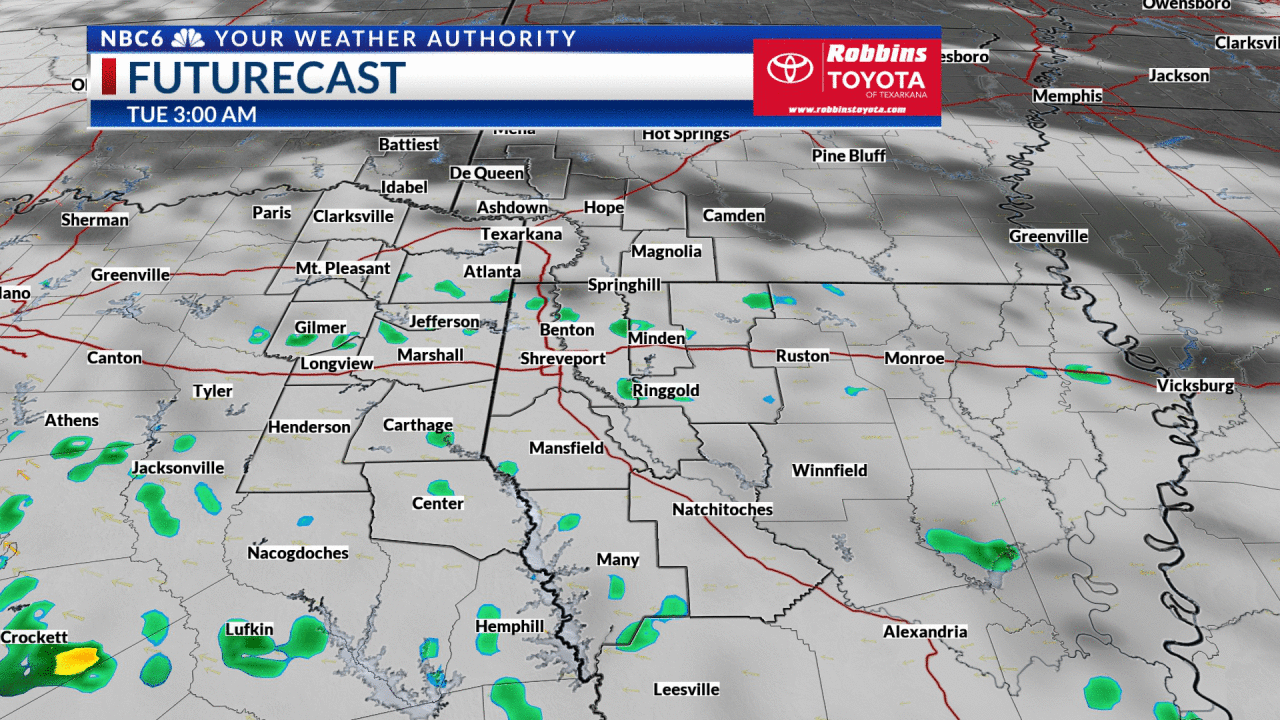 A little rain Wednesday: A rather weak upper-level disturbance will bring a chance of some scattered t'showers to part of the ArkLaTex Tuesday night and Wednesday. Futurecast shows thunderstorms that develop to our west Tuesday afternoon will weaken and dissipate over mainly the northern half of the area Tuesday night. More thunderstorms could develop to our west late Tuesday night and move into parts of the area on Wednesday. These will also be weakening as the move across the area. We will likely then settle into a dry weather pattern Thursday and Friday as we wait for our next cold front that will arrive this weekend.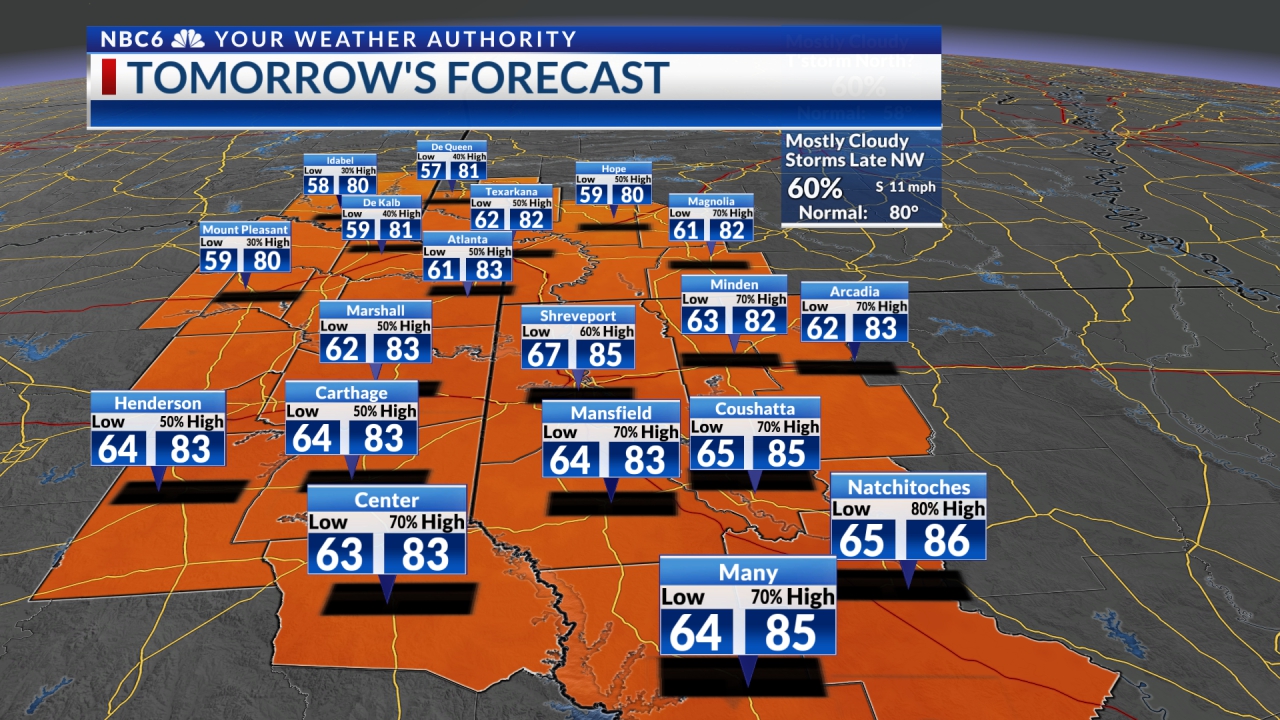 Rather hot days ahead: Temperatures across the ArkLaTex will likely stay above normal until the cold front arrives this weekend. Wednesday will begin with lows mainly in the 60s. Daytime highs will likely return to the low to middle 90s over most of the area where any rain arrives very late in the day or during the evening. Expect lows to gradually warm during the rest of the week as they climb to the lower 70s. Daytime highs will likely stay above normal in the lower to even middle 90s through Saturday.
Heavier rain for many this weekend: Our next cold front will likely move through our area Saturday night and Sunday. This is when we will likely see our best chance of rain for the next 10 days to two weeks. Showers and thunderstorms will develop to our north on Saturday and move across our area during the last half of the weekend. As of right now, severe weather is looking unlikely, but cannot be totally ruled out. The chance of rain could continue over the southern half of the ArkLaTex into Monday. We will then settle into a dry weather pattern that could last through most of the rest of next week.
10-day rainfall: A look at a blend of models shows that rainfall potential during the next 10 days will be highest over the northern part of the ArkLaTex where totals of 1.5 to 2" will be possible. This is the part of the area that will be closest to the path of the main upper-level support Rainfall totals over the southern half of the area will likely end up being in the range of ½ to 1". We are still several days from the arrival of this front so changes to the outlook are still possible. Stay tuned!
Get daily forecasts and exclusive severe weather details on storms as they approach your area by downloading the Your Weather Authority app now available in the App Store and Google Play