SHREVEPORT, La. (KTAL/KMSS) – It has been a toasty start to our Memorial Day weekend as high temperatures Saturday have been in the mid to upper 80s. A near identical day with low humidity is expected Sunday, before the humidity and a very slight chance of rain return for Memorial Day.
Clear and comfortable tonight: The heat will ease after 6 p.m. and if you have outdoor plans this evening it will be wonderful. Temperatures will be in the 70s between sunset and midnight, dropping into the 60s after midnight. Skies will remain mostly clear with a light northeast breeze of 5 miles per hour.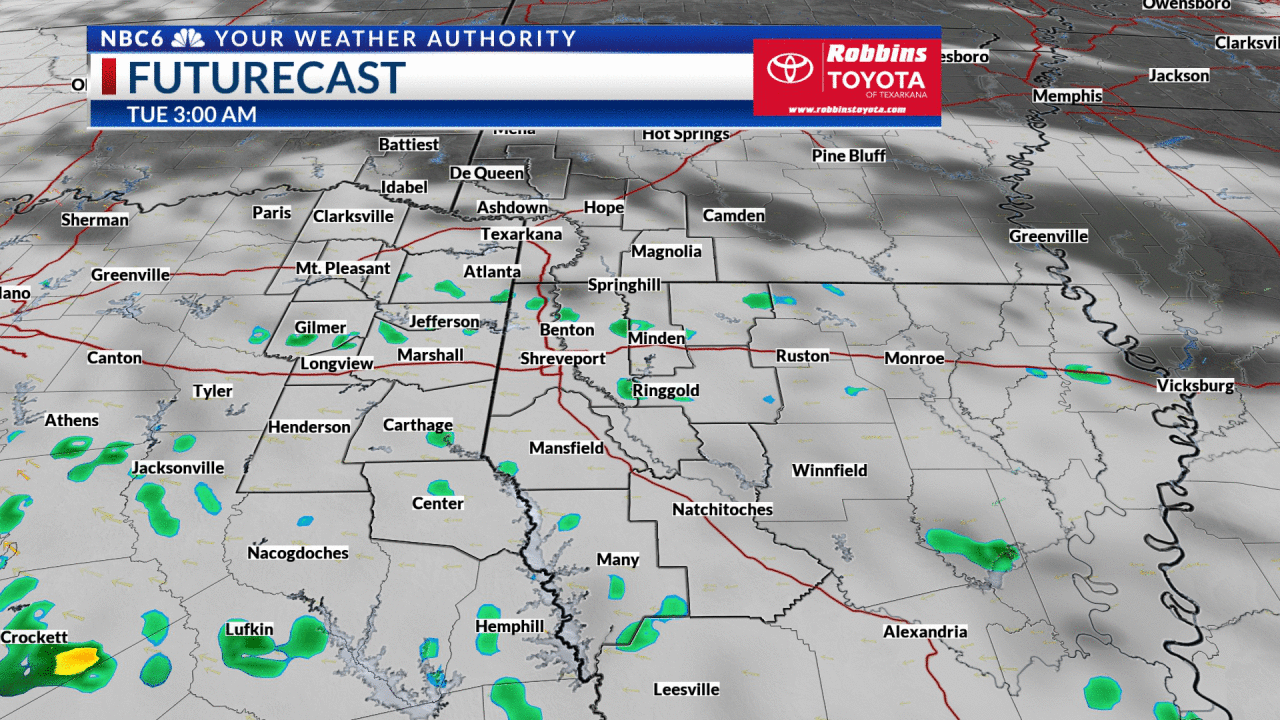 Warm and partly cloudy Sunday: The agreeable pattern with low humidity and little chance for rain will continue Sunday. Early day temperatures will be in the 60s, perfect for any lawn mowing or yard work you can knock out before 11 am.
We will reach 80 degrees by noon with highs headed to the mid and upper 80s with a light breeze and low humidity.
Humidity and a slight chance of rain on Memorial Day: High pressure will move northeast of the ArkLaTex next week, and this will allow a south breeze to develop off the Gulf Of Mexico. It was fantastic to have almost 7 days of low humidity, but this returning south wind will begin to drive up the humidity Monday into Tuesday.
While the overall chance for rain will be low, a sea breeze shower or isolated thunderstorm may occur south of I-20, especially in deep east Texas during the mid to late afternoon.
Hot and dry for most of next week: Aside from the 10 to 20 percent chance of rain early in the week, most of us will have a difficult time receiving any rain to cool us off next week. High temperatures will regularly be 88 to 92 degrees, with the humidity driving our heat index or 'feels like' temperatures into the mid and upper 90s. The change we may not like is the higher humidity will bring warmer mornings in the 70s, rather than the refreshing 60-degree mornings we've enjoyed over the past week.
The dry pattern may break down late in the week, with slight to scattered storm chances returning Friday into Saturday.
---