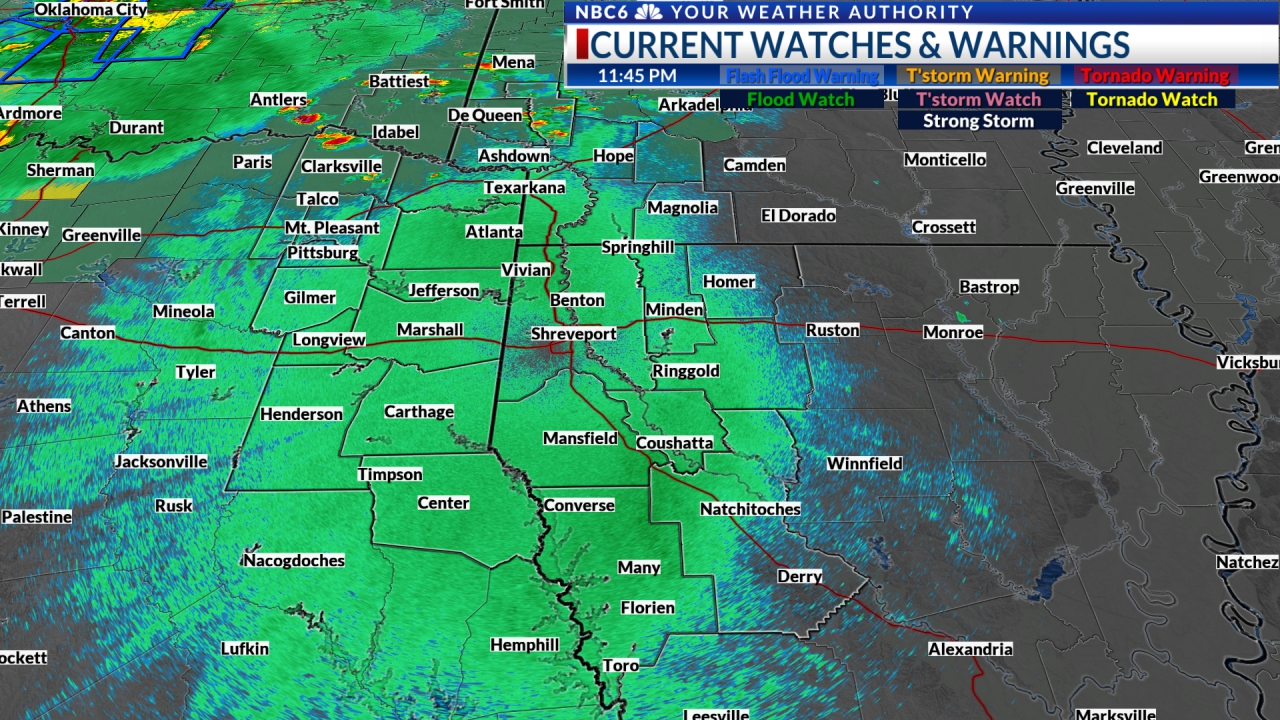 Parts of the ArkLaTex received over ten inches of rain since early yesterday. Now it's time to dry out and cool off. The coolest air of the season so far will arrive this weekend. Next week is looking warmer with another chance of rain next Thursday.
10 weeks of rain in 24 hours!!! We have seen some rather impressive rainfall totals over the northern part of the ArkLaTex. Radar shows that areas close to the Red River in Bowie, Little River, and northern Miller counties have received anywhere from six to 12" of rain. I participate in the volunteer CoCoRahs rainfall network and here are the top five heaviest reports from observers in the northern part of the area. Typically, the Texarkana area averages about 4.5" of rain during the month of October. 8.11" of rain was officially recorded at the Texarkana Regional Airport.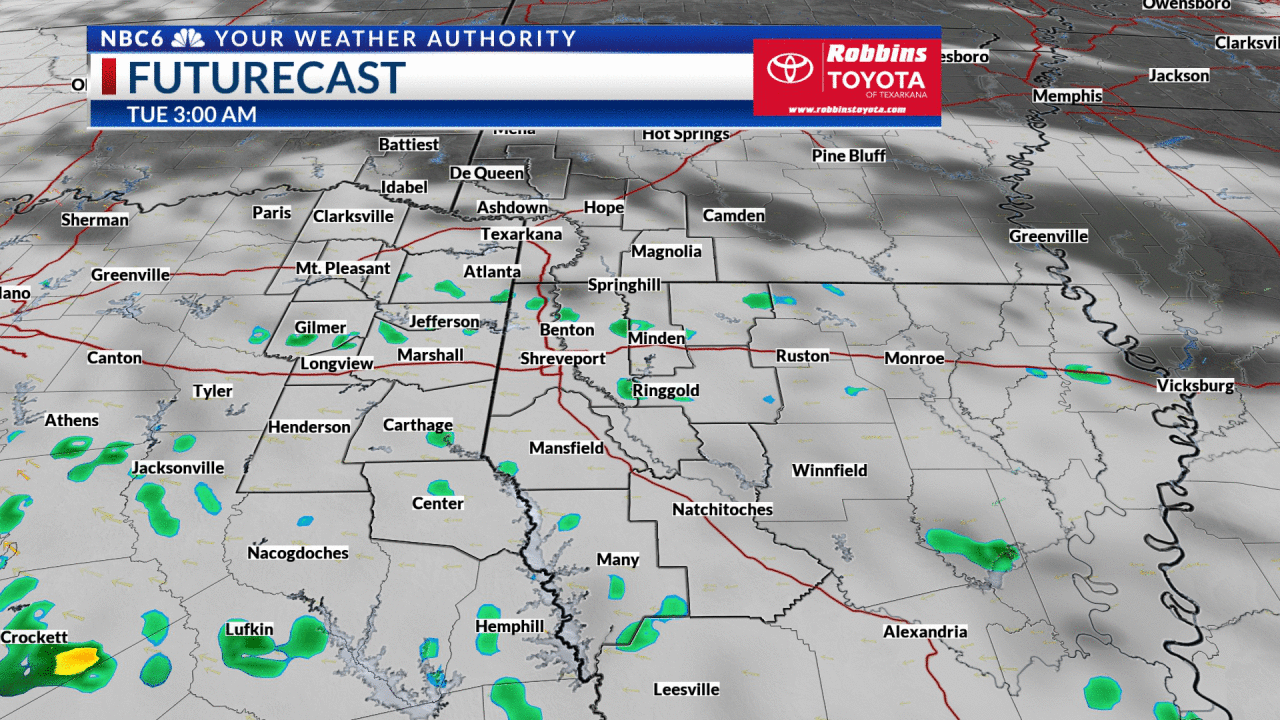 Time to dry out: Most of the rain has ended over the ArkLaTex. Futurecast shows that the clouds will gradually clear out Thursday night. Expect the return of lots of sunshine on Friday. Temperatures Friday will likely begin in the low to middle 60s over most of the area. We will likely warm into the low to middle 80s over most of the area Friday afternoon. Much cooler and drier air will invade the area Friday night and this weekend. Expect a clear sky Friday night and lots of sunshine Saturday. Lows this weekend will fall into the 40s and 50s with the coolest air settling in on Sunday morning when all of the area dips into the 40s. If we do so in Shreveport, it will be the first time since April. Daytime highs on Saturday will struggle to make it into the 70s. We should warm into the low to middle 70s on Sunday.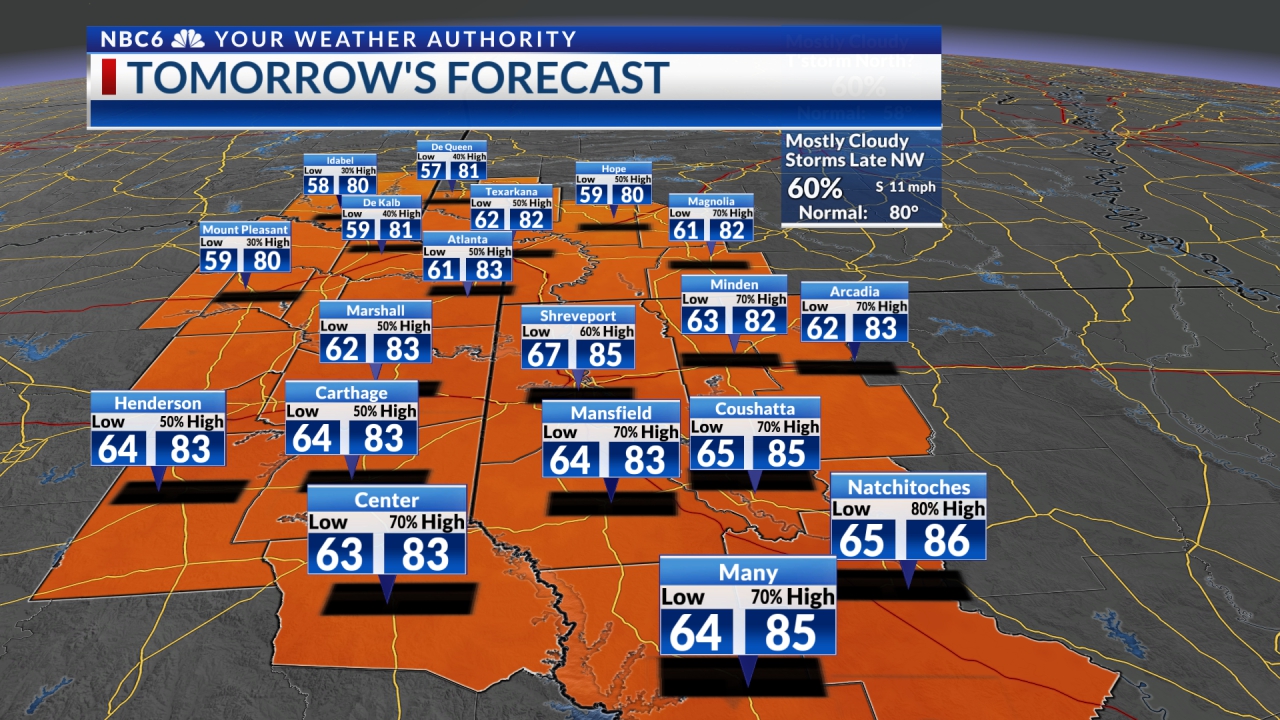 A warming trend & then cooler again: The weather next week will begin with a warming trend. Daytime highs will gradually return to the 80s. Overnight lows will warm into the 60s by the middle of the week. Another cold front will move through the area next Thursday. Next week will end with below-normal temperatures as highs will dip back into the 70s and lows will retreat to the 50s.
How much rain next week?: As of right now, it appears that next week's front will not drop as much rain with the blend of models indicating that amounts will probably end up being near ½" for most of the area. The heaviest case scenario from the blend shows that as much as 1.5 to 2.5″ will be possible but chances of seeing that much rain are less than 20%. It still appears that sunshine will return next Friday and should stick around for next Saturday's solar eclipse where 80% of the sun will be covered by the moon. See the details on the eclipse here.
Get daily forecasts and exclusive severe weather details on storms as they approach your area by downloading the Your Weather Authority app now available in the App Store and Google Play