SHREVEPORT, La. (KTAL/KMSS) – Good morning and welcome to a very important weather update! This will be the 'last day of summer' for the ArkLaTex as a strong cold front will be arriving to wipe out the heat for good, giving us the most comfortable weather we've had in almost 5 months. 
Clouds are surging in with a 'warm front' this morning as thick and humid air is being drawn in from the coast ahead of tomorrow's cold front. The clouds are keeping it warm, as morning temperatures will be in the 70s, and daytime highs will range anywhere from the upper 70s north of I-30, to the low-80s in Texarkana, to the mid-80s in Shreveport. 
The warm front will become stationary in the northern ArkLaTex after sunrise and serve as the trigger for a round of early-day storms in east Texas, Oklahoma, and Arkansas.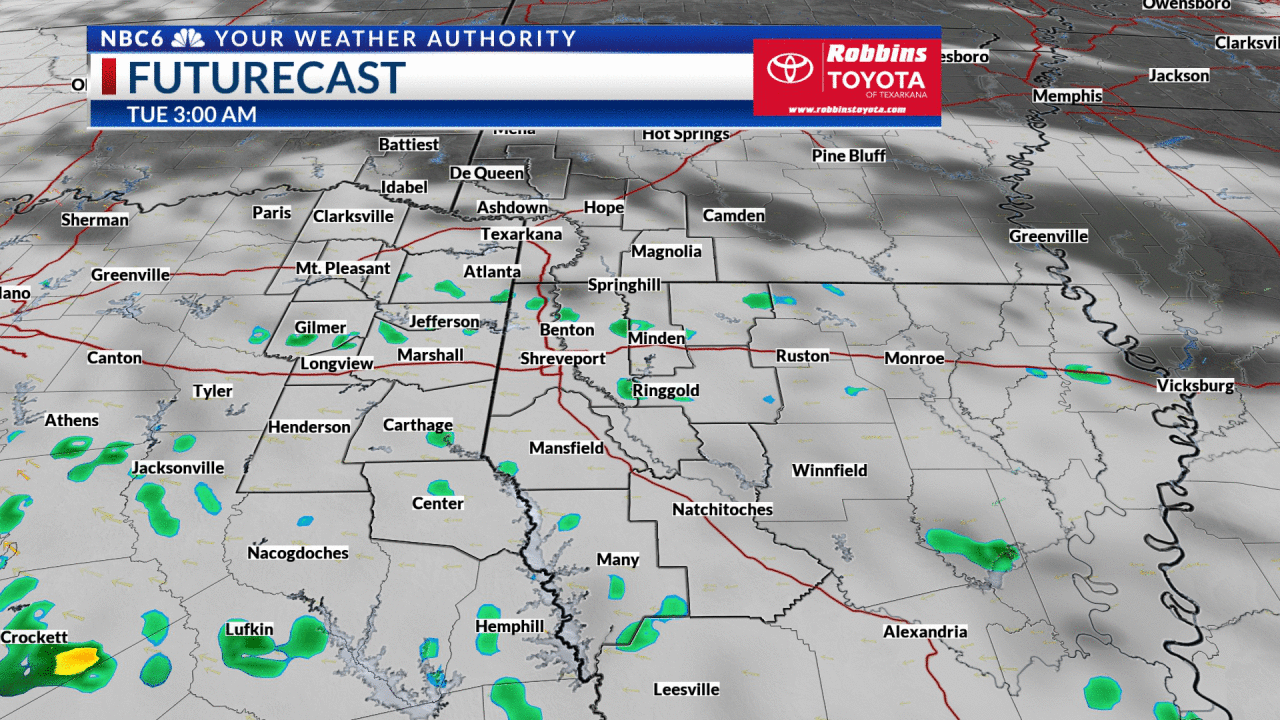 The daytime storms will be followed by a heavier round of rain arriving after sunset. The cold front will trigger this round of heavy rain late tonight through early Thursday morning. While the severe weather threat is low today and tonight, if any storms are capable of a damaging wind gust or large hail, it will most likely occur with the storms late tonight in northeast Texas or Oklahoma. The Storm Prediction Center has a 'marginal risk' severe weather outlook for areas near Red River and McCurtain counties.
The first half of tomorrow will be drizzly and overcast, with several hours of light to moderate rain between sunrise and noon. Rain will taper off by the afternoon, but additional pockets of rain and isolated thunderstorms will persist into Thursday evening, with light rain/drizzle possible Thursday night into Friday morning. 
Rainfall accumulations will average 1 to 2 inches for most of us, but areas north of I-30 near Red River, McCurtain, Howard, Little River, and Sevier counties could pick up 4 to 6 inches with localized road flooding. Widespread flooding isn't expected due to the drought conditions as the ground should be able to soak up most of this rainfall but a Flood Watch is in effect for the northern ArkLaTex through tonight.
This cold front is the real deal. Rain and clouds will hold our highs comfortably in the 70s and low 80s on Thursday and Friday. The cool and dry air will really take over this weekend. Expect to wake up to temperatures in the 40s and 50s Saturday morning, with highs in the low 70s Saturday, and in the mid-70s Sunday. The best part? Sunny this weekend, so outdoor plans are a must as we enjoy our first Fall feeling weekend in quite some time. 
Look for the comfortable and dry weather to stick around for much of next week. 
---