SHREVEPORT, La. (KTAL/KMSS) – The sun will return today but it's going to be a cold and breezy Halloween, with chilly temperatures for tonight's trick-or-treating festivities.
We have a few areas north of I-30 in Arkansas and Oklahoma that are at or below freezing this morning. Expect early day temperatures in the 30s and 40s that will have you grabbing for the heavy winter coat. A north breeze will keep the flow of dry and cold air coming today, as highs will be in the low to mid-50s, about 15 to 20 degrees below average for the date.
Today's dry north breeze of 15 miles per hour will send what is leftover of the clouds out of the ArkLaTex this morning giving us mostly sunny skies throughout the afternoon. Futurecast hints at a slight chance of rain across the Toledo Bend region this morning, but it looks like any rain will stay south of us.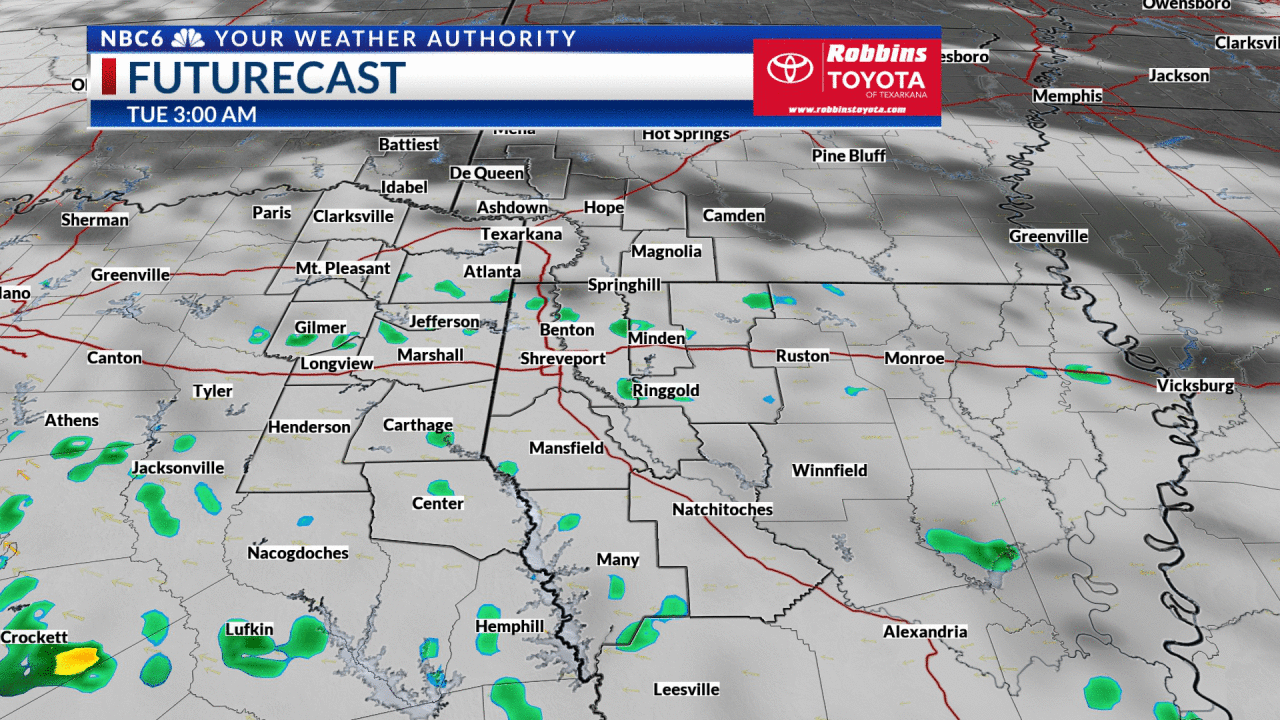 Assuming you're kicking off trick-or-treating at sunset (6:30 p.m.), we will be near 50 degrees at sunset, with temperatures falling thorugh the 40s during the 7 and 8 p.m. hours. It will be cold, but thankfully clear with no rain to get in the way of the ghouls and goblins having fun tonight.
After midnight temperatures will fall into the 20s and 30s, and there is a high likelihood of all areas dropping below freezing for a few hours tonight. A Freeze Warning is in effect for all counties and parishes tonight, so don't forget to cover up your outdoor plants, and bring your pets inside.
A reinforcing cold front will drop our temperatures a few degrees Wednesday as highs will stay in the low to mid-50s with no rain expected for the remainder of the week.
A warming trend will begin Thursday, as the cold north wind is replaced by a warm south breeze. Highs will jump into the 60s on Thursday, with a gorgeous weekend in the 70s.
Rain will be impossible to find for the remainder of the week, and with desert dry air some wildfire danger is expected to return.
---