SHREVEPORT, La. (KTAL/KMSS) – Temperatures have been above normal for the past several days and it appears that the warm air will likely stick around through this weekend. A strong cold front will bring our next best chance of heavy rain and much cooler temperatures early next week.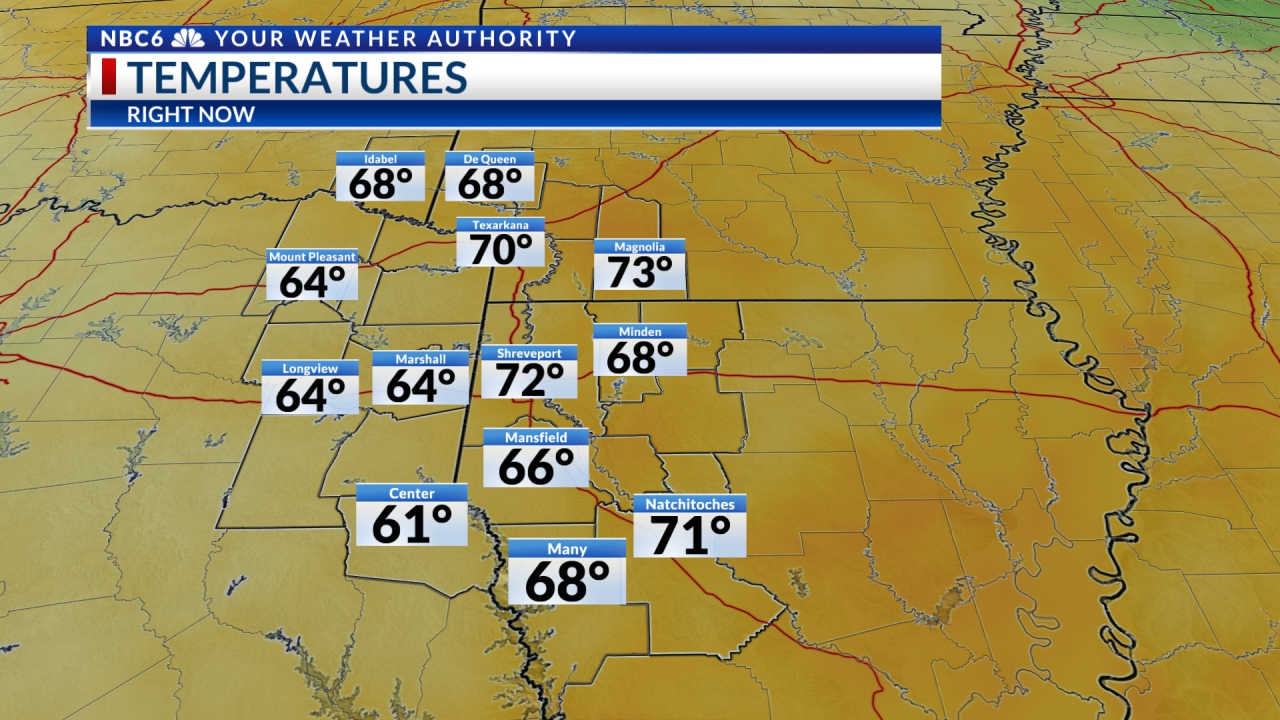 The warm air hangs around: Sunshine has returned to the ArkLaTex Tuesday afternoon resulting in warmer temperatures today compared to yesterday. This afternoon we have climbed into the low to middle 80s. This warmth will continue for the next several days. Expect lows Wednesday morning to begin in the mid to upper 60s. Daytime highs on Wednesday afternoon will return to the low to middle 80s. Expect similar temperatures to stick around through the upcoming weekend.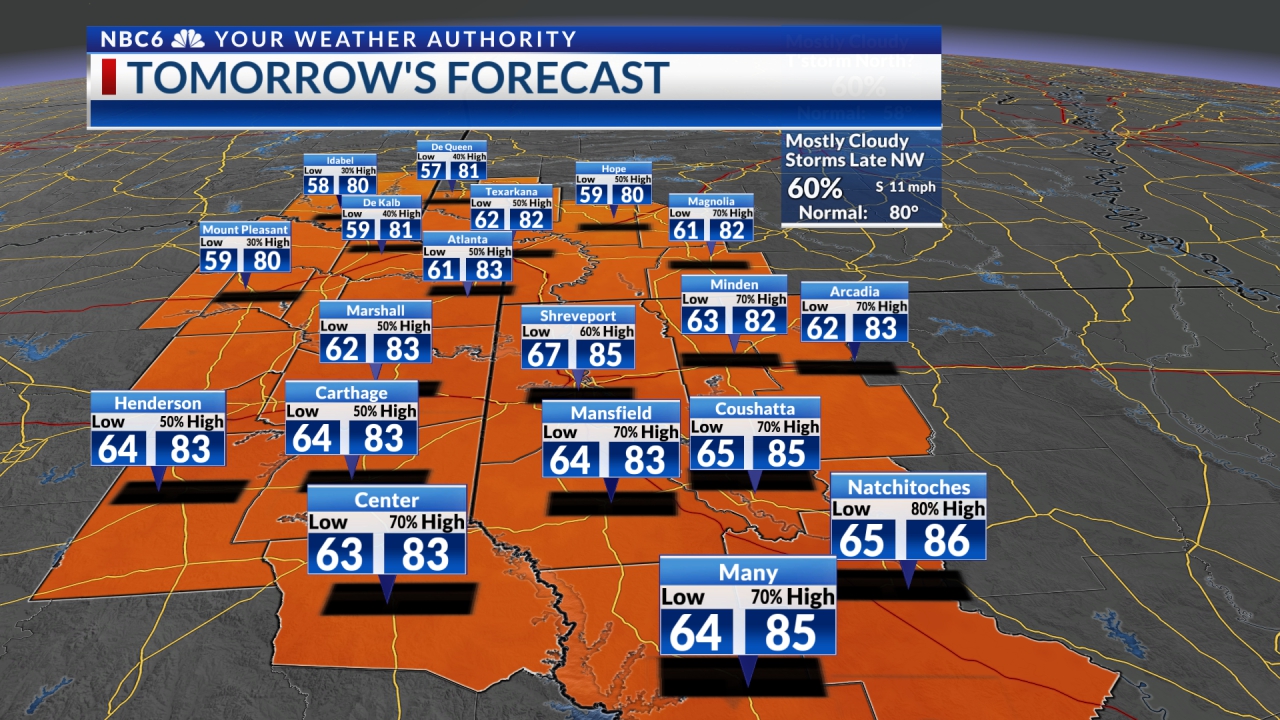 A dry Wednesday and a little rain Thursday: A disturbance that will be moving through the Plains and the middle of the country during the next few days will bring a decent chance of some rain late Wednesday night and Thursday. Futurecast shows that we will see mainly dry conditions Tuesday night as the clouds once again return. Wednesday will begin with a mostly cloudy sky and will end with a mix of sunshine and clouds. Look for the clouds to increase once again Wednesday night with some rain possible over the NW edge of the area late. That rain will decrease in coverage and spread to the southeast during the day on Thursday. This rain will likely end Thursday night.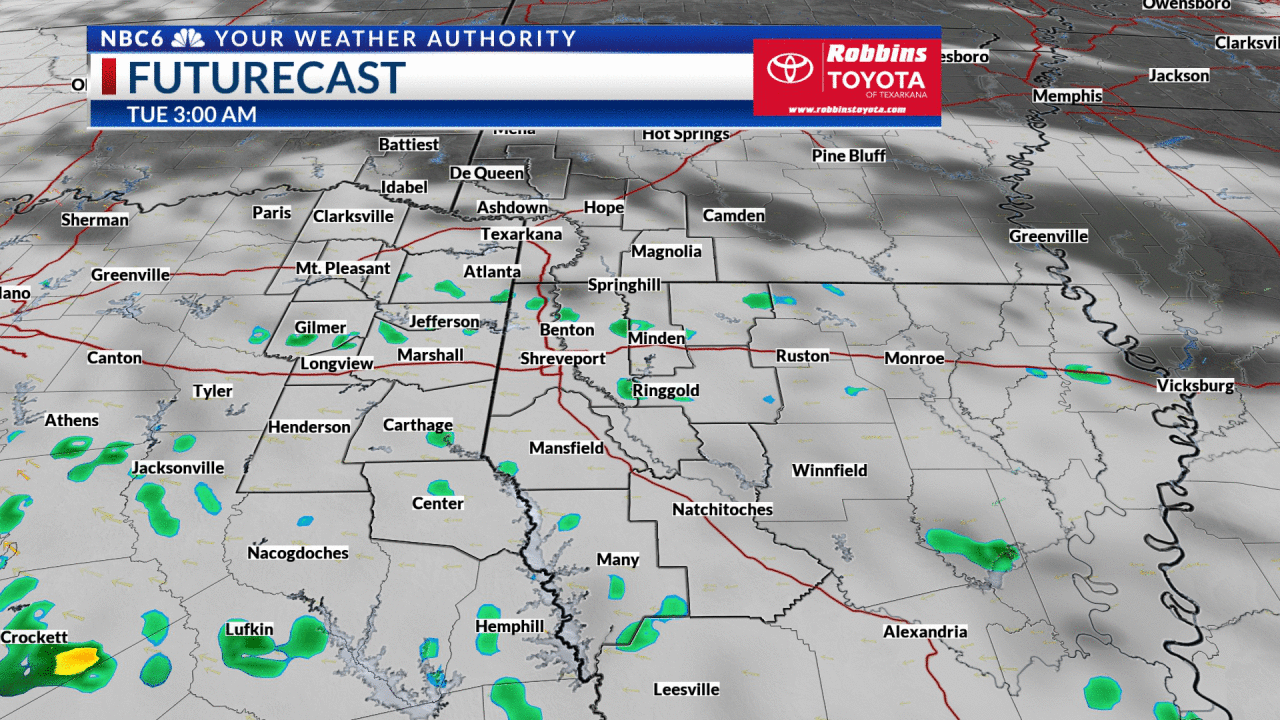 Big changes coming early next week: Our next best chance of seeing more significant rain and cooler temperatures will arrive by the beginning of next week.  Long-range models are in good agreement that a large upper-level ridge that will be responsible for the warm and rather dry weather this week will break down by early next week.  This will allow a cold front to move through our area late Monday bringing a better chance of rain and much cooler temperatures.  Daytime highs should fall into the 50s and low 60s by the middle of next week.  Overnight lows will dip into the 30s and lower 40s.  High temperatures on Halloween will likely be in the 50s and low 60s.  
How much rain?  Most long-range models show that we will see above-normal rainfall mainly over the NW half of the ArkLaTex where totals of 1 to 2.5" will be possible.  Amounts will likely be lighter over the southeast edge of the area with totals that will likely be less than ¼" for the entire 10-day period from now through next Friday. We will be watching a large upper-level ridge that will be responsible for the warm air this week.  The placement of this ridge will play a big role in how much rain we eventually receive.  Stay Tuned!
Get daily forecasts and exclusive severe weather details on storms as they approach your area by downloading the Your Weather Authority app now available in the App Store and Google Play