SHREVEPORT, La. (KTAL/KMSS) – Don't expect temperatures to cool off anytime soon. We will likely experience another week of above-normal temperatures with a little rain over the northwest part of the area. Colder air arrives just in time for Halloween.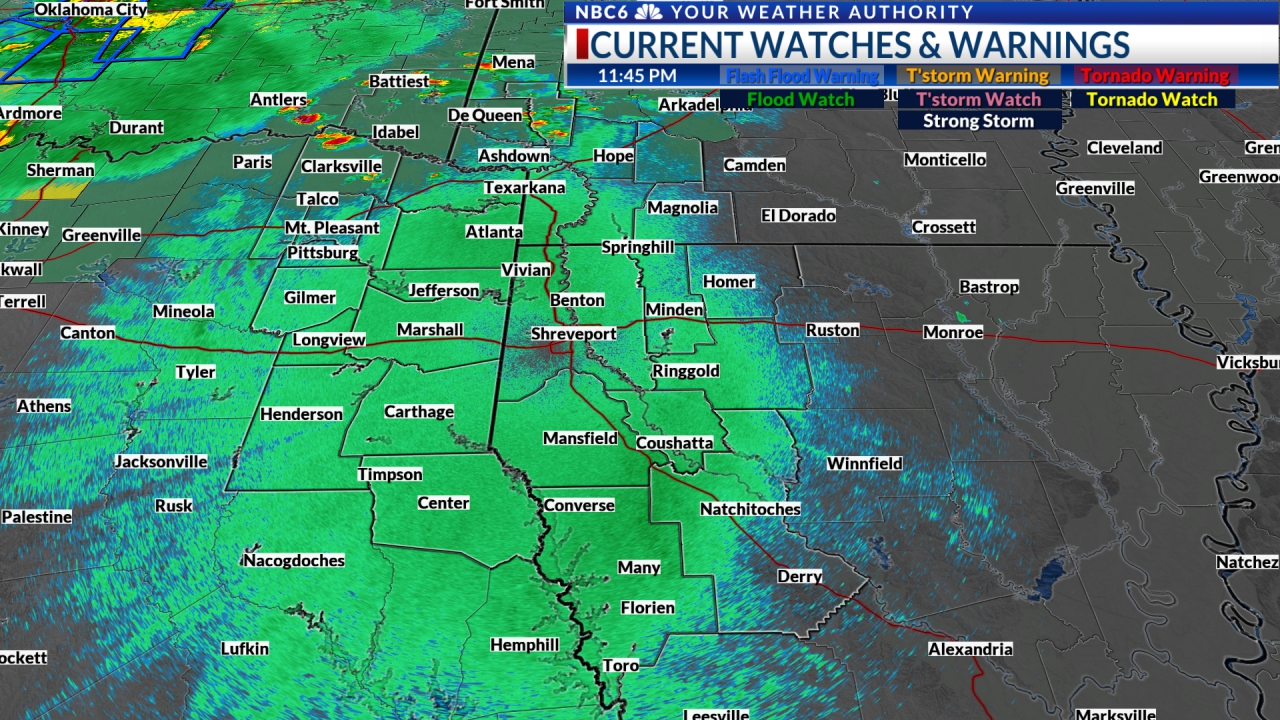 A little rain for some: We have seen quite a few clouds over the ArkLaTex Monday with some scattered showers over the west and northwest half of the area. This rain will likely decrease Monday night.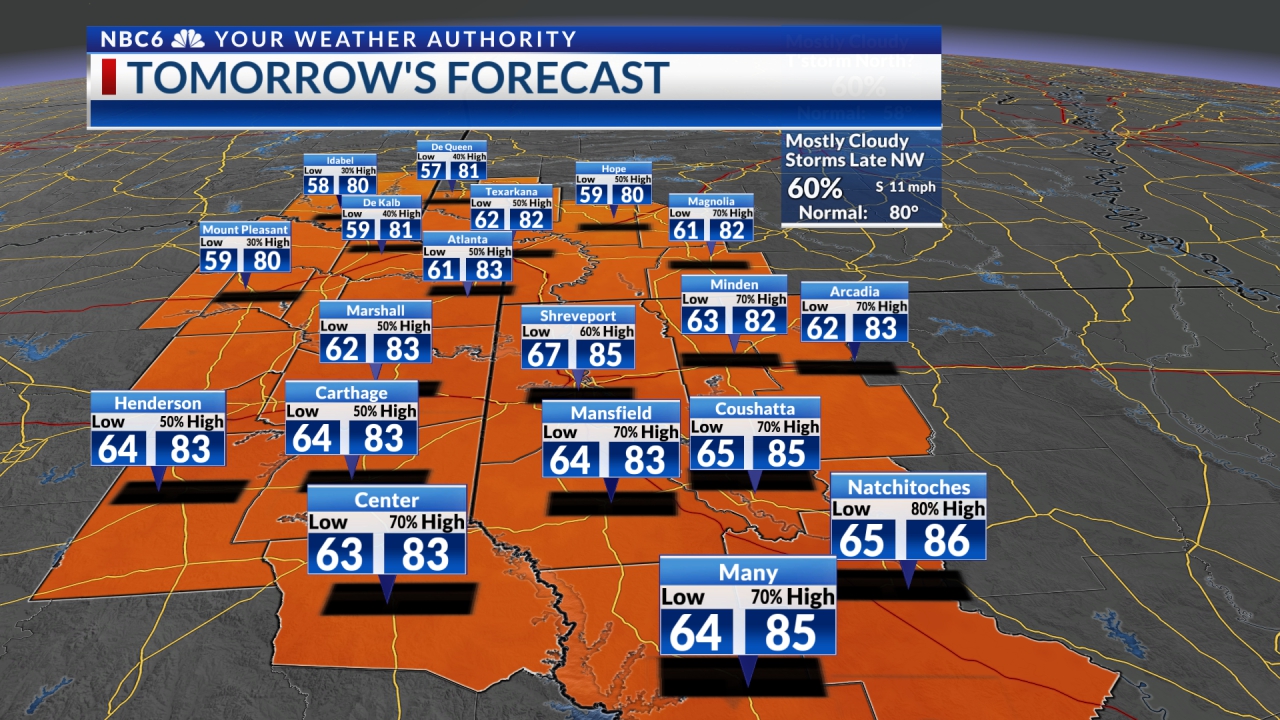 Warm temperatures to stick around: Despite all of the clouds over us Monday, we have still warmed into the 80s over most of the area. Don't look for much change in the next several days. Lows Tuesday morning will likely be more than 10 degrees above normal as we settle into the middle 60s. Daytime highs on Tuesday will likely return to the mid to upper 80s. We will likely continue to see highs in the 80s and lows in the 60s and low 70s through the upcoming weekend.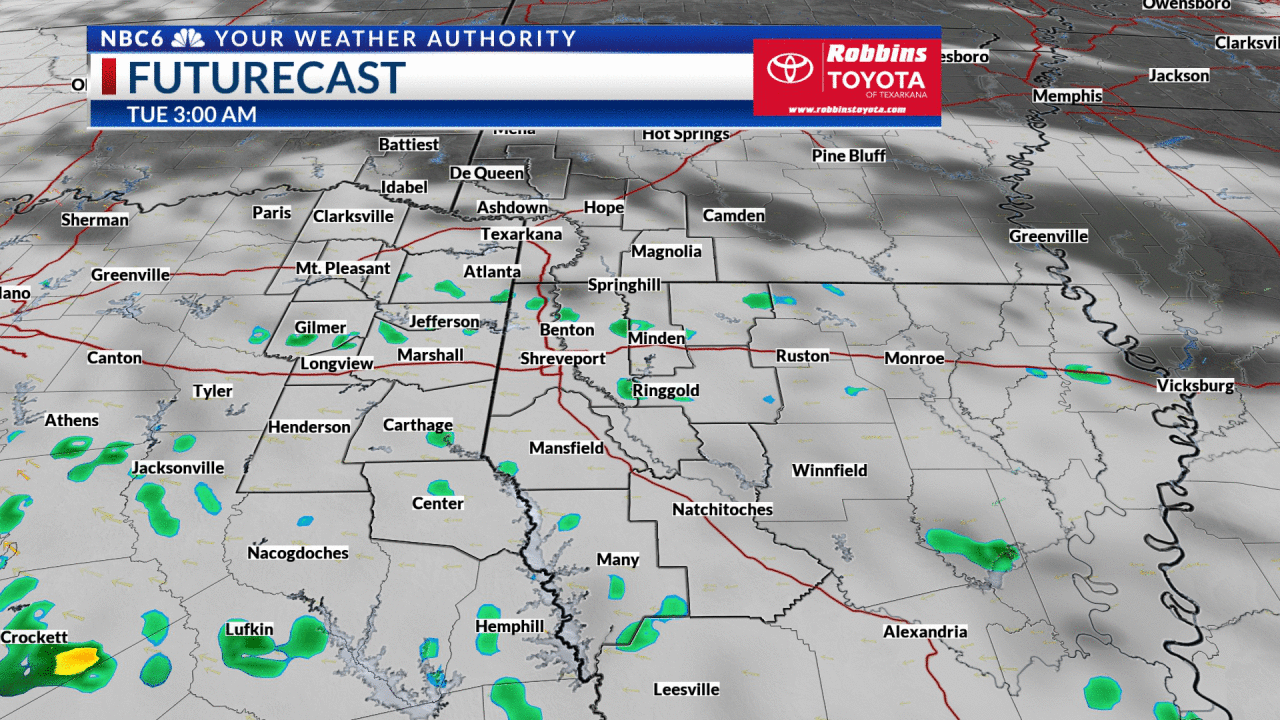 A mainly dry Tuesday and Wednesday: Futurecast shows that any areas of rain that have ggdeveloped or moved into our area Monday will likely end Monday evening and Monday night. We will stay mostly cloudy on Monday night. Tuesday will begin with lots of clouds. Those clouds will gradually give way to more sunshine by Tuesday afternoon. We will likely see a partly to mostly cloudy sky on Tuesday night and Wednesday. A few scattered showers could impact the NW part of the area on Wednesday and Thursday. Futurecast shows that pretty much all of the area will see rainfall totals of less than ¼" from now through Thursday.
Changes coming early next week: Our next best chance of seeing more significant rain and cooler temperatures will arrive by the beginning of next week. Long-range models are in good agreement that a large upper-level ridge that will be responsible for the warm and rather dry weather this week will break down by early next week. This will allow a cold front to move through our area late Monday bringing a better chance of rain and much cooler temperatures. Daytime highs should fall into the 50s and low 60s by the middle of next week. Overnight lows will dip into the 30s and lower 40s. High temperatures on Halloween will likely be in the 50s and low 60s.
How much rain next week? Most long-range models show that we will see above-normal rainfall mainly over the NW half of the ArkLaTex where totals of 1 to 3" will be possible. Amounts will likely be lighter over the southeast and will probably end up being in the range of ½ to 1". Keep in mind that most of this rain will occur late in the 10-day period so we likely will see some changes in the coming days. A lot will depend on the location and strength of the upper-level ridge. Stay tuned
Get daily forecasts and exclusive severe weather details on storms as they approach your area by downloading the Your Weather Authority app now available in the App Store and Google Play