SHREVEPORT, La. (KTAL/KMSS) – A warming trend began in the ArkLaTex Tuesday and it will likely continue into the weekend with highs approaching 90 degrees. The dry weather will continue until the last half of next week. Heavy rain still remains a decent possibility.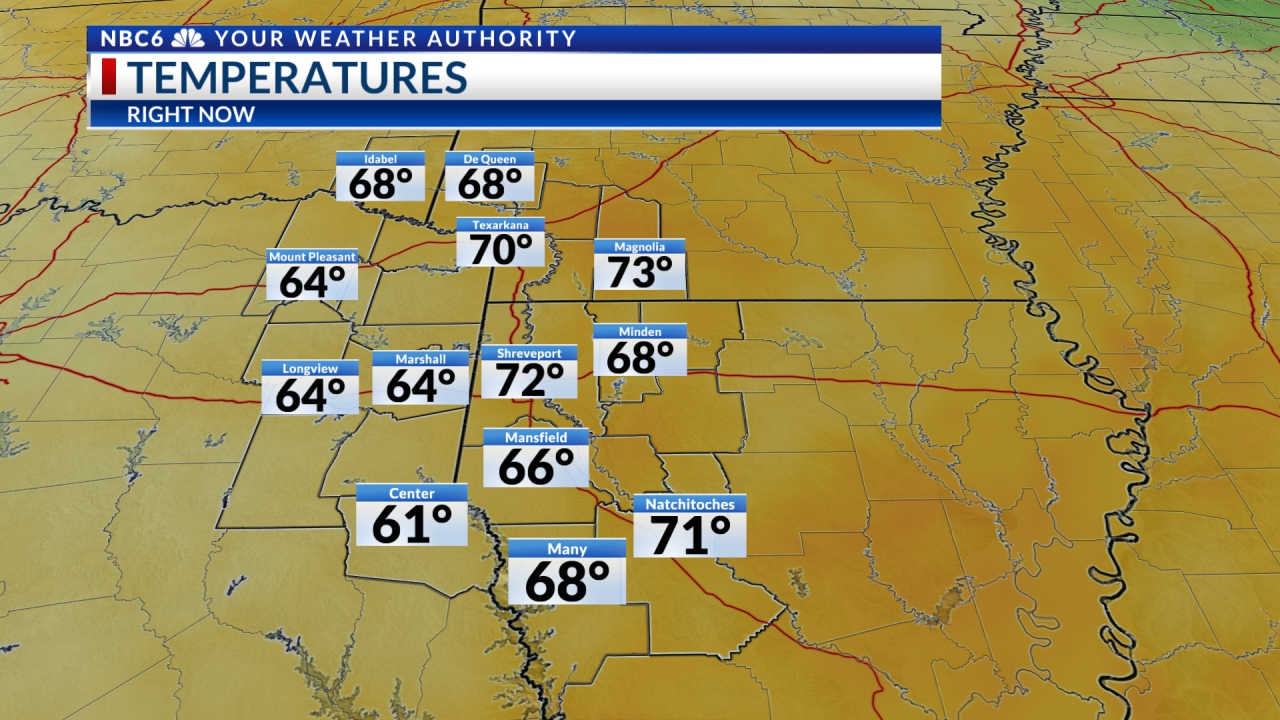 Could we hit 90?: Despite another chilly start Wednesday morning with lows in the mid to upper 40s, the warming trend that began yesterday will continue. Highs this afternoon have soared into the 70s and low 80s. A weak frontal boundary will approach the area Wednesday night and will likely bring more clouds. These clouds and a south wind will likely keep temperatures up a bit with lows settling into the mid to upper 50s. Expect another pleasant day of temperatures on Thursday with only slightly warmer temperatures as highs will climb into the lower 80s. What will probably be our last chance at hitting 90 degrees this year will come on Friday and Saturday with highs in the mid to upper 80s.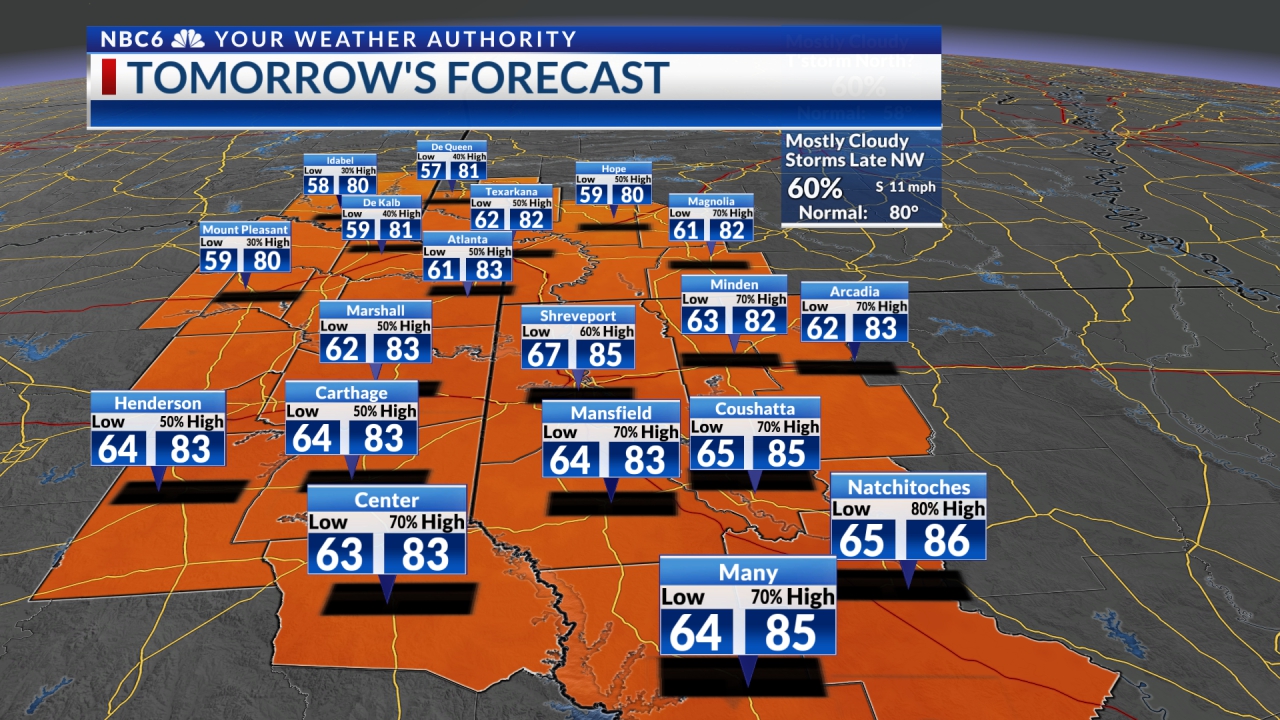 Some clouds but not much rain: Futurecast shows that the cold front will move through the area late Wednesday night and Thursday bringing lots of clouds. It is possible that we could see a few showers over the northeastern edge of the area Wednesday night and over the southeastern edge of the area Thursday afternoon. Most of the ArkLaTex will stay dry and it is quite possible that all of the area will stay dry. We will clear out Thursday night and begin another streak of several days of sunny weather that will last into the beginning of next week. After that, it could get very wet.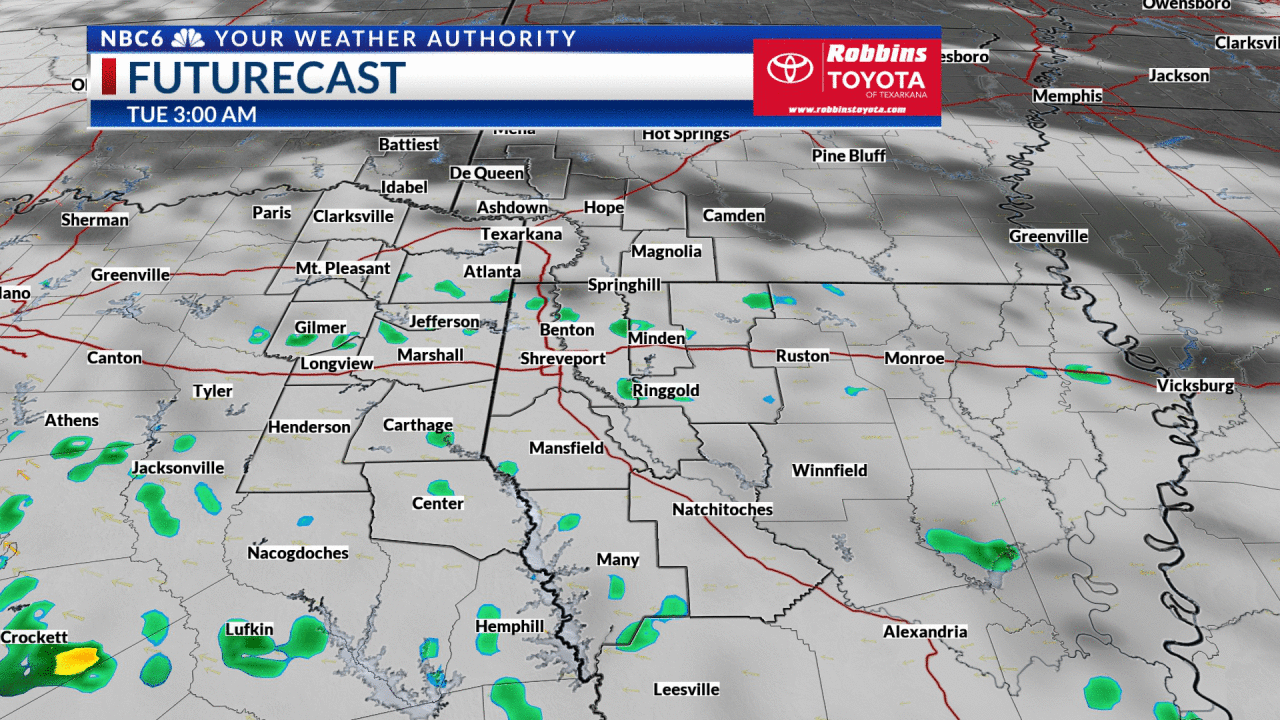 Very heavy rain is possible late next week: A look at the long-range outlook for the ArkLaTex shows that rain is still looking promising for the last half of next week. The threat of showers and thunderstorms will begin on Wednesday and could continue into next weekend. The blend of longer-range models shows that rainfall totals of four to over six inches will be possible over the northwest quarter of the area near and NW of Interstate 30. The rest of the area could see totals of two to four inches. Keep in mind that this rain is still more than a week away so we should expect some changes in this outlook. Severe weather will be possible but as of right now, the risk is looking rather low. More on that as we get closer to this event.
Warm air to stick around until late next week: Temperatures next week will likely stay a little above normal. Overnight lows will mainly be in the 60s. Daytime highs next week will mainly be in the upper 80s. It will turn a bit cooler by the beginning of next weekend with highs dipping into the 60s and lows falling into the 50s.
Get daily forecasts and exclusive severe weather details on storms as they approach your area by downloading the Your Weather Authority app now available in the App Store and Google Play