SHREVEPORT, La. (KTAL/KMSS) – Some rather chilly air for this time of year has settled into the ArkLaTex with plenty of sunshine. The sunshine will continue for a few more days with a gradual warming trend.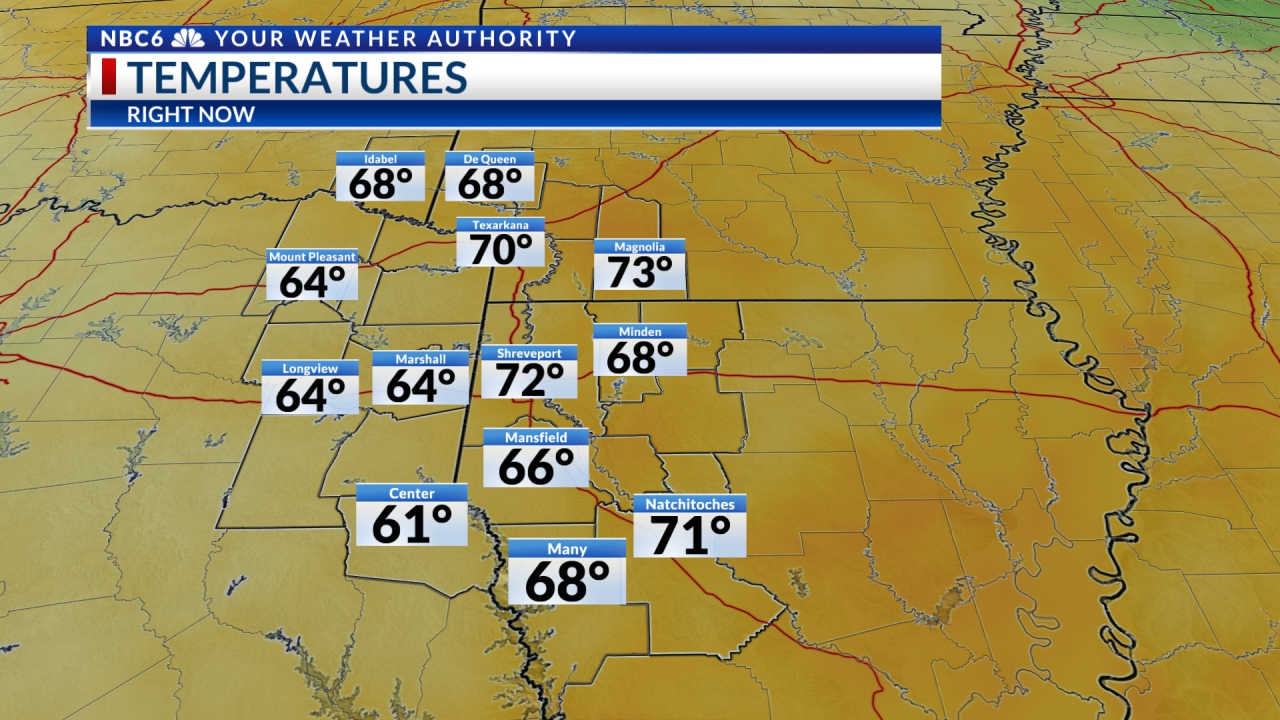 Chilly nights and warmer days: Some of the coolest air of the season settled into the ArkLaTex Sunday night. Temperatures Monday morning began in the 40s over all of the area with some lower 40s over parts of the area. Temperatures Monday afternoon have struggled to warm into the mid to upper 60s. It could get even more chilly Monday night as most of the area will see lows in the low to middle 40s. Temperatures could dip into the upper 30s over the northern part of the area. A warming trend will begin Tuesday with daytime highs likely returning to the low to middle 70s. Highs will probably return to the upper 70s to lower 80s by the end of the week. Lows will eventually warm into the 50s.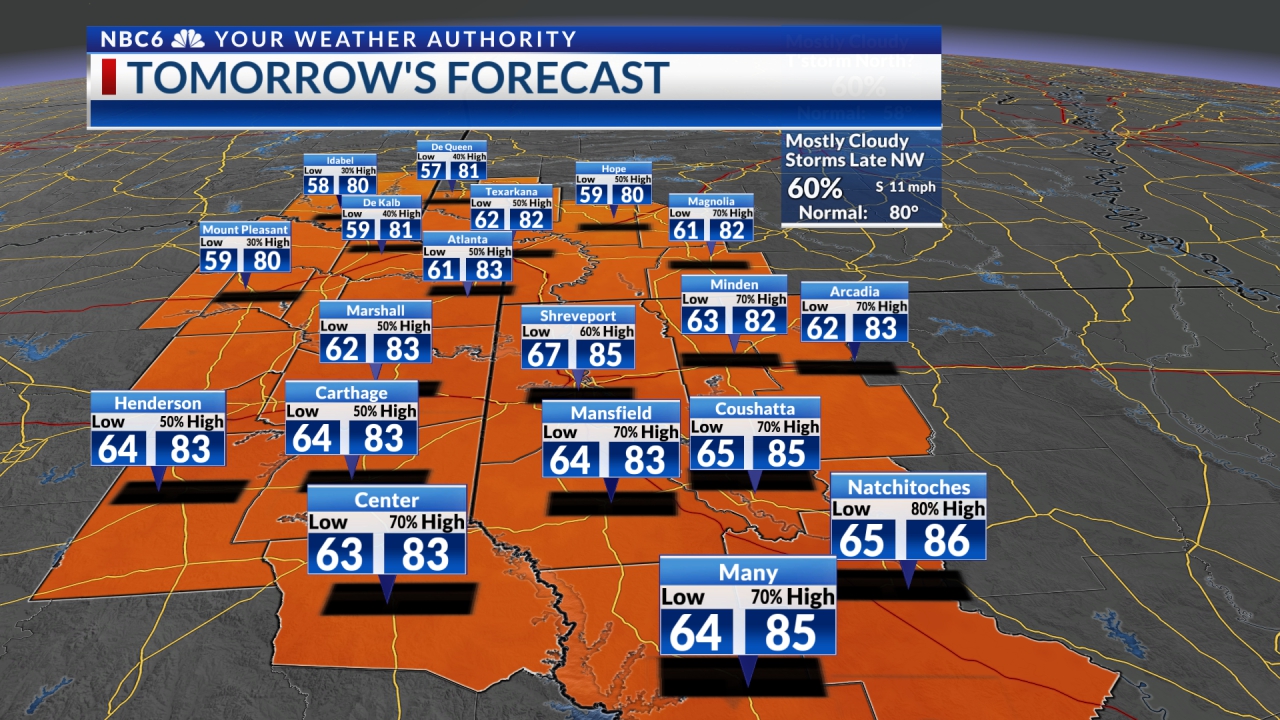 Sunshine to stick around: Futurecast shows that we will see a clear sky across the ArkLaTex Monday night. Most of the area will see lots of sunshine Monday. We will continue to see a clear sky on Tuesday night and plenty of sunshine once again on Wednesday. The longer-range version of Futurecast as well as other models show that we could have a slight chance for some rain on Thursday. Sunshine will quickly return Friday and stick around through the first half of next week.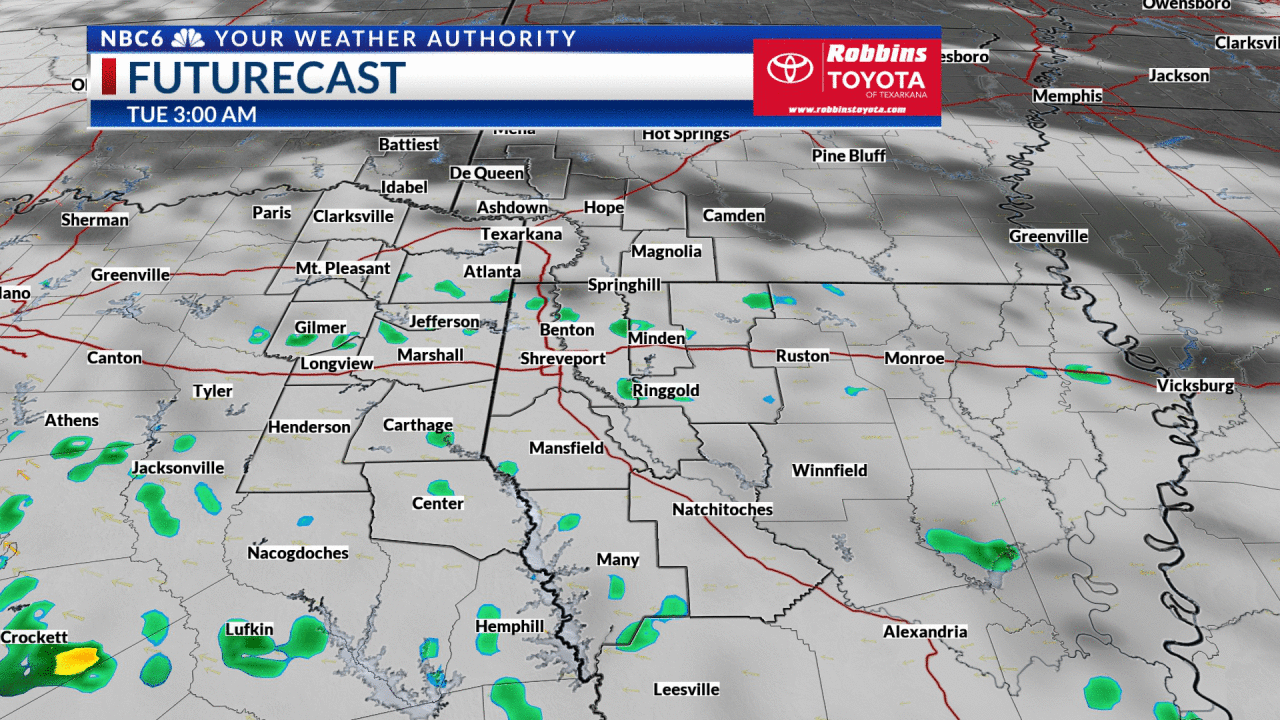 Don't expect much rain: A look at the long-range outlook for the ArkLaTex shows that rain will continue to be rather limited. Minus the slight chance of rain this Thursday, our next chance will probably hold off until the middle of next week. There is good model agreement that another disturbance could bring some rain next Wednesday and Thursday. As of right now, it appears that 10-day rainfall totals will likely be less than 1" with much of the area likely getting less than ½". Once the warmer air returns later this week, it will likely stick around. Highs this weekend will be in the low to middle 80s. We will likely continue to see highs in the upper 70s to lower 80s through all of next week. Overnight lows will mainly settle into the 50s and likely warm into the 60s as the threat of rain increases during the middle of next week.
Climate Fact: Today's low in Shreveport was 48 degrees and marks the first time this fall that we have dipped into the 40s. This 'first' happened a little late this year. Looking at records dating back to the 1870s, the average date of our first experience with 40s is October 8th.
Get daily forecasts and exclusive severe weather details on storms as they approach your area by downloading the Your Weather Authority app now available in the App Store and Google Play