SHREVEPORT, La. (KTAL/KMSS) – A change in the weather pattern across the country means that our streak of warm and dry weather is over.  Rain will continue to increase over the ArkLaTex Thursday night.  Sunshine will be very limited through this weekend and next week with more rain on the way.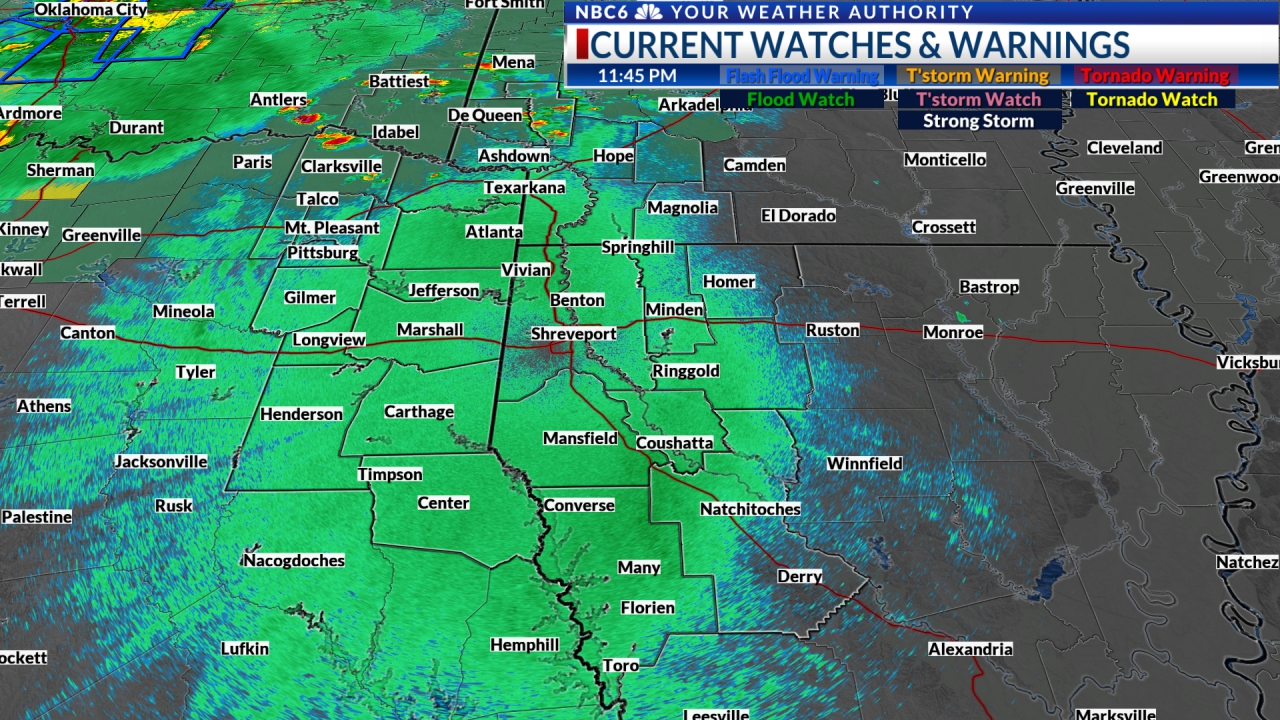 Rain hangs around: We have seen an increase in rain over especially the northwestern half of the ArkLaTex Thursday. The rain has become somewhat heavy in spots. The rain will begin to spread more to the southeast Thursday evening and Thursday night. Futurecast shows that as the rain increases in East Texas and Northwest Louisiana, it will likely decrease a bit in intensity. Friday will begin with rain over much of the area. The rain will become more scattered Friday afternoon and could end temporarily Friday evening. Expect the clouds to hang around Friday night and Saturday. It still appears that we could see a few scattered showers mainly over the southern half of the area during the day Saturday. This rain will end Saturday evening and the weekend will end with drier conditions on Sunday with plenty of clouds over most of the area.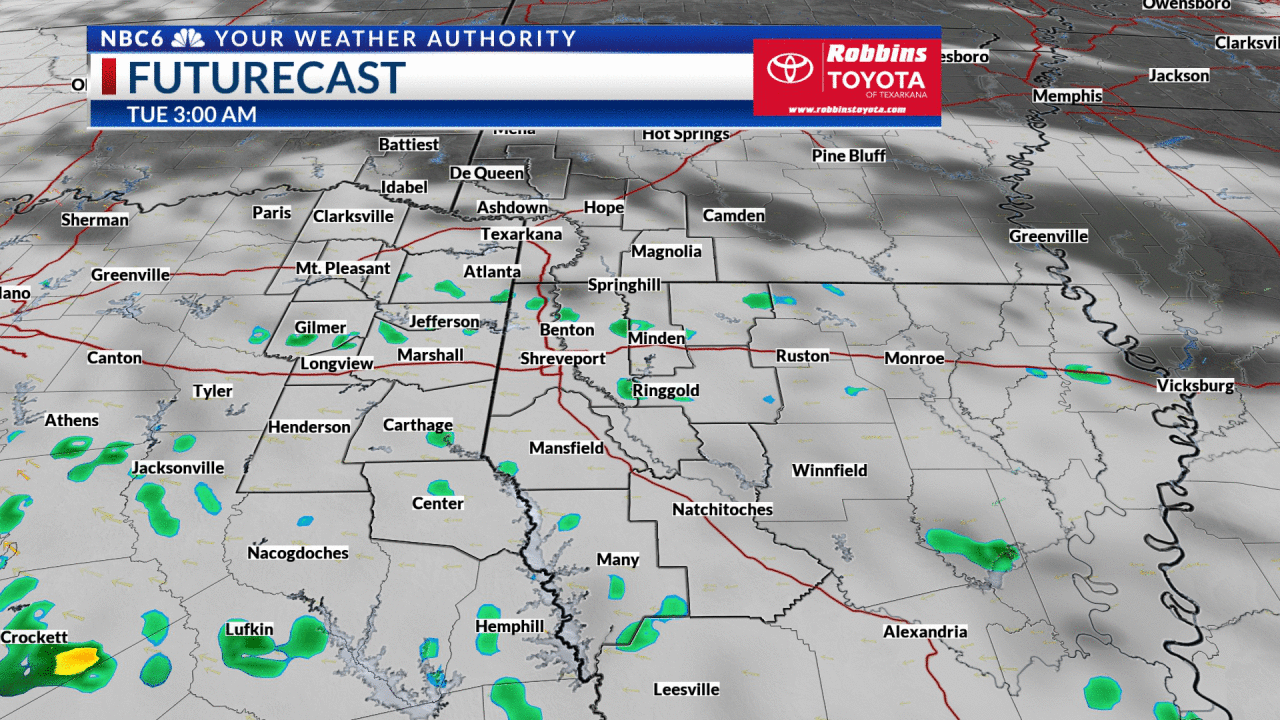 A bit of a chill in the air: Thanks to the clouds and rain, we likely won't see much change in temperatures over the ArkLaTex during the day on Friday. Friday morning lows will range from the mid to upper 40s over the northern part of the area to the low to middle 50s over the south. Daytime highs Friday will mainly be in the mid to upper 50s which is 10 to 15 degrees below normal. Daytime temperatures this weekend will likely stay below normal with highs Saturday in the 50s and low 60s. Highs on Sunday will be a little warmer in the middle 60s.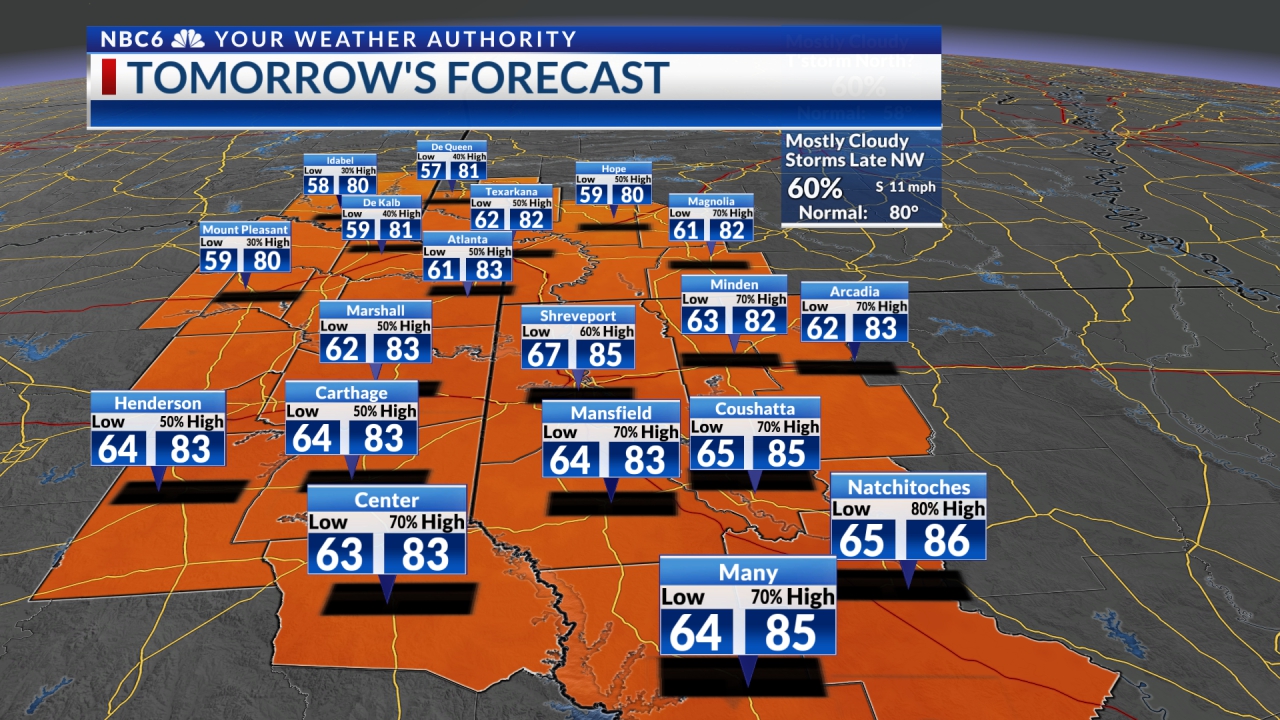 Next week looking rather gloomy: The long-range weather picture for the ArkLaTex does not have much good news for those who like sunshine. Next week will begin with lots of clouds and a slight chance of rain on Monday. The threat of rain will increase Monday night through Tuesday. This rain will likely decrease on Tuesday night and Wednesday but we will likely continue to see plenty of clouds. Temperatures will be warmer on Thursday and Friday as we might see a few rays of sunshine mixed in with the clouds. Daytime highs should return to the low to middle 70s. Another disturbance will bring a chance of showers and maybe some thunderstorms next weekend. I don't expect any severe weather issues during this period although we will have to keep an eye on next weekend's disturbance.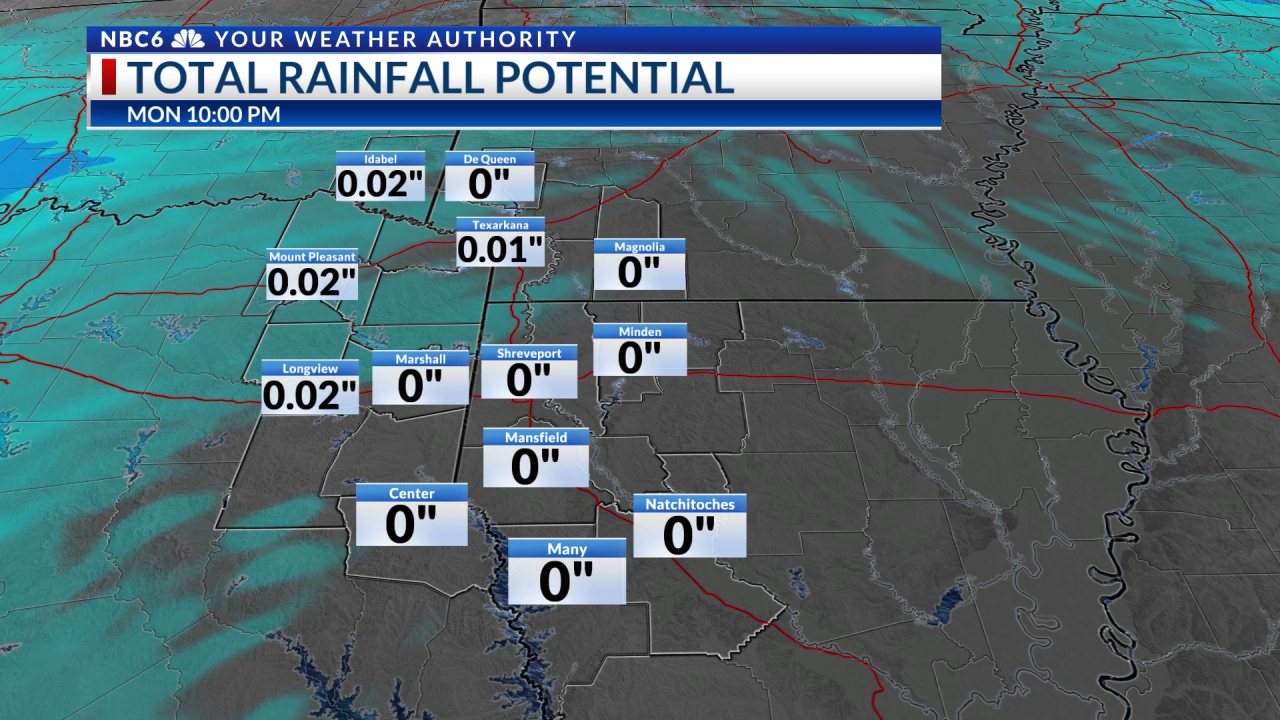 Early Thanksgiving thoughts:  Some people have asked what could be on the way for Thanksgiving.  It's still EXTREMELY early, but as of right now, it is looking dry with near-normal temperatures.  Lows should be in the 40s and daytime highs in the mid to upper 60s. Stay tuned!