SHREVEPORT, La. (KTAL/KMSS) – It will be a warm and breezy Wednesday, but this will be our final day of pushing record highs. A cold front will bring rain and colder air Thursday into Friday.
Near-record highs possible again today: After tying the record high in Shreveport yesterday, we may come close to another record today. Temperatures will be in the 60s under mostly cloudy skies at sunrise. A breezy south wind will develop this morning thinning the clouds and pushing our high temperatures into the mid-80s this afternoon under partly cloudy skies. The record for the date in Shreveport is 87 degrees and 88 degrees for Texarkana.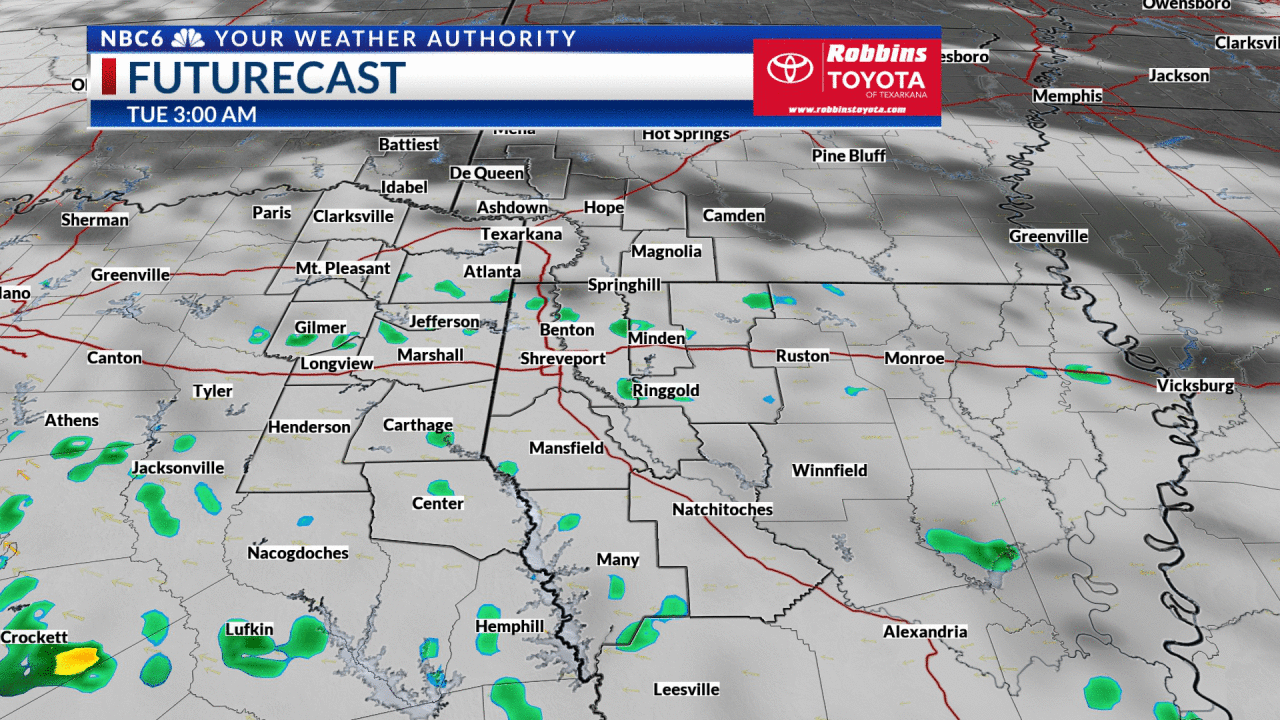 Cold front and rain arrive Thursday: Clouds will thicken overnight and a few light rain showers may develop but the majority of the rain will hold off until late Thursday morning. The 'main event' will arrive as the cold front moves in around noon. Widespread steady rain showers and thunderstorms are likely Thursday afternoon into Thursday night. Temperatures will warm into the 70s ahead of the front Thursday morning, but fall into the 50s and 60s in the rain Thursday afternoon.
A light cold rain will continue into Thursday night and Friday morning, with showers dissipating by Friday afternoon/evening. Rainfall accumulations will average 1 to 2 inches, but there will be areas of northeast Texas that likely receive 2 to 3 inches of rain which may be enough to flood a few roads and creeks. Severe weather in the form of wind, hail, or tornadoes is not expected.
Temperatures will be much cooler Friday through Sunday, in the 50s and 60s. I did include the chance of light rain in Saturday's forecast, but it doesn't appear that this will be a washout scenario that will feature any heavy rainfall. If you have outdoor plans for any Veteran's Day parades or ceremonies, keep an eye on the forecast, but most of your plans should be safe.