SHREVEPORT, La. (KTAL/KMSS) – Colder air has returned to the ArkLaTex and it looks like it's here to stay. Daytime highs will likely stay below normal through the Thanksgiving weekend and all of next week. Rain is on the horizon but it likely won't be much.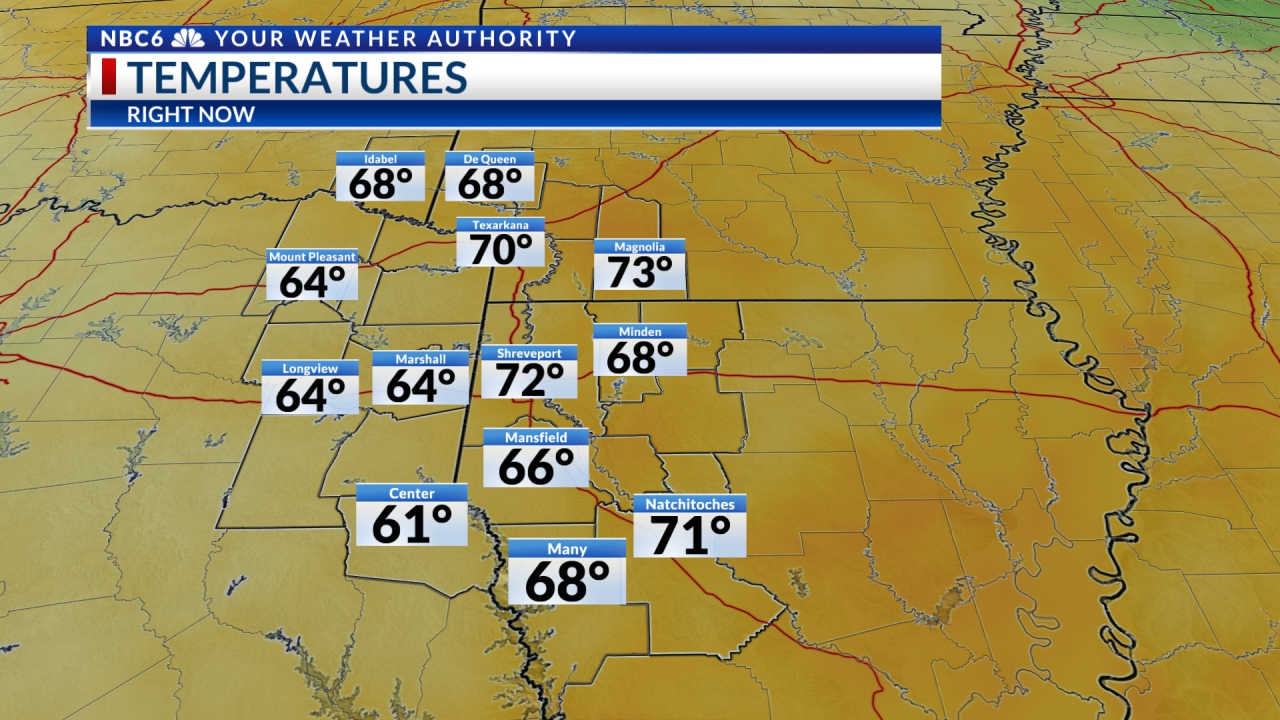 Keep the jacket handy: If you have plans to be outside, you will need to keep the jacket handy. Wednesday was a mostly cloudy day with a rather gusty northwesterly wind. Temperatures began in the 40s and lower 50s and have struggled to move much during the day. Expect another rather chilly night Wednesday night as low temperatures will likely dip into the 30s and lower 40s. Daytime highs Wednesday afternoon will likely be in the 50s over most of the area.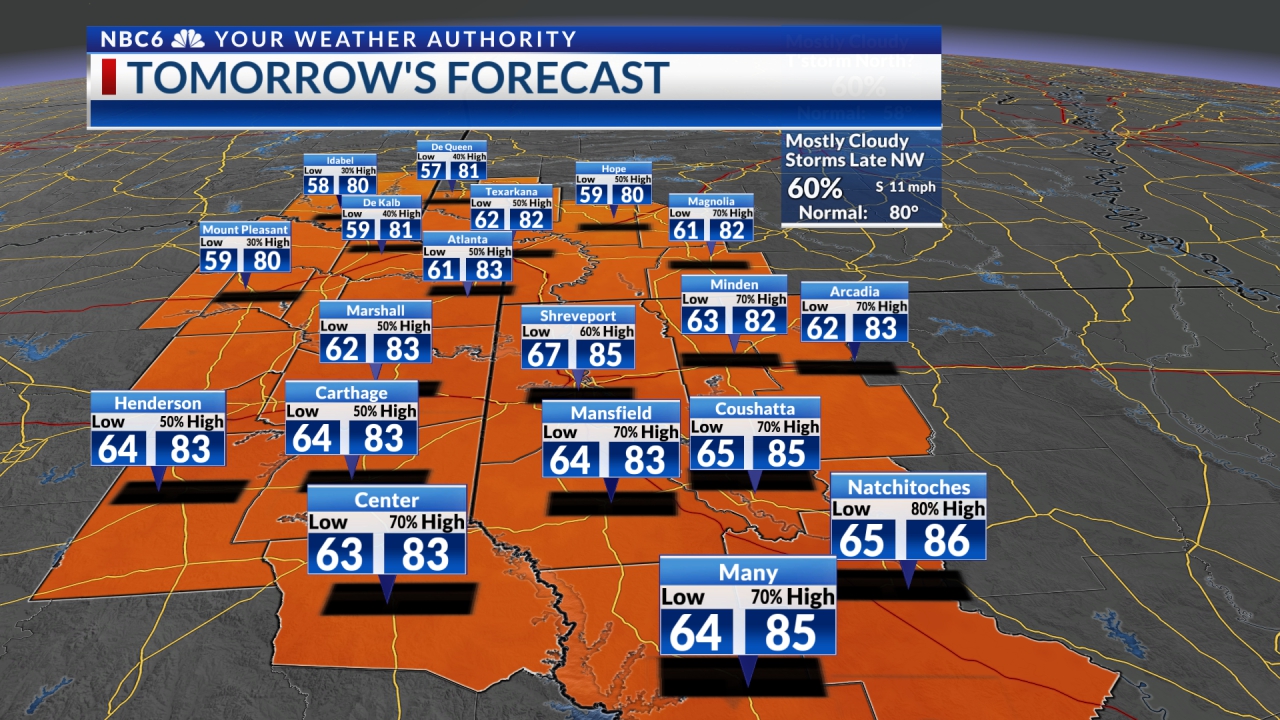 A chilly Thanksgiving: Thanksgiving is also looking rather chilly for this time of year. The day will likely begin with plenty of sunshine but clouds will be increasing during the day. Temperatures will begin in the 30s over all of the area and will likely return to the mid to upper 50s for daytime highs.
A little sun on the way: The clouds that have persisted through much of Tuesday will likely decrease Tuesday night. We should see plenty of sunshine on Wednesday and a mostly clear sky for most of Wednesday night. Futurecast shows that the clouds will gradually begin to move into our area during the day on Thanksgiving but we will likely stay dry. A few scattered showers will briefly return to the ArkLaTex Thursday night and Friday morning. We could see a few breaks in the clouds late Friday afternoon.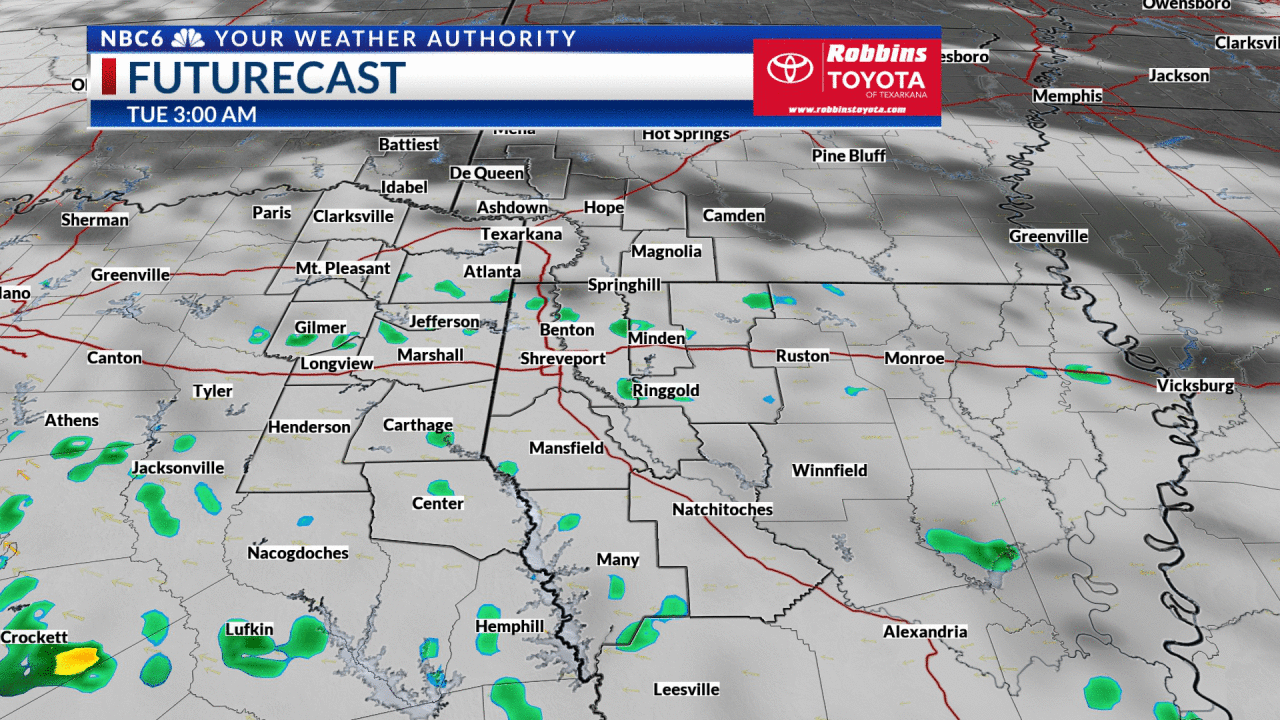 Long-range outlook:  The rest of the extended Thanksgiving weekend should be dry.  We will see a mix of sunshine and clouds on Saturday.  Clouds will likely begin to return on Sunday.  Our next best chance for more widespread rain will begin Sunday night and will likely continue into next Monday. The 10-day outlook of rainfall potential from the blend of models shows that rainfall totals over most of the area during the next week and a half will likely be below ¼" for much of the area. Amounts will range from 1/10″ over the north to about 3/4″ over the south. Temperatures this weekend and all of next week will not change very much.  Overnight lows will likely stay in the 40s and daytime highs will mainly be in the 50s and low 60s.  Given that some rather chilly air will dominate our weather for the next few weeks, severe weather is looking highly unlikely at this time.  
Get daily forecasts and exclusive severe weather details on storms as they approach your area by downloading the Your Weather Authority app now available in the App Store and Google Play