SHREVEPORT, La. (KTAL/KMSS) – We have made it to Friday! I hope everyone has enjoyed the temperatures this week. We would have loved more sun in our daily lives, but the sun will return later today and Saturday. Thunderstorms, possibly strong to severe will return Monday.
It will be a drizzly and foggy morning with temperatures hovering around a cool 60 degrees at sunrise. The drizzle will end a few hours after sunrise and it will be mostly cloudy to overcast through noon. A dry cold front is expected to arrive this afternoon and it will begin to break the clouds so expect some late-day sunshine with a gradual clearing tonight. High temperatures will be on the mild to comfortable side in the upper 60s and low 70s.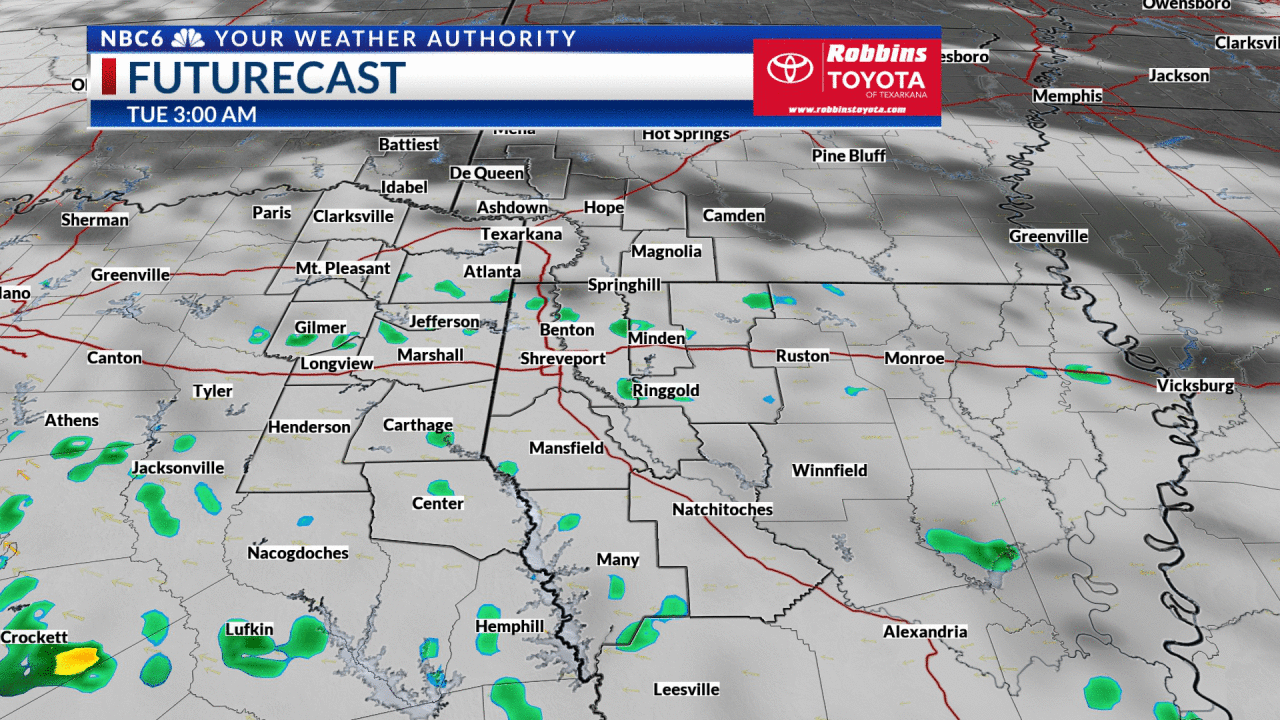 Weekend: Rejoice on Saturday, we will finally see some sunshine! It will be a great day for putting out holiday decorations, running errands, or enjoying some outdoor activities. It will be a partly cloudy day with highs in the 60s and low 70s. The cooler air behind today's front will arrive late in the day dropping lows into the 40s Sunday night.
Sunday will bring increasing clouds throughout the day. It will be a dry morning but a few rain showers or isolated thunderstorms may develop by the afternoon and evening as a cold front approaches. This cold front will trigger a round of severe storms to our west Sunday evening into Sunday night. These storms will likely dissipate before they bring any severe weather hazards to the ArkLaTex, but a few rain showers and isolated storms may move into the I-30 corridor Sunday night into Monday morning
Severe thunderstorms are possible Monday: A warm and breezy south wind Monday will deliver the ingredients for potential strong to severe thunderstorms Monday afternoon into Monday night. This is a highly uncertain situation, with many of the ingredients for severe storms potentially lacking or not lining up. If the storms can tap into the right ingredients a round of severe storms will be possible late in the day. Hail and high wind will be the primary severe weather hazards, but strong wind shear could lead to an isolated tornado. Please check back for updates over the weekend and early next week. The Storm Prediction Center has placed the ArkLaTex in the outlook for potential severe storms.
Rain will likely end Tuesday morning with a cold and windy day Tuesday, and clearing skies and cool temperatures Wednesday. Thanksgiving is looking cool and dry, with plenty of sun and highs in the upper 50s and low 60s.
---