SHREVEPORT, La. (KTAL/KMSS) – Temperatures will be near or above normal through Monday ahead of a strong disturbance. This system will bring rain starting late Sunday through Monday night. Colder air will settle in just in time for Thanksgiving with no more rain until next weekend.
Lots of clouds but little rain: Today was another cloudy day over the ArkLaTex. Futurecast shows that we likely won't see much change until a very weak front moves through the area Friday.  Ahead of the front Thursday night expect a cloudy sky.  A few sprinkles will be possible mainly over the eastern part of the area.  We will continue to see lots of clouds on Friday. However, it is now looking promising that we could see some sunshine Friday afternoon over much of the area. Once the front moves through, the clouds should begin to clear out some Friday night.  We will then see a mix of sunshine and a few clouds on Saturday.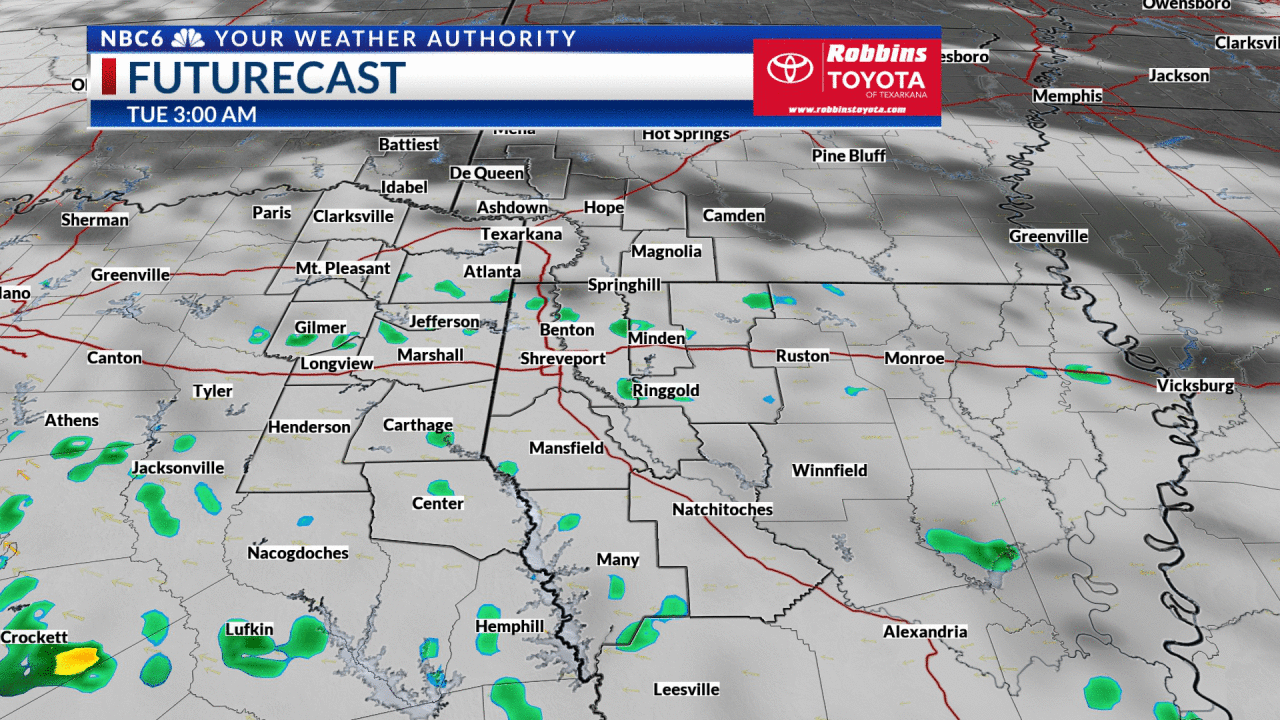 Rather pleasant temps:  Temperatures will be rather pleasant over the next few days.  Enjoy them while you can as changes are on the horizon.  Lows Friday morning will likely be in the 50s and lower 60s.  Daytime highs on Friday will warm into the upper 60s to lower 70s.  Daytime temperatures will likely stay in the 60s and 70s until another front ushers in another batch of colder air that will stick around for a while.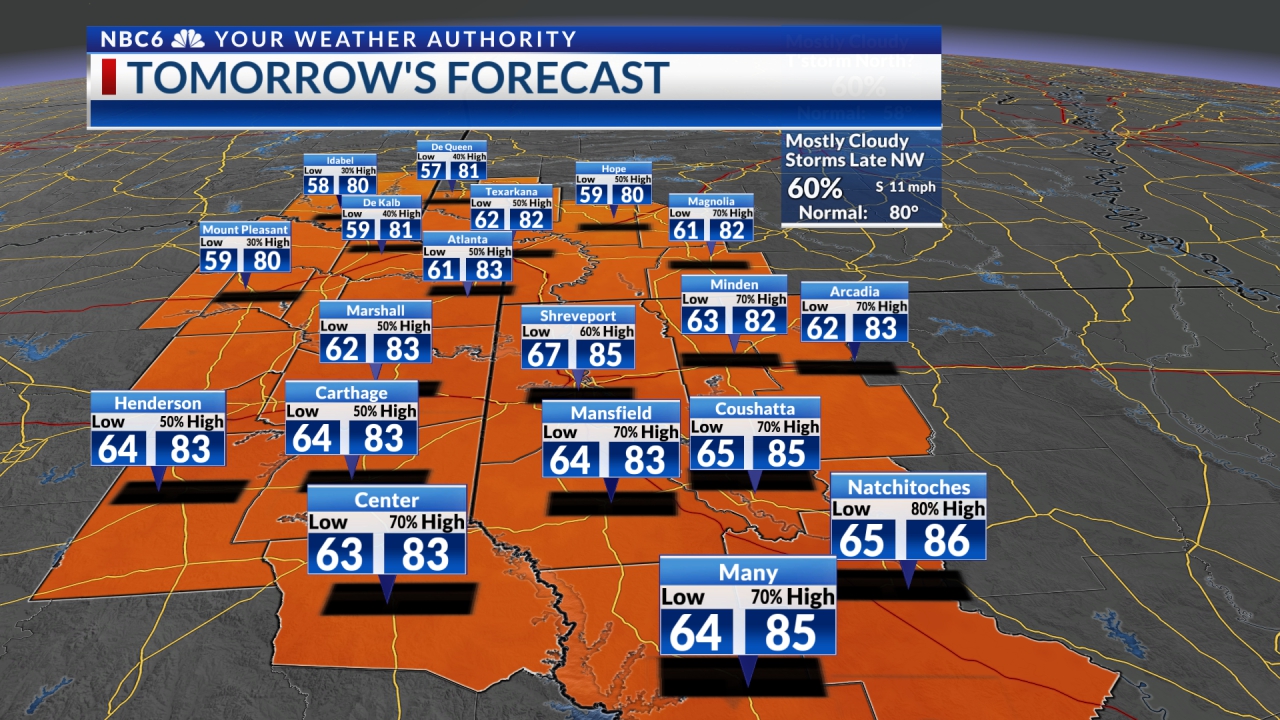 Severe weather now possible?: I've been writing about the rain that is on the way Sunday night and Monday all week. So far, it hasn't looked like we would see much of any severe weather threat. Things have changed a little. We will see showers and thunderstorms move across the area Sunday night and Monday.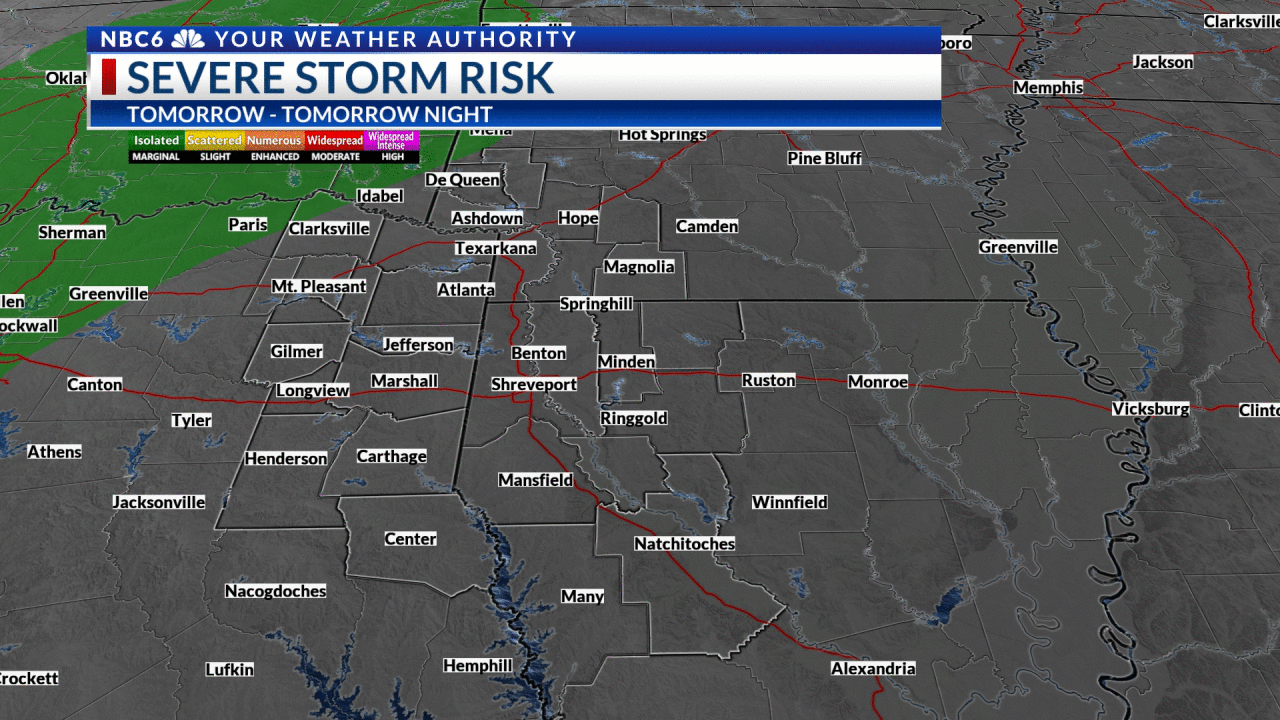 Storms will develop to our west on Sunday afternoon.  These will likely weaken as they move through our area Sunday night.  They will pose an isolated severe weather threat for our area.  The biggest concern for severe weather could come Monday with new storms that develop during the day.  Right now it appears that the biggest threat will be over the SE edge of the ArkLaTex with most of the issues occurring to the SE of our area.  All severe weather threats including the chance of a tornado or two will be on the table.  There has not been much change in model rainfall projections for the next 10 days.  The blend of models continues to show rainfall totals of ½ to 1" for most of the area with the heaviest rain over the southeast edge of the ArkLaTex.
Thanksgiving Forecast:   Once this Monday's system moves through the area, we will see much cooler temperatures settle in.  Sunshine will likely return on Tuesday and stick around through Thanksgiving.  Temperatures on Thanksgiving day will begin in the mid to upper 30s.  We will see daytime highs in the upper 50s to lower 60s.  Another surge of colder air will arrive on Thanksgiving weekend and bring a little bit of rain.  Highs next weekend will likely dip into the low to middle 50s!
Get daily forecasts and exclusive severe weather details on storms as they approach your area by downloading the Your Weather Authority app now available in the App Store and Google Play