SHREVEPORT, La. (KTAL/KMSS) – Our cloudy and misty weather will continue Thursday, with the hope the sun can break thorugh at times Friday and Saturday. Widespread rain and a few thunderstorms are likely with a cold front passing through late Sunday into Monday.
Today: Temperatures will be in the 50s at sunrise under overcast skies. A light mist/drizzle is being reported across the I-30 corridor between Mt. Pleasant and Texarkana, but this drizzle may develop anywhere early this morning.
Low pressure in the Gulf Of Mexico continues to send the never-ending canopy of clouds in our direction, and it will likely remain overcast all day, holding high temperatures in the mid-60s. While the morning mist/drizzle should end as temperatures slowly rise later in the day, as we cool down this evening there may be some additional pockets of drizzle through tonight.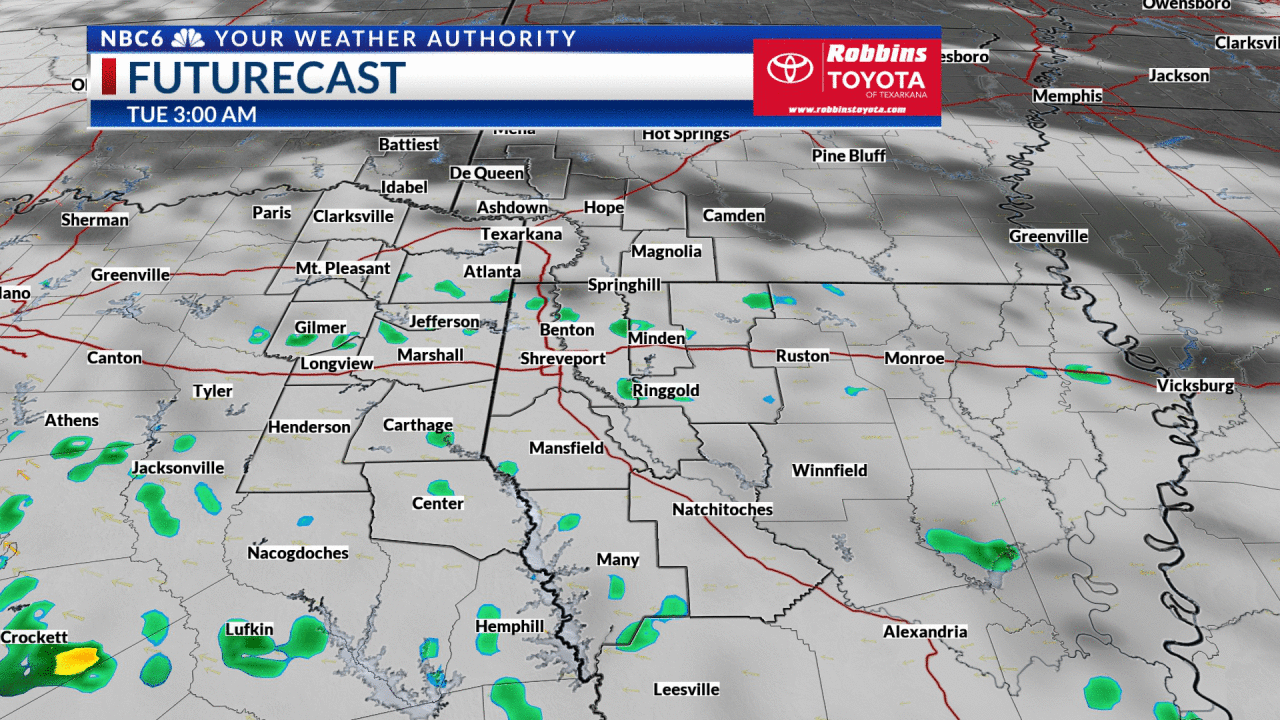 Friday: We will begin the day with fog and drizzle, and likely remain overcast to mostly cloudy. Our wind direction will switch from the north to the south, pushing warmer air into the pattern Friday with highs in the low to mid-70s. A cold front will arrive Friday night, an it will likely be a dry front as no rain is expected.
Weekend: The sun will finally make an appearance Saturday with drier air taking over temporarily, it will be a great day to be outside with highs in the low 70s. The sunny skies will go away Sunday as a stronger cold front arrives in the ArkLaTex. Rain showers and isolated thunderstorms are expected late Sunday afternoon into Sunday night. The severe weather threat is low, but a strong storm or two can't be ruled out, mainly for wind/hail.
Sunday night into Monday: Rain will be ongoing early Monday morning before tapering off after sunrise. Temperatures will be on the warmer side of 70 degrees on Monday, with the warm and muggy air resulting in another round of thunderstorms potentially developing Monday afternoon into Monday night.
Tuesday through Thanksgiving: The cooler air will arrive late Monday dropping highs into the low to mid-50s with a breezy north wind Tuesday and Wednesday. We should see the sun back in our lives by Tuesday afternoon, with mostly sunny skies Wednesday into Thanksgiving. Turkey Day looks to be one of the nicest days next week with mostly sunny skies and highs in the low to mid-60s.
---