SHREVEPORT, La. (KTAL/KMSS) – Some sunshine returned to much of the ArkLaTex on Tuesday and could return to start Wednesday. The dry weather will continue until a disturbance brings rain on Monday. Thanksgiving now looks dry but chilly.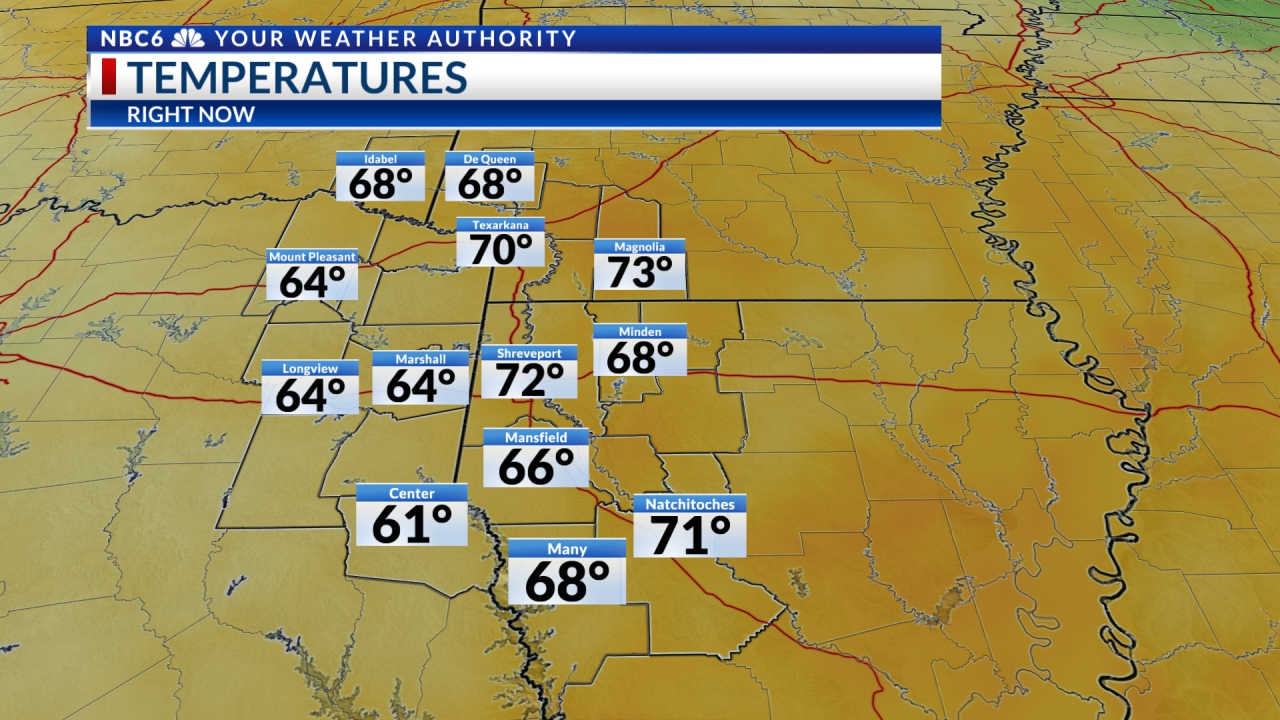 Finally a little sunshine: We did manage to see a few pockets of light rain around the ArkLaTex Tuesday morning and early afternoon. The rain has ended over most of the area with some sunshine over the western half of the area.  The clouds should briefly decrease in those areas that have not seen much sun today.  Futurecast shows that we will see a clear to partly cloudy sky Tuesday night.  Clouds will likely increase from east to west during the day on Wednesday.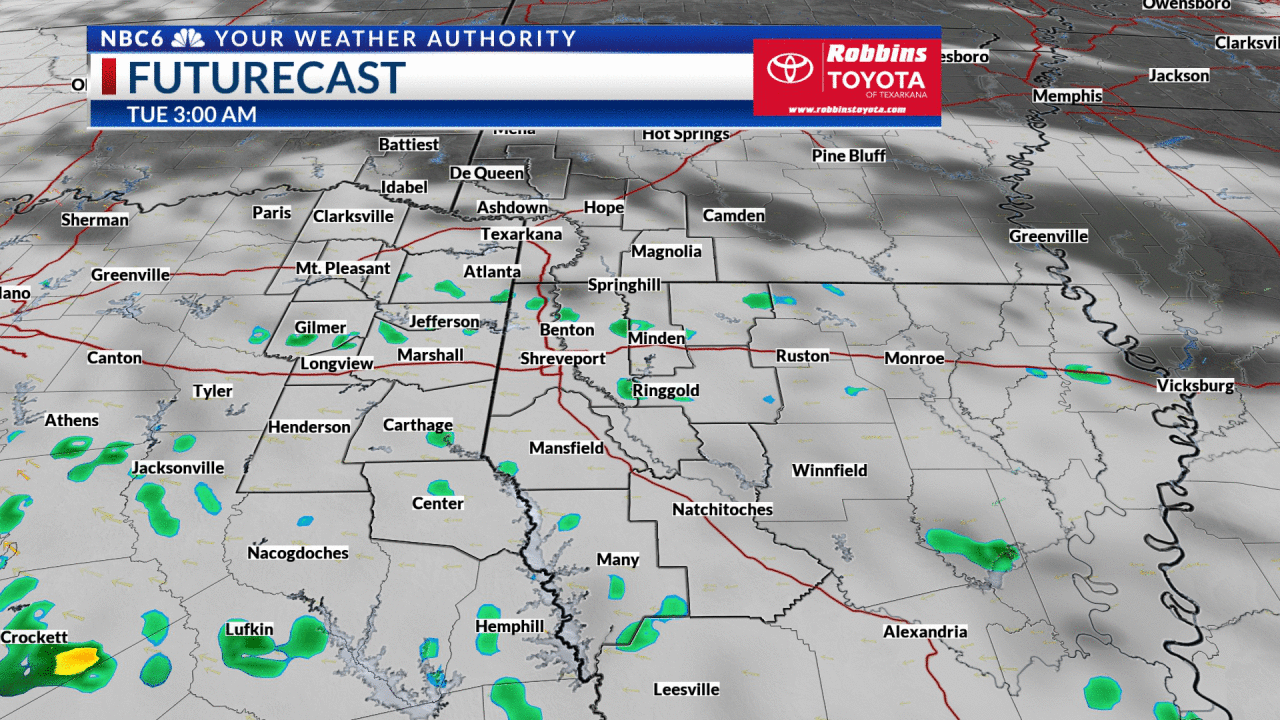 Chilly nights & warm days: With fewer clouds over the ArkLaTex Tuesday night, temperatures will be a bit cooler. Lows Wednesday morning will be in the mid to upper 40s over most of the area. Daytime highs Wednesday will be close to normal with afternoon temperatures in the 60s and low 70s. We will see similar temperatures on Thursday and slightly warmer temperatures on Friday. Highs on Friday will likely be in the low to middle 70s.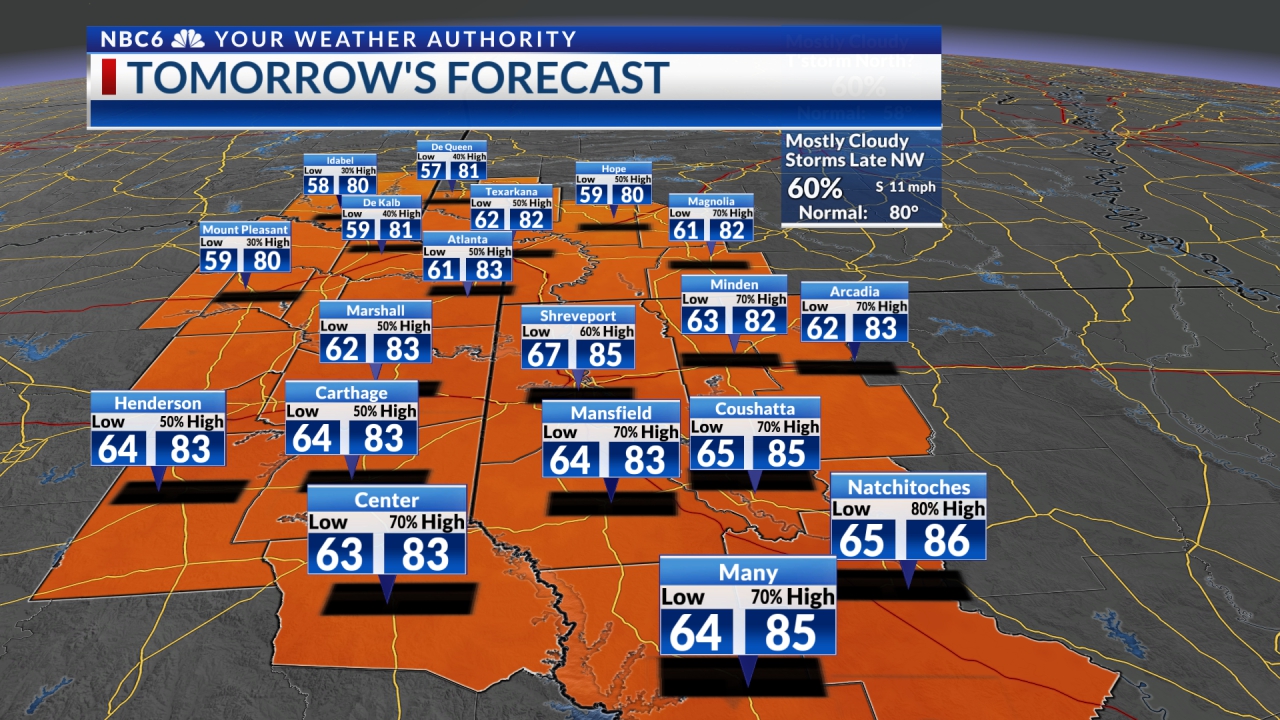 A wet start to Thanksgiving week: Our next chance of rain will likely hold off until Sunday night, Monday, and Monday night. The weekend will end with a mostly cloudy sky on Sunday. A little bit of rain will be possible very late Sunday over the western part of the area. Rain chances will increase on Sunday night and Monday before ending on Monday night. Severe weather still looks unlikely as this disturbance rolls through. We could see a decent amount of rain. The blend of models shows that most of the area will see rainfall totals of at least 1".
Thanksgiving Forecast:   Yesterday it appeared that we could have a little rain on Thanksgiving Day.  We will have a disturbance moving through the area, but most models show that our area will remain dry.  Temperatures on Thanksgiving Day will begin in the upper 30s to lower 40s.  We will see daytime highs in the 50s and lower 60s.
Get daily forecasts and exclusive severe weather details on storms as they approach your area by downloading the Your Weather Authority app now available in the App Store and Google Play