SHREVEPORT, La. (KTAL/KMSS) – Don't expect to see much sunshine over the next few days as an upper-level disturbance will bring a little rain to the southern half of the ArkLaTex. The mild temperatures will stick around with more rain possible this weekend and again on Thanksgiving.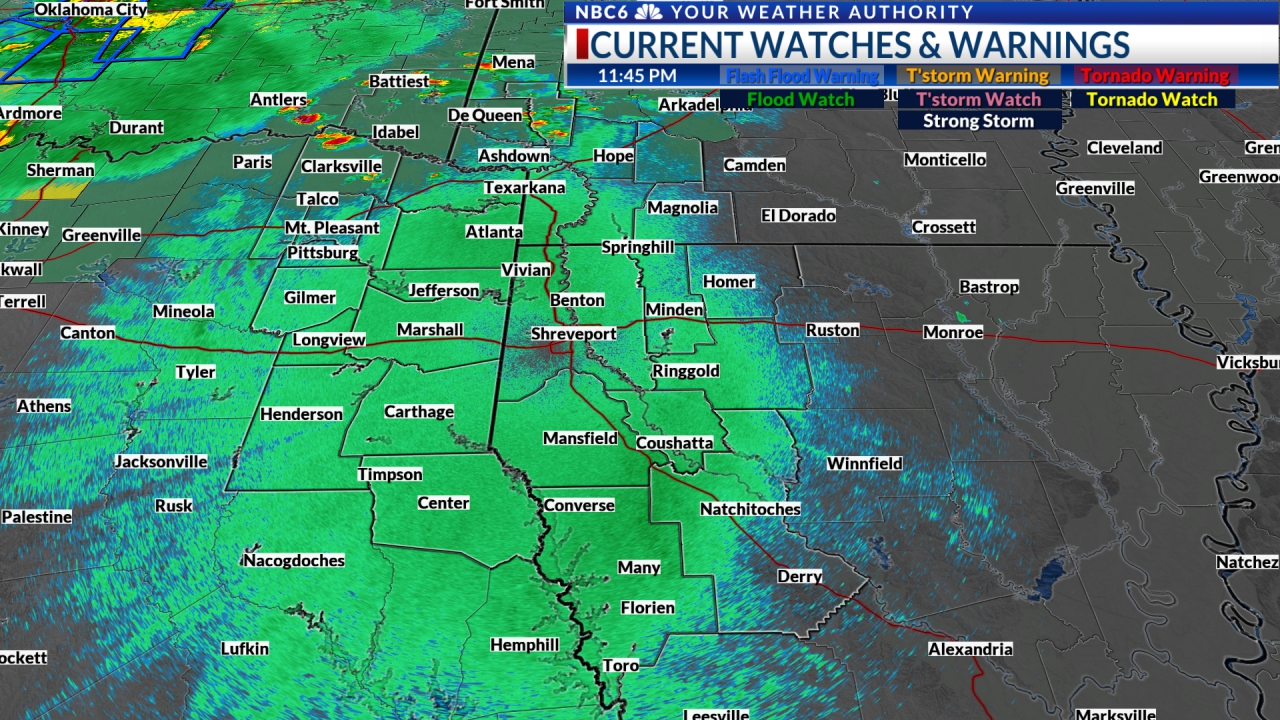 A little rain for some: Much of the ArkLaTex failed to see much sunshine over the weekend and it appears that the lack of sunshine will continue through Tuesday. Rain today has been confined to the southern part of the ArkLaTex south of I-20. This is where the threat of rain will likely continue Futurecast shows that the northern extent of the rain could reach as far north as I-30 late Monday night. We will continue with lots of clouds and a few scattered showers mainly over the southern half of the area Tuesday night. Once the upper-level disturbance responsible for the rain moves east, we might manage a little sunshine on Wednesday.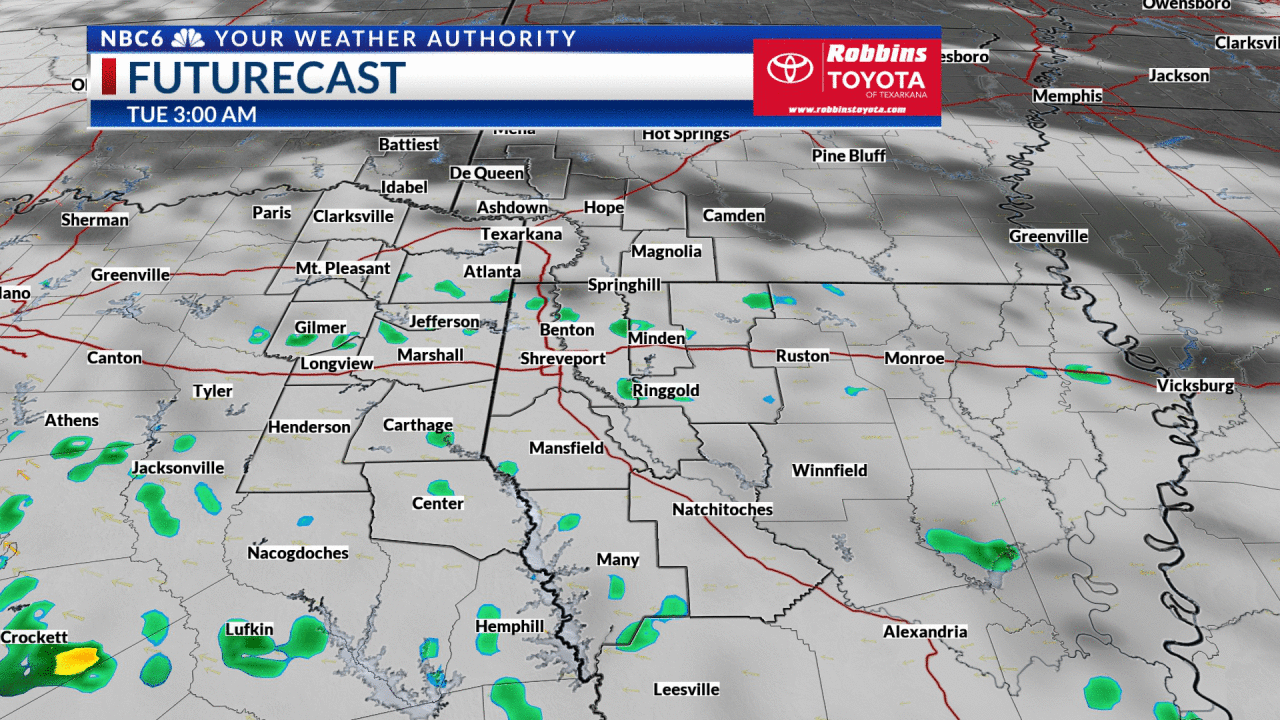 Mild days and cool nights: Daytime temperatures will likely stay near or slightly below normal over the next few days. Highs Tuesday will mainly be in the mid to upper 60s. Lows Tuesday morning will likely be above normal in the upper 40s to lower 50s. Expect similar temperatures on Wednesday and then a slight warm-up to end the week as highs return to the 70s by Friday with mainly dry conditions.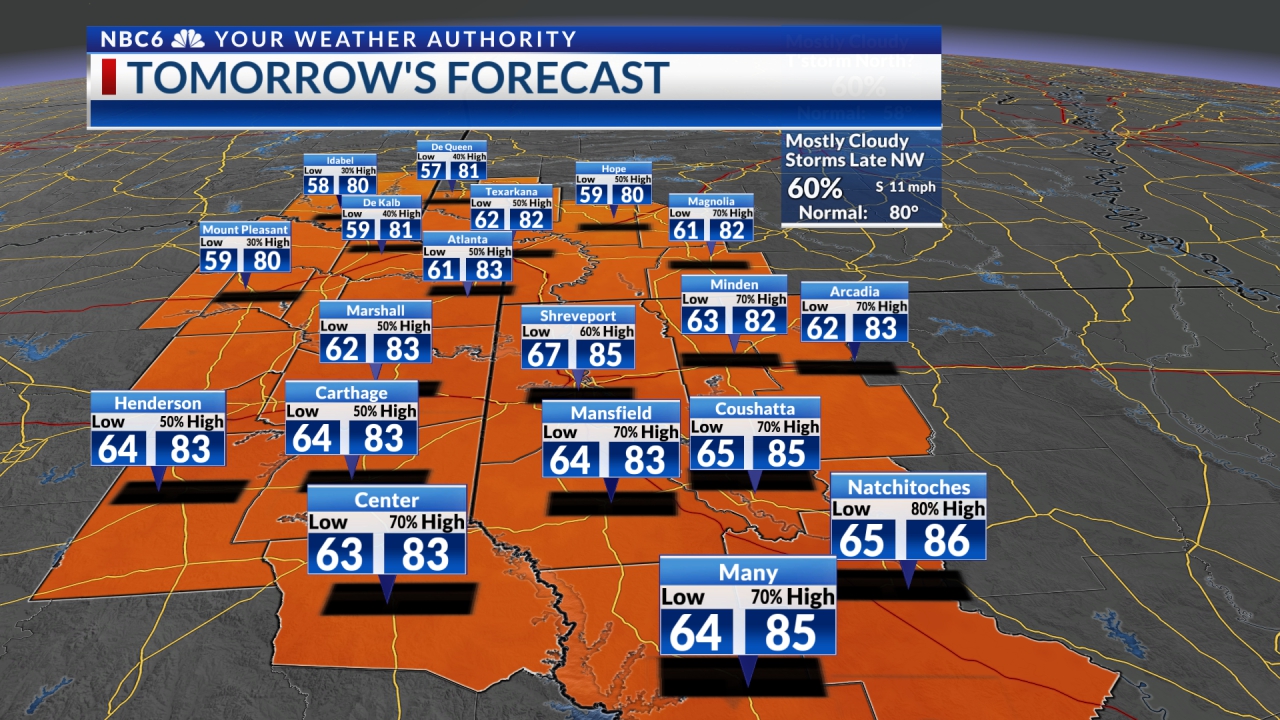 Two more shots at rain: Long-range models now go out far enough to catch a glimpse of what might be on the way for Thanksgiving. Once the rain ends on Tuesday night, we will see two more shots at rain from now through next Thursday. The first will be on Sunday and Monday. The second will potentially arrive just in time for Thanksgiving Day. The long-range model blend shows that the heaviest rain could come late this weekend and Monday. Most of the area has a chance of seeing at least 1" of rain in the next 10 days.
Thanksgiving Forecast: As of right now, it appears that we will see lots of clouds on Thanksgiving Day with a chance of some showers. Temperatures will begin in the mid to upper 40s. We will see daytime highs in the low to middle 60s.
Get daily forecasts and exclusive severe weather details on storms as they approach your area by downloading the Your Weather Authority app now available in the App Store and Google Play