SHREVEPORT, La. (KTAL/KMSS) – Light rain will pass through deep east Texas and Louisiana today, with a hard cutoff between those of us who will see rain showers through Tuesday, and those of us who won't see a drop of rain.
It will be cool and cloudy all day with temperatures in the 50s at sunrise, only warming into the mid-60s this afternoon so you'll want long sleeves or a jacket. An area of low pressure is carving a path south of the ArkLaTex along the coast today. This low will push rain showers into the southern half of the ArkLaTex through Tuesday.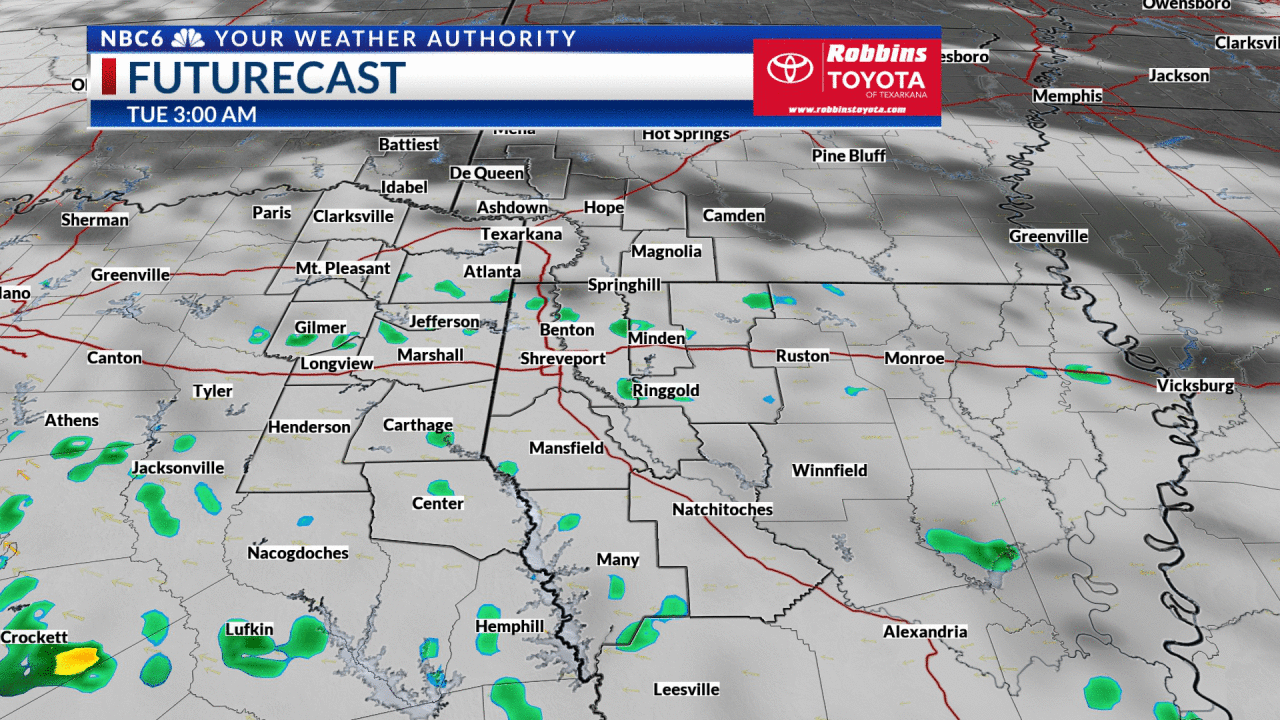 If you live near Carthage, Center, Many, Mansfield, Natchitoches, and Coushatta your chance of scattered light rain will be highest today. We can't rule out a few rain showers falling as far north as Marshall, Shreveport/Bossier, and Minden. It is unlikely we will see accumulating rainfall north of I-20 through tonight, but a few of these areas could see light rain on Tuesday.
Tuesday will be another overcast day with highs in the mid-60s. There is a slightly higher chance of rain developing in Shreveport, and as far north as Arkansas tomorrow, but accumulations will remain light. Rainfall accumulations through Tuesday night could be above half an inch across Toledo Bend, perhaps a tenth of an inch near I-20, and trace amounts for the I-30 corridor.
Rain will end Tuesday night but mostly cloudy skies will linger for the rest of the week keeping highs comfortably near average in the upper 60s and low 70s through the weekend. For the weekend, Saturday will be dry, but a slight chance of rain may return by Sunday.
---