SHREVEPORT, La. (KTAL/KMSS) – Except for a little rain over the southern part of the area, most of the ArkLaTex will be dry this weekend. Temperatures will stay below normal through most of next week. More rain looks promising early next week and next weekend.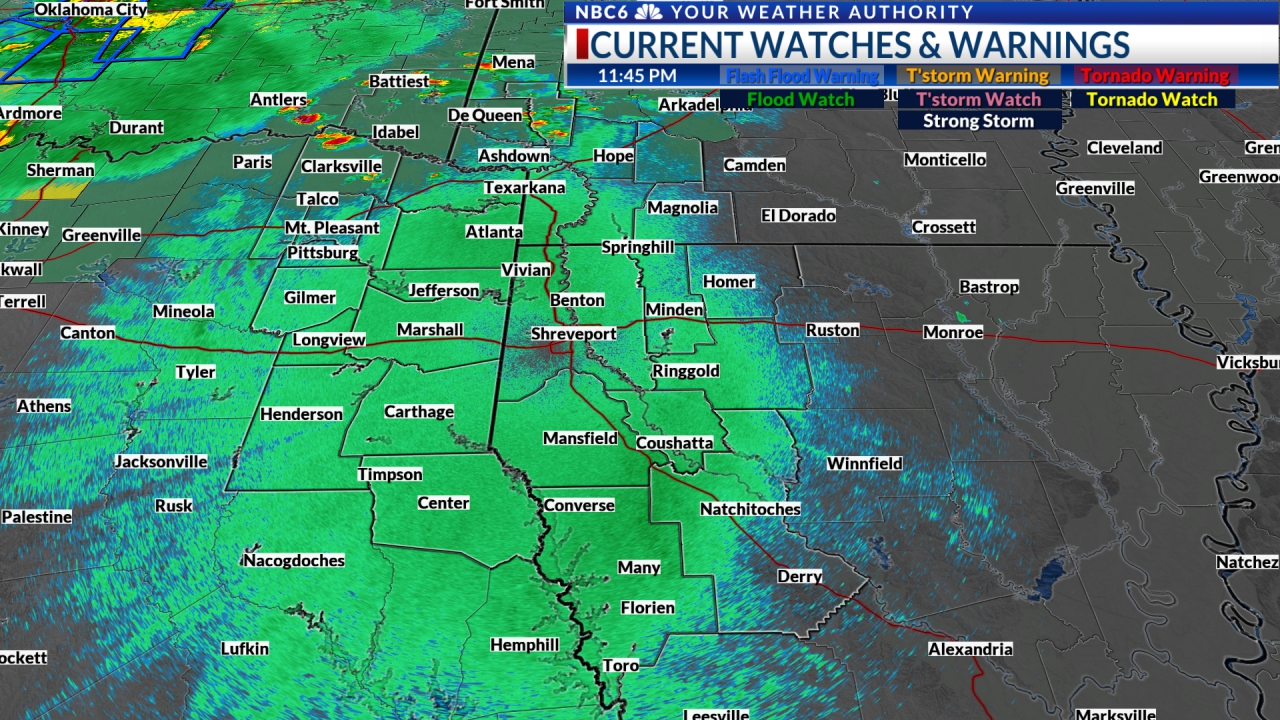 Rain decreases but more coming: Much of the ArkLaTex received a decent amount of rain Thursday and Thursday night with anywhere from one to a little over two inches over the northwest half of the area. The heaviest of the rain has moved out of our area.
We continue to see a few areas of light rain on the Friday afternoon that will continue to gradually decrease. Futurecast shows another area of mainly light rain will move across the southeast half of the area Friday night. Saturday will begin with a few scattered showers mainly over northwest Louisiana SE of Shreveport. This rain will end Saturday afternoon and we will likely see drier conditions on Saturday night and Sunday. Most of the area will stay cloudy through the weekend. We have seen some sunshine over the northern quarter of the area today. Futurecast is now hinting that we could see some sun Sunday afternoon as far south as Interstate 20.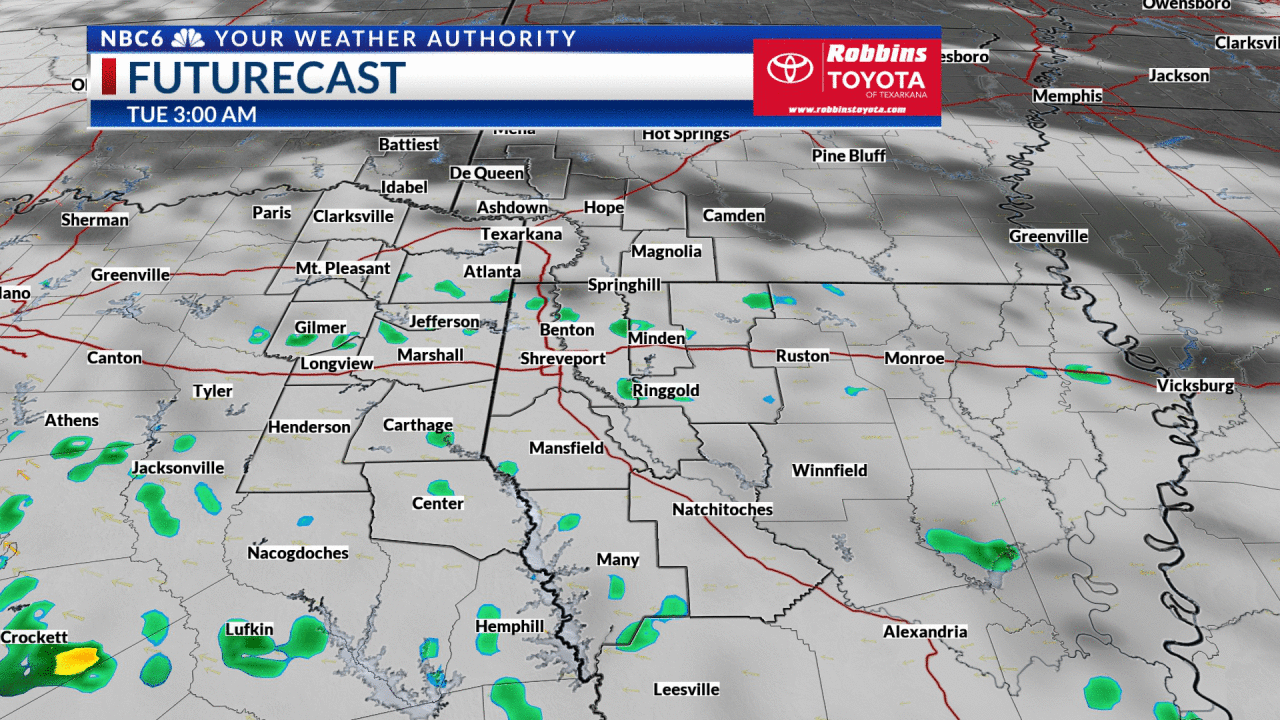 Above normal nights & below normal days: With the clouds lingering over the ArkLaTex this weekend, the difference between our morning lows and afternoon highs will not be as large as they normally are. Look for lows Saturday morning to be in the mid to upper 40s over the northern part of the area and the low to middle 50s over the south. Daytime highs on Saturday will likely warm into the upper 50s to lower 60s.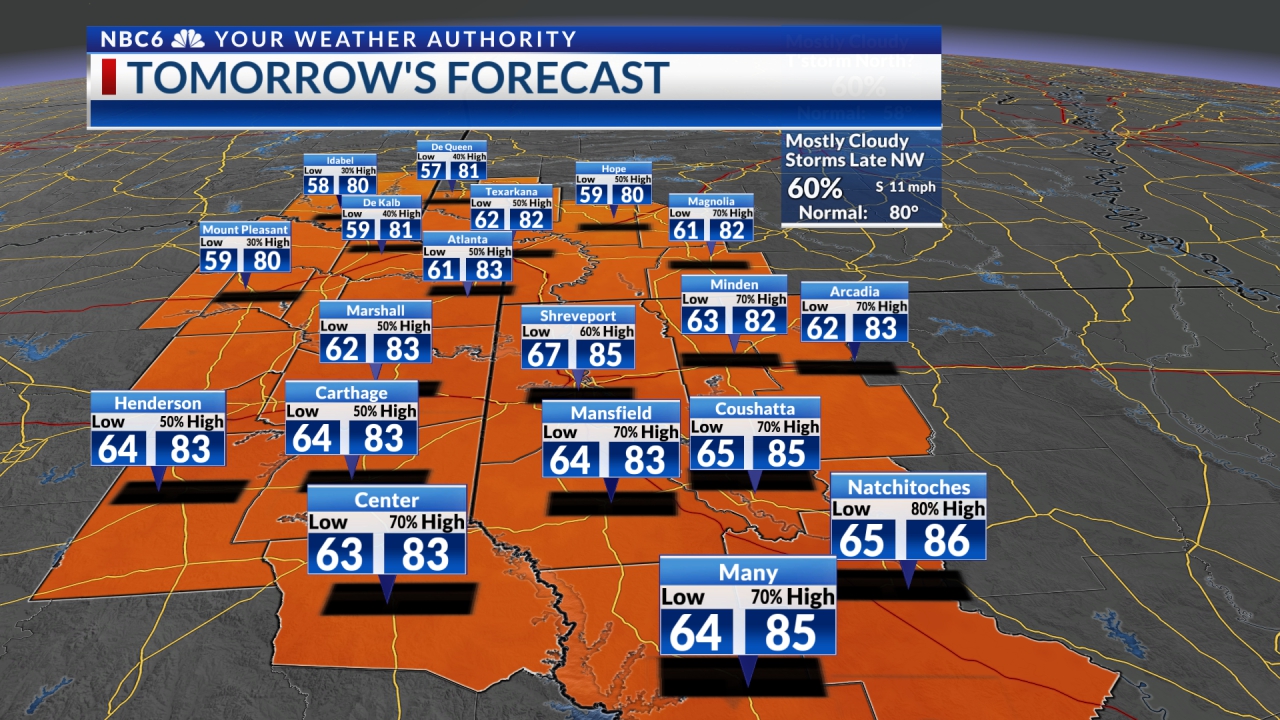 Two shots at rain next week: Long-range models continue to show that we will see two disturbances next week that will bring a decent amount of rain. The first will arrive at the beginning of the week on Monday, Monday night, and Tuesday. The second will arrive next weekend with the best chance of rain on Sunday. Temperatures next week will stay rather mild early in the week with highs mainly in the 60s. The week will end with a warming trend as highs return to the 70s. Overnight lows will likely stay in the 50s. The blend of models shows that rainfall totals from now through next weekend will be heaviest over the southern half of the area where totals could exceed three inches. Amounts gradually decrease to about an inch over the northern edge of the area.
Early Thanksgiving thoughts:   It's still EXTREMELY early so take this with a big grain of salt but it now appears that we could see a front near our area on Thanksgiving that could bring rain.  Highs will likely be in the 60s.  Morning temperatures will be in the 40s and 50s.  Stay tuned.
Get daily forecasts and exclusive severe weather details on storms as they approach your area by downloading the Your Weather Authority app now available in the App Store and Google Play