SHREVEPORT, La. (KTAL/KMSS) – We are not quite done with the cold just yet, but the end is near. Freezing temperatures look possible for all of the area again tonight. We will then see a quick warming trend heading into what will be a perfect weekend of weather.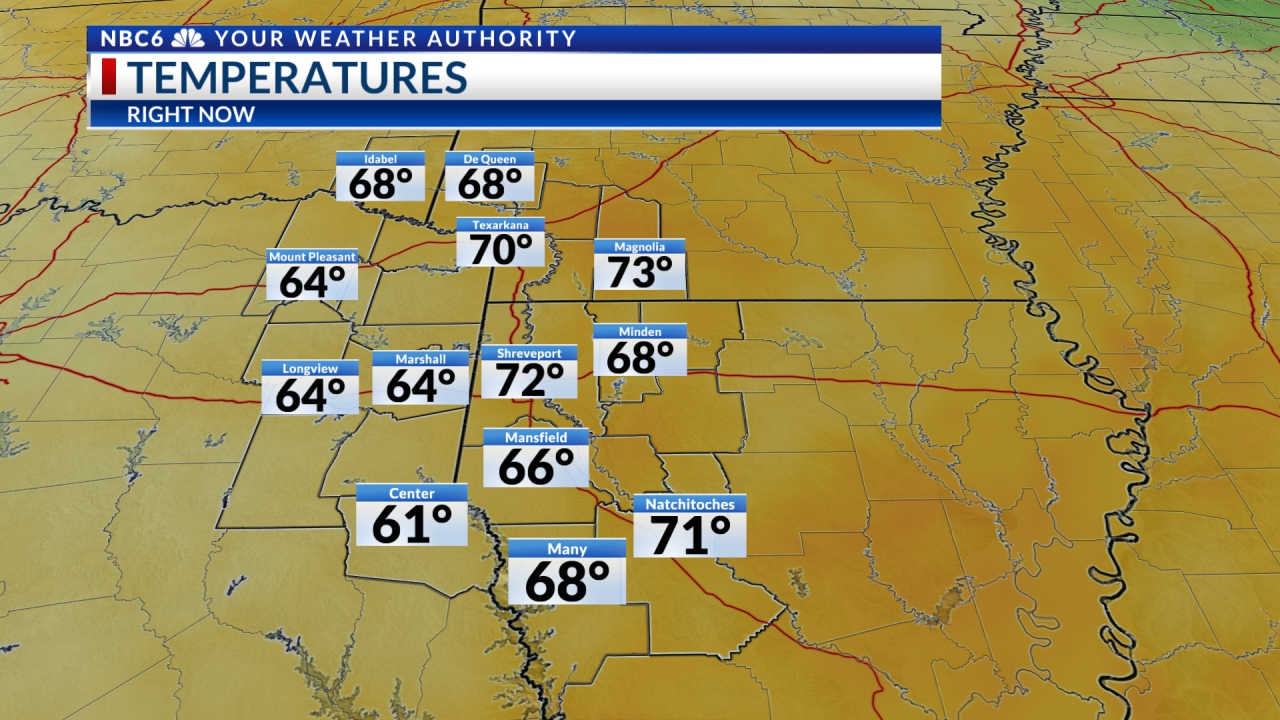 One more night of freezing temperatures: Today was a rather chilly day around the ArkLaTex with temperatures more typical of January than early November. Expect one more night where freezing temperatures will be likely. Lows Thursday morning will likely dip into the 20s over much of the area. We will see lows in the mid to upper 20s over the northern part of the area and the upper 20s to lower 30s over East Texas and Northwest Louisiana. A warming trend will begin on Thursday. Look for daytime highs to return to the 60s over much of the area. The warming trend will accelerate on Friday as the 70s could return. We will be in the mid to upper 70s this weekend. These warmer temperatures will combine with plenty of sunshine to make for a perfect weekend of weather.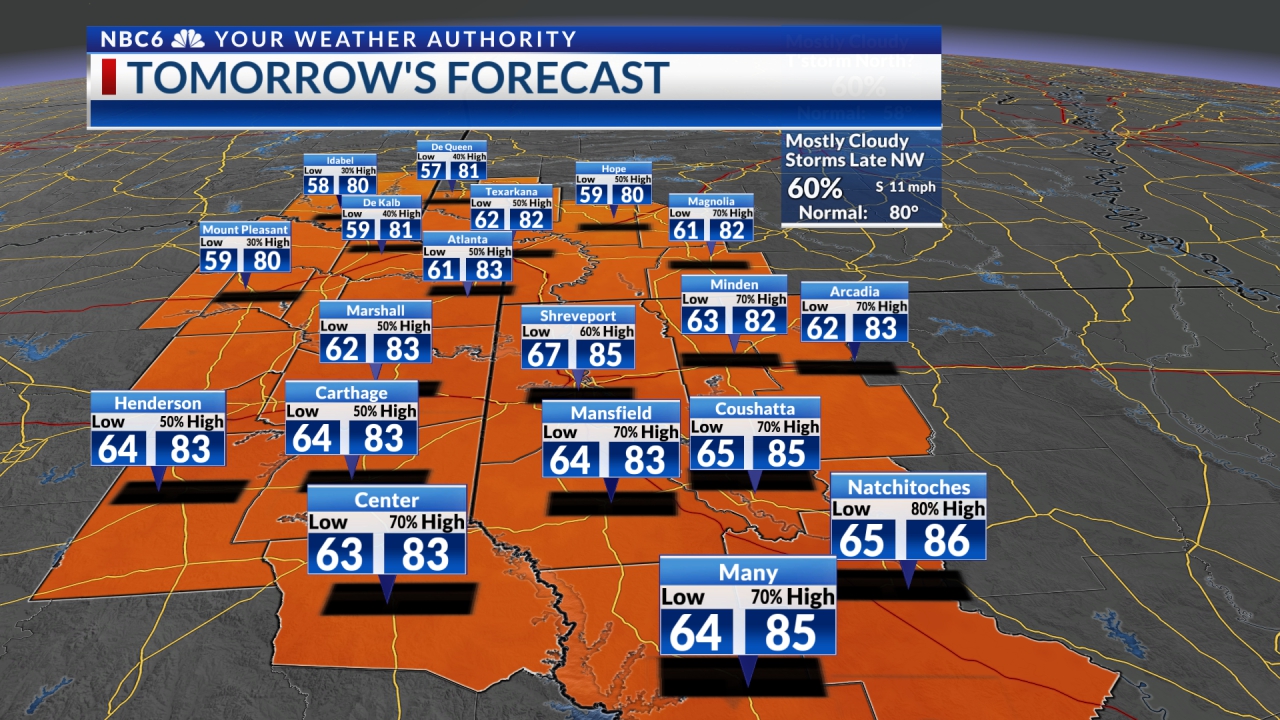 'Let the sunshine in': Futurecast shows Mother Nature will take a page out of the Aquarius songbook and 'Let the sunshine in'! We will once again see a clear sky tonight. Expect a sunny sky once again on Thursday. With the wind shifting around to the south on Friday, we could see a few clouds start to mix in with the sun. The dry conditions will continue through the weekend and likely most of next week.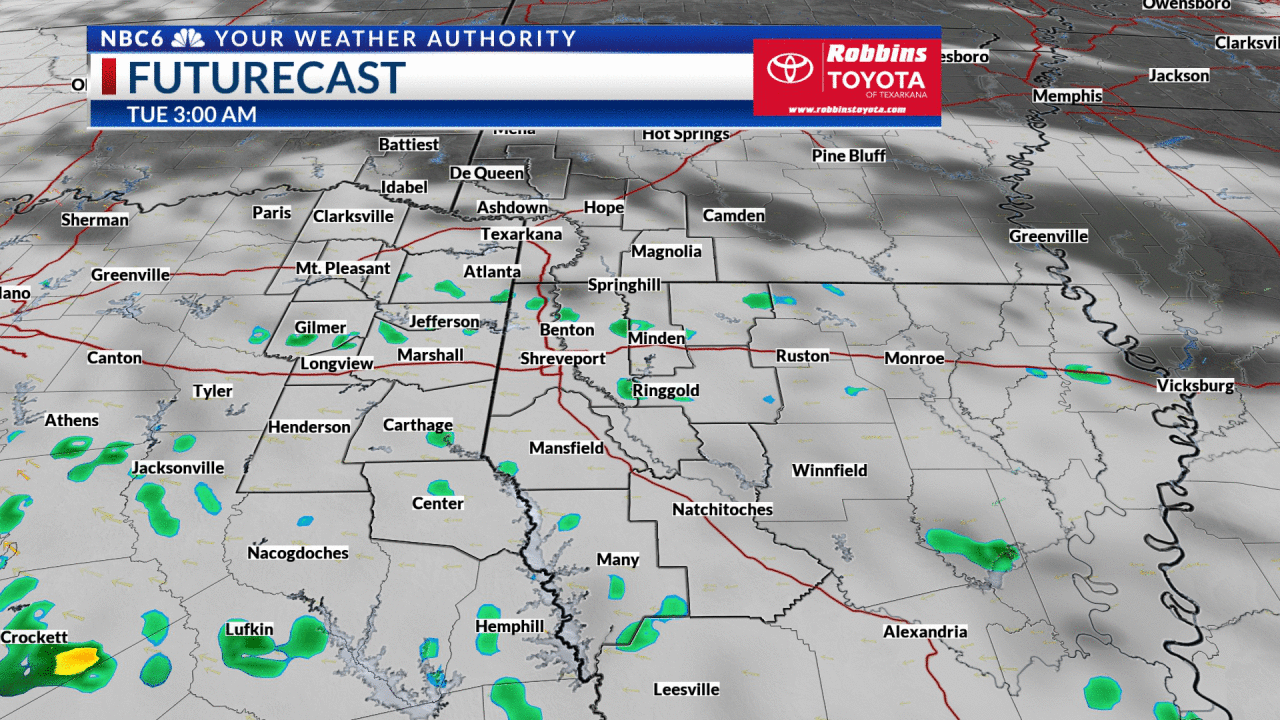 The end of the warming trend: The reason for the Monday night threat of rain will be a weak front that will move through the area. This front will have very little upper-level support over our area. That means that we likely won't see much rain. A second weak disturbance could bring another shot of rain later next week. Despite two chances of rain, it doesn't look like we will see much. The latest from the long-range model blend shows rainfall totals of 1/10" or less for almost all of the area.
Typical temps next week: After potentially hitting 83 degrees on Monday, the rest of next week is looking a little cooler. Highs will cool through the 70s and eventually end up in the upper 60s. Overnight lows will mainly be in the 50s. That's more typical for the first week of November but is still good news for those of you who are already sick of the cold. Enjoy!
Get daily forecasts and exclusive severe weather details on storms as they approach your area by downloading the Your Weather Authority app now available in the App Store and Google Play