SHREVEPORT, La. (KTAL/KMSS) – Our Thursday will be hot and humid, with a chance of a few late-day thunderstorms. While the threat of severe weather threat is low Thursday and Friday, the potential for severe storms will increase Saturday.
Hot with isolated late-day thunderstorms Thursday: Today should follow the same script as each day this week. It will be pleasant early in the morning, but temperatures will warm quickly, to near 90 degrees at noon, with highs in the low to mid-90s.
We will see lots of sun early in the day, turning partly cloudy midday, before a few showers and storms get going this afternoon and evening. Any storms that develop will be capable of small hail, high wind, and brief heavy downpours. An isolated severe storm is possible, but not expected.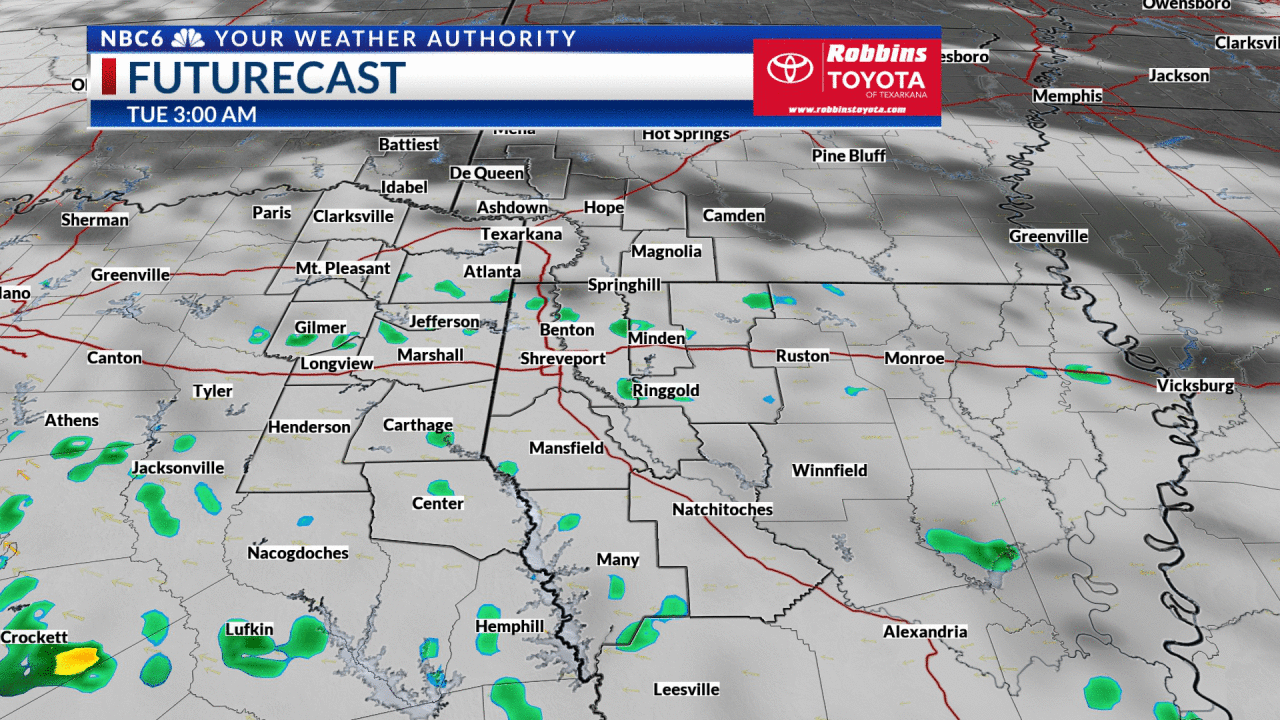 Severe weather possible Saturday: The ingredients will come together Saturday for a few strong to severe storms. As of now, the Storm Prediction Center has a 'Slight Risk' level 2 threat forecast for ArkLaTex, meaning scattered severe storms are possible. Wind and hail will be the primary severe weather threats, with very low potential for a brief tornado.
Please note that as of now, there may be 2 rounds of storms Saturday. The first may arrive during the morning, bringing hail and high wind. The atmosphere may recharge and a second round of storms may develop in the afternoon and evening. Check back for updates in the upcoming days. Reconsider any outdoor plans that may take you out on the lakes and rivers, or to area campgrounds over the weekend.
Scattered thunderstorms are also in the forecast for Sunday, but the threat of severe weather will be lower, and storms should be more isolated in nature.
Heatwave likely next week: The rain will likely dry up as high pressure strengthens next week. This may usher in our first heatwave of 2023, as highs may be in the upper 90s, possibly breaking 100 degrees next Wednesday through Friday.
---