Strong to severe storms Saturday & hot and dry weather next week
The chance for the afternoon thunderstorm will return Friday. More widespread thunderstorms that could be strong to severe will move into the area Saturday. Another round of scattered storms will be possible Sunday night. Next week still looks hot and dry.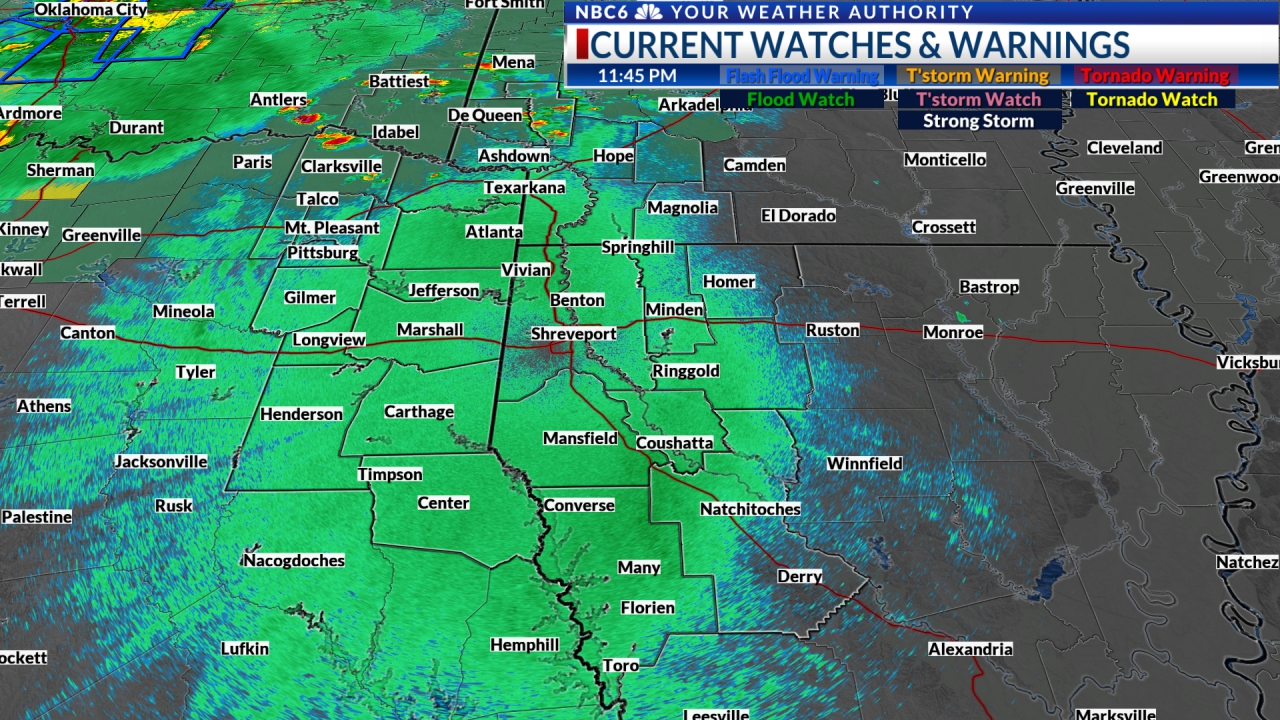 Above-normal temperatures settle in: Temperatures Thursday began in the 60s and low 70s around the ArkLaTex. Thanks to plenty of sunshine, we have warmed into the low to middle 90s Thursday afternoon. We likely won't see much change in temperatures over the next several days. Friday will begin with lows mainly in the upper 60s to low 70s. Daytime highs Friday afternoon will return to the low to middle 90s. We will be a few degrees cooler Saturday thanks to more clouds and rain and then return to the low to middle 90s through the beginning of next week.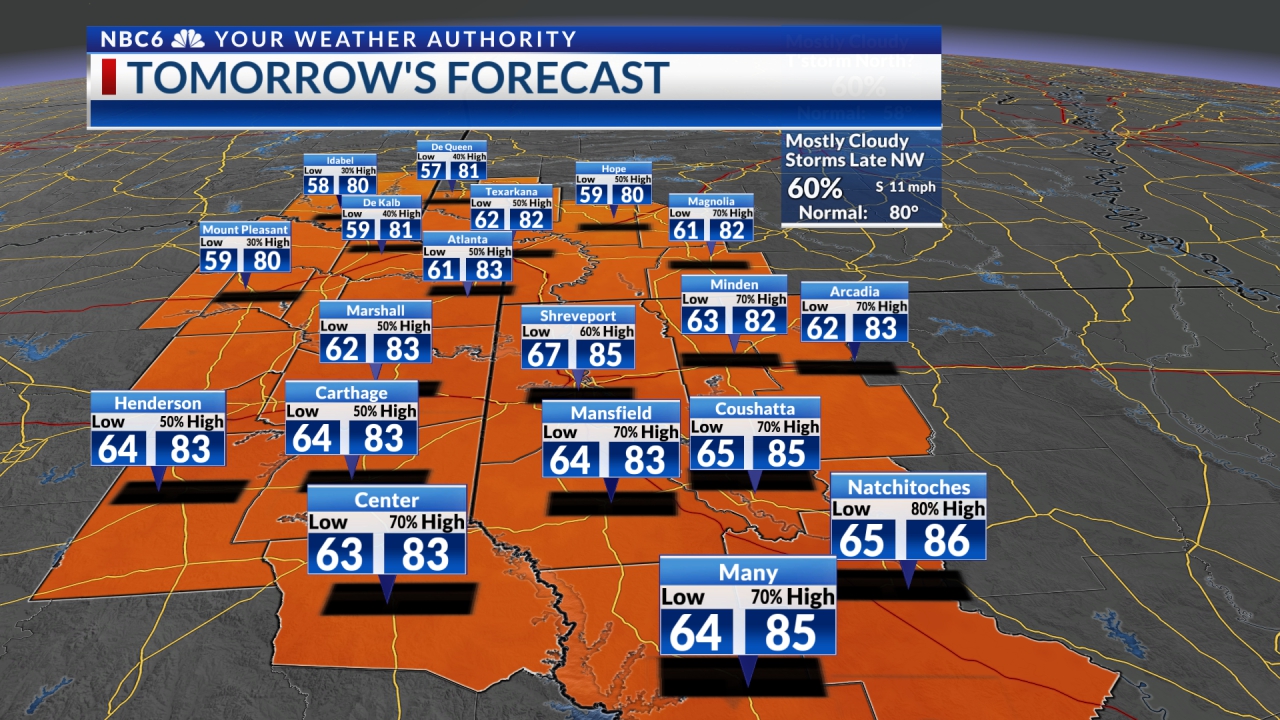 Hit-or-miss storms Friday: Futurecast shows that we will see the isolated thunderstorms that have developed around the area today quickly end this evening. Expect a partly cloudy sky Thursday night and a mix of sunshine and clouds again Friday. As temperatures Friday begin to warm up, we will likely see a few spotty thunderstorms develop during the afternoon. While a few storms could be somewhat strong with gusty wind and small hail, severe weather is looking unlikely. More widespread storms will develop to the west of the ArkLaTex Friday night or Saturday. These storms will spread into our area during the day Saturday and will bring a threat of severe weather with damaging wind becoming the main concern.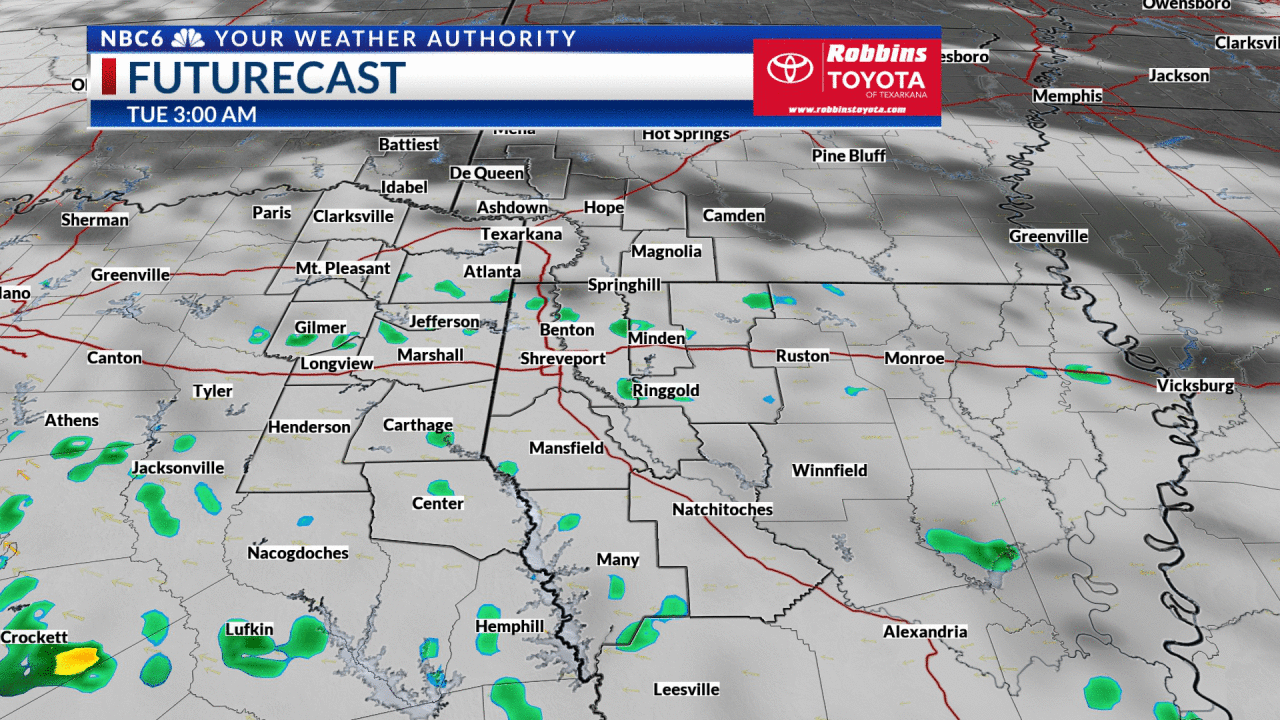 Saturday severe weather risk:  The Storm Prediction Center indicates that we will have a slight risk for severe weather Saturday.  This means that we should expect scattered reports of mainly wind damage with a potential complex of storms that could move through the area.
Rain potential: Right now, it appears that the heaviest rain will fall over the western half of the area where one to over two inches of rain will be possible.   Amounts are looking somewhat lighter over the eastern half of the area.
Triple-digit heat next week?  Long-range models are still indicating that we will see a rather strong upper-level ridge of high pressure build over Mexico early next week.  This ridge will likely expand to the northeast over the ArkLaTex late next week and result in the hottest temperatures of the year so far.  As of right now, this ridge is not looking as strong as indicated earlier this week.  However,  we will still see daytime highs soar into the upper 90s by the end of next week with triple-digits definitely possible.