SHREVEPORT, La. (KTAL/KMSS) – We are trapped in a hot and stagnant weather pattern with rain drying up in most areas through Friday. Scattered storms will return for the upcoming weekend.
Hot with only a few spotty late-day storms: A ridge of high pressure is building across the central U.S. including the ArkLaTex. In June, this usually translates to 'heat' as highs will be in the low 90s again today. As hot as it has been this week, high temperatures have only been a degree or two above average for early June. Early mornings will provide some relief with temperatures in the upper 60s at sunrise and a low sun angle early in the day.
We began the week with scattered showers and storms, but the building high is bringing sinking air making it difficult for any showers and thunderstorms to develop. The warm afternoon temperatures and humid air will be enough to trigger a few spotty showers at times today, but the majority of us will be under mostly sunny to partly cloudy skies without any rain to cool us off today. We will repeat this pattern Thursday and Friday with highs in the low to mid-90s.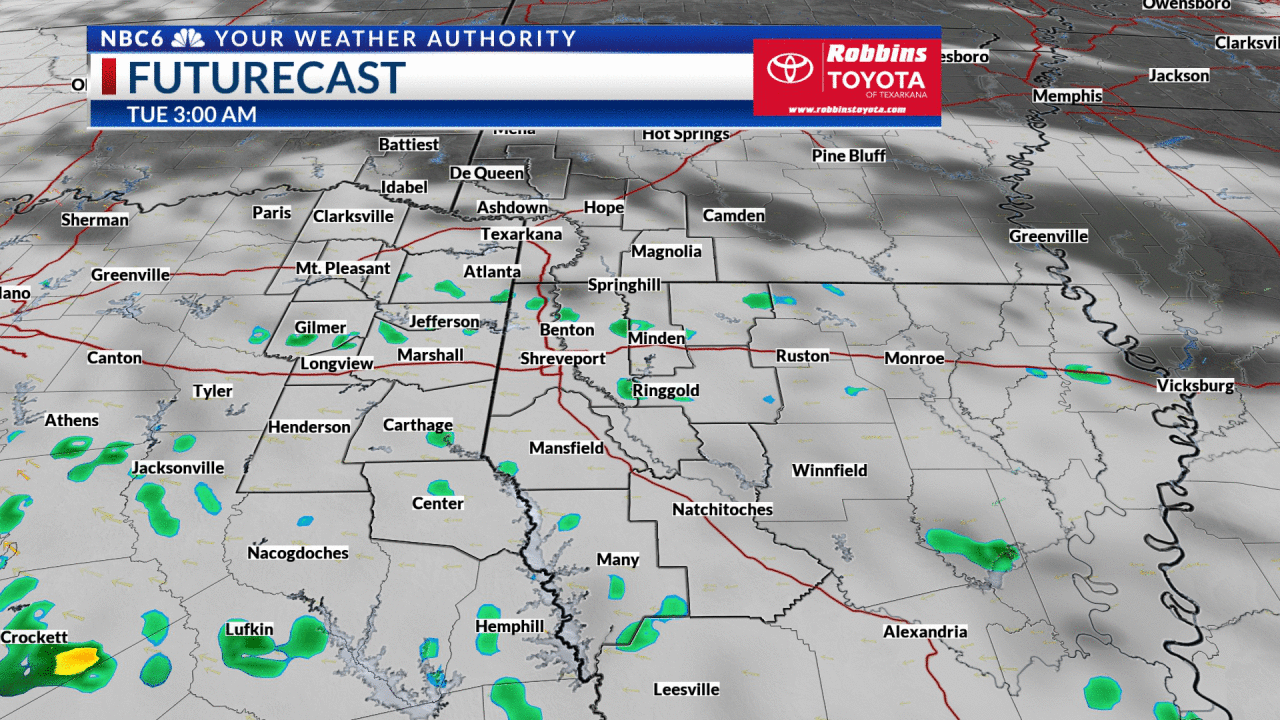 Scattered weekend thunderstorms: The high will break down this weekend opening the door for a few disturbances to pass overhead. Saturday morning will be dry, but by the mid to late afternoon scattered thunderstorms will develop across much of the region. We should experience similar weather Sunday with highs in the upper 80s and low 90s Saturday and Sunday. There may be a few storms late Saturday with a risk for high wind and hail. The Storm Prediction Center has much of central and east Texas in the severe weather outlook Saturday, so monitor the forecast in the upcoming days.
Heat builds next week: A stronger ridge of high pressure builds next week, and our temperatures will warm a few degrees each day. That means some serious Summer heat is on the way, with highs in the mid to upper 90s by the end of next week.
---