SHREVEPORT, La. (KTAL/KMSS) – Blink and it's Summer, as we will likely reach the low 90s each day for the remainder of the week with a legitimate heatwave setting up next week. We will keep a slight chance of a shower or thunderstorm in the forecast each day through the weekend.
Pleasant morning with heat continuing to build this afternoon: Early morning temperatures will be fantastic for June as you'll walk out to 60-degree air before 9 a.m. It won't take long for the heat to build as plenty of morning sun will warm us into the mid-80s by noon, with highs briefly reaching the low 90s this afternoon.
There is a stalled front near the ArkLaTex today, and with lingering outflow boundaries from yesterday's storms, we have the ingredients in place for isolated to scattered showers and storms to develop by the early afternoon.
These showers may develop east of the ArkLaTex, drifting into our counties and parishes in the late afternoon and evening. If you miss out on the rain expect it will be partly cloudy, with a light south breeze of 5 to 10 miles per hour. Severe weather is not expected, but gusty winds and lightning will accompany any thunderstorms that develop.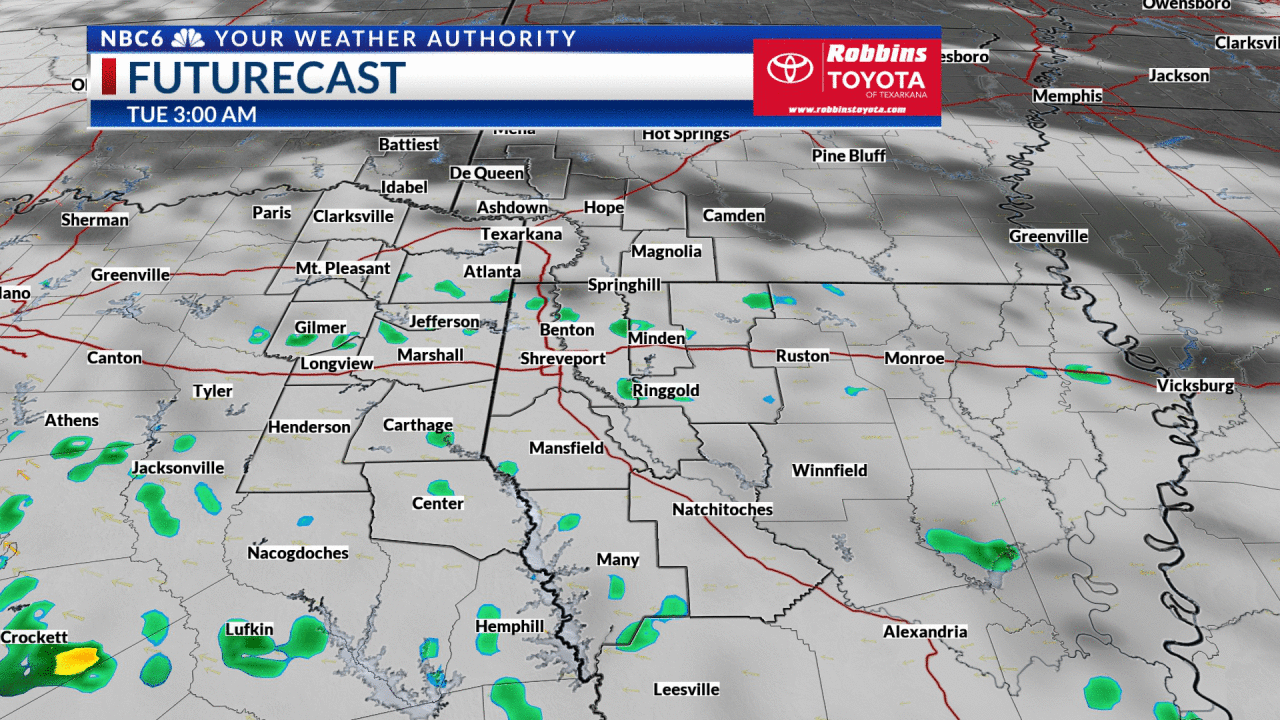 Same pattern, different day through Friday: We likely won't see or feel much of a change through the end of the week. High pressure building northwest of the ArkLaTex may funnel some drier air into our lives tomorrow and Thursday, which will drop the chance of afternoon showers slightly, and add another degree or two to our afternoon highs which will remain in the low to mid-90s through the weekend.
Scattered weekend storms with a heatwave next week: A higher chance of scattered storms will return this weekend, which will keep our temperatures from getting too 'hot' until next week. The rain may dry up by the middle of next week sending our high temperatures into the mid to upper 90s for our first extended heatwave of 2023.
---