Most of the ArkLaTex dodged a bullet Tuesday night as temperatures remained slightly above freezing over most of the area. Rain will increase Wednesday night into Thursday morning. A few pockets of freezing rain are possible. Good news is on the way this weekend.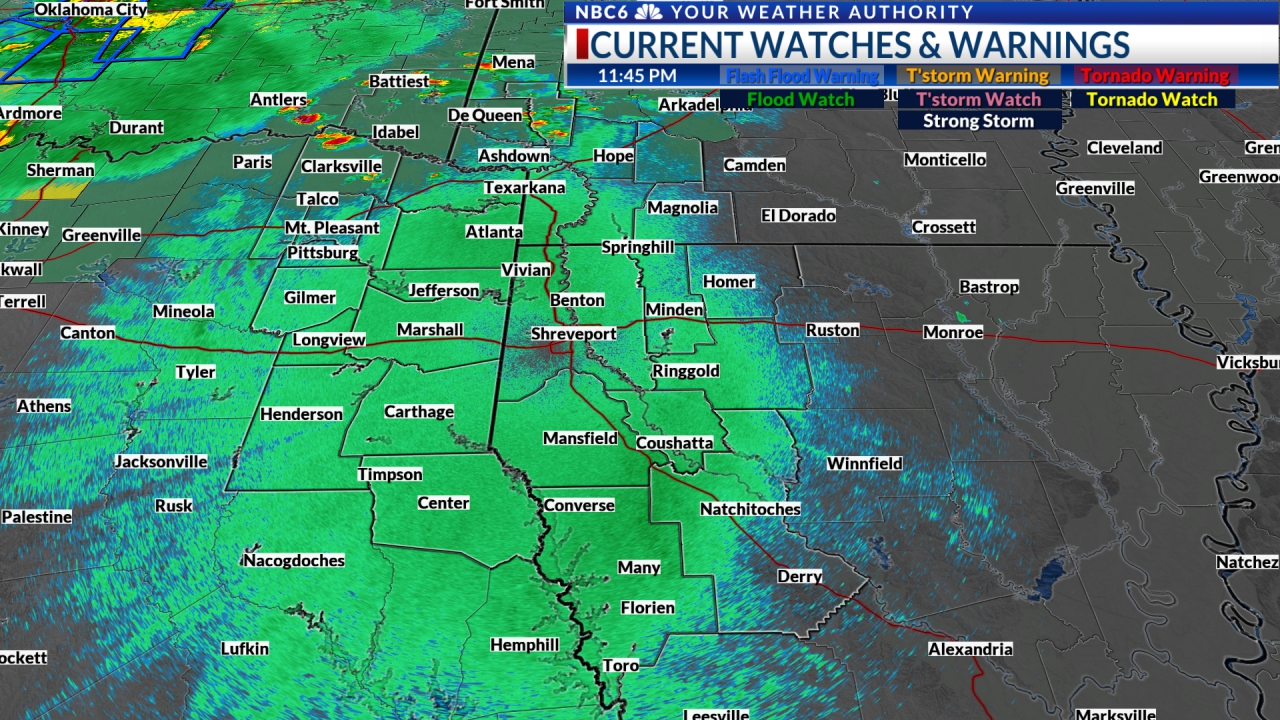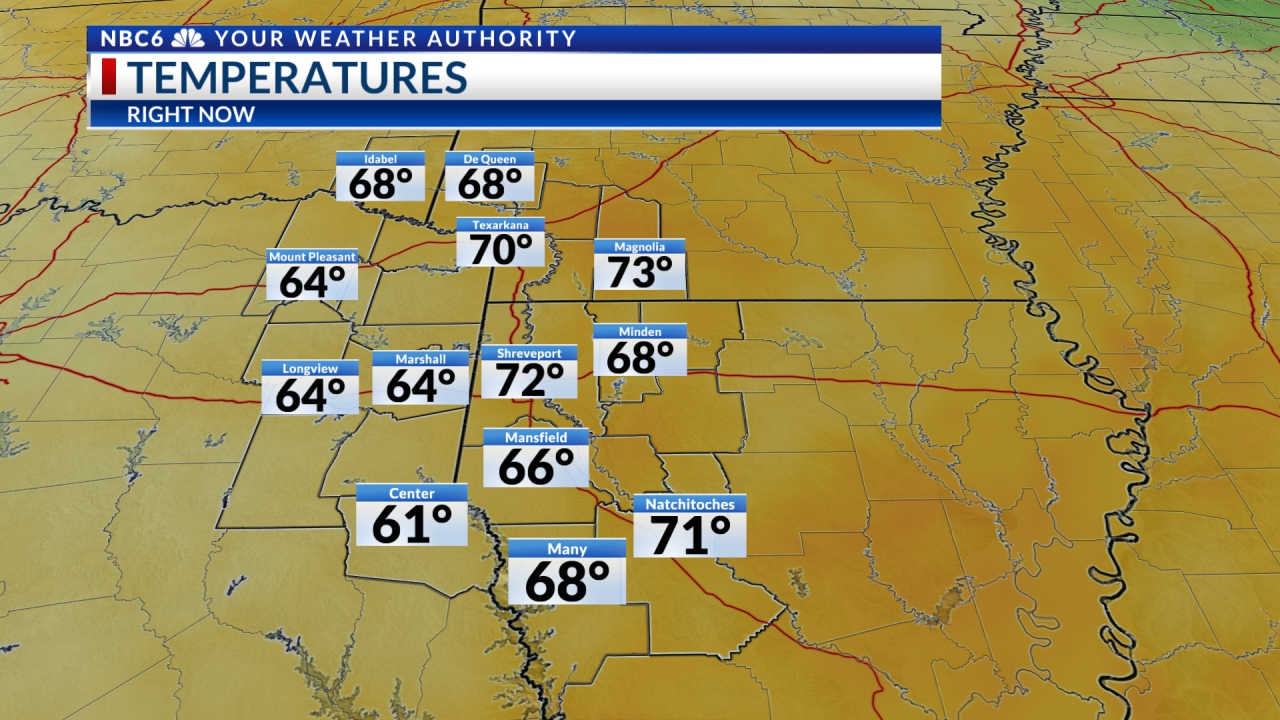 Rain to increase:  We continue to see rain over much of the ArkLaTex.  That rain will likely increase Wednesday night as a rather strong upper-level disturbance approaches from the west.  The rain will reach its peak in intensity late Wednesday night into Thursday morning with a few rumbles of thunder possible.
Fortunately, temperatures will likely stay slightly above freezing during this time so widespread issues with ice are looking unlikely. If we have any issues with freezing rain Wednesday night, it will likely be over the northwestern and northeastern edges of the area. Keep in mind that all of the area will be close to the freezing mark so always be mindful of the temperatures and use caution when traveling. 
The end of the rain is in sight: Futurecast shows that the rain will be heaviest very late Wednesday night into Thursday morning. We should start to see the rain decrease in intensity from west to east Thursday afternoon. We will then see a few scattered showers Thursday evening. Once that rain ends, clouds will decrease from west to east Thursday night and sunshine will return Friday. That sunshine will likely stick around into the beginning of next week with a big warming trend.
Rainfall potential: A Flood Watch is in effect for all of the ArkLaTex. Models including Futurecast show that additional rainfall totals could approach 2" over parts of the area. Additional rises on area lakes near Shreveport are expected. How much of a rise will be determined after the final rain totals are recorded.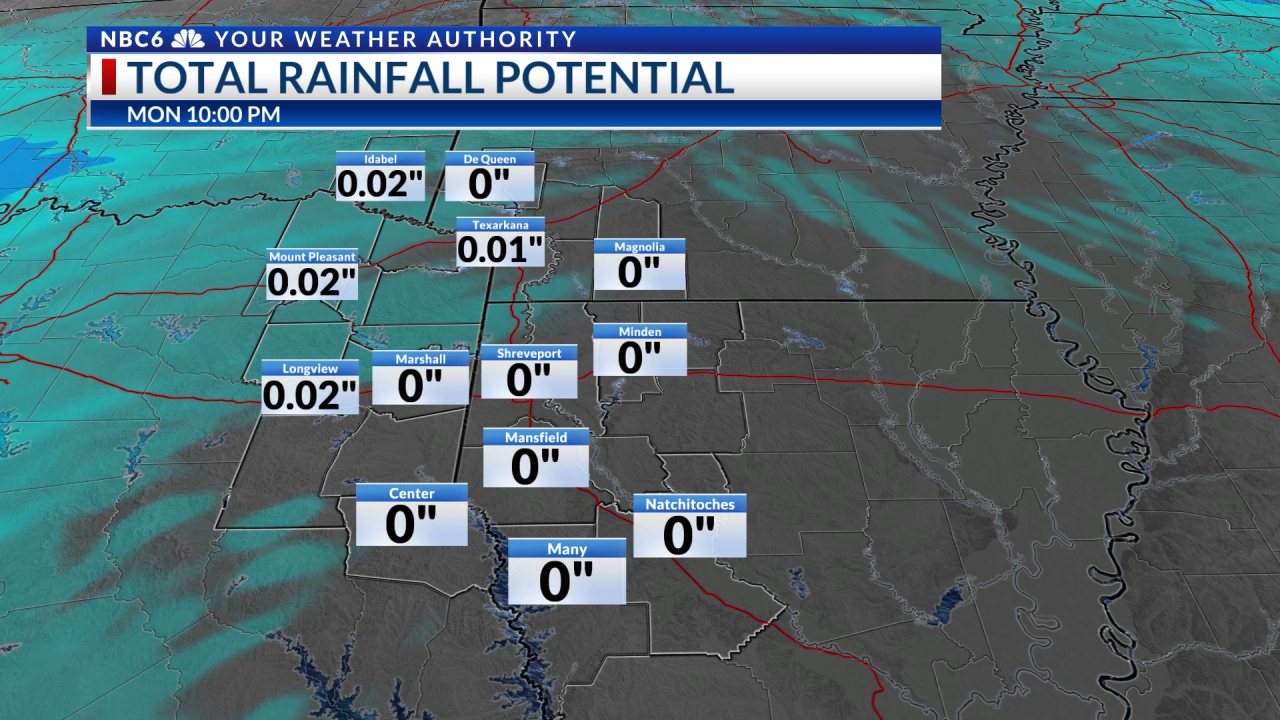 A nice warming trend:  As I mentioned earlier, we will see sunshine return Friday and a warming trend will begin.  Highs Thursday will be in the 30s and low 40s.  We will return to the 50s Friday and Saturday and to the 60s by Sunday.  We could see temperatures near 70 degrees by the beginning of next week.  Overnight lows will be in the low to middle 30s Wednesday night. We will likely see the coldest night Friday night as we dip into the middle 20s.  Lows will likely warm into the 40s and 50s by the beginning of next week.
More rain next week: Our next chance of rain will return by the middle of next week.  Most models have decreased the rainfall projections with this system with totals remaining well below 1" for most of the area.  Temperatures late next week will cool down a little but will remain close to normal.  Sunshine will return by the end of the week as highs will settle into the low 60s and lows will return to the upper 30s to lower 40s.
Get daily forecasts and exclusive severe weather details on storms as they approach your area by downloading the Your Weather Authority app now available in the App Store and Google Play