SHREVEPORT, La. (KTAL/KMSS) – We are officially off the Spring temperature roller coaster as our weather pattern will be a broken record through Friday. It will be hot with a slight chance of rain each day. The chance of thunderstorms will increase over the weekend bringing some marginal heat relief.
Pleasant early with heat and some humidity this afternoon: Sunrise temperatures will be in the mid-60s with calm wind under partly cloudy skies. High temperatures will warm into the upper 80s and low 90s this afternoon with partly cloudy skies for much of the afternoon.
There will be enough heat and humidity for a few isolated to scattered showers to develop late this morning and into the afternoon in east Texas, with a few isolated showers developing as far east as I-49 including Texarkana and Shreveport. The showers and storms that do develop won't have much wind to steer them, so if the showers that develop stall and don't move, it's possible some areas of Texas could receive over a half inch of rain. Severe weather is not expected, but storms will be capable of lightning and gusty winds.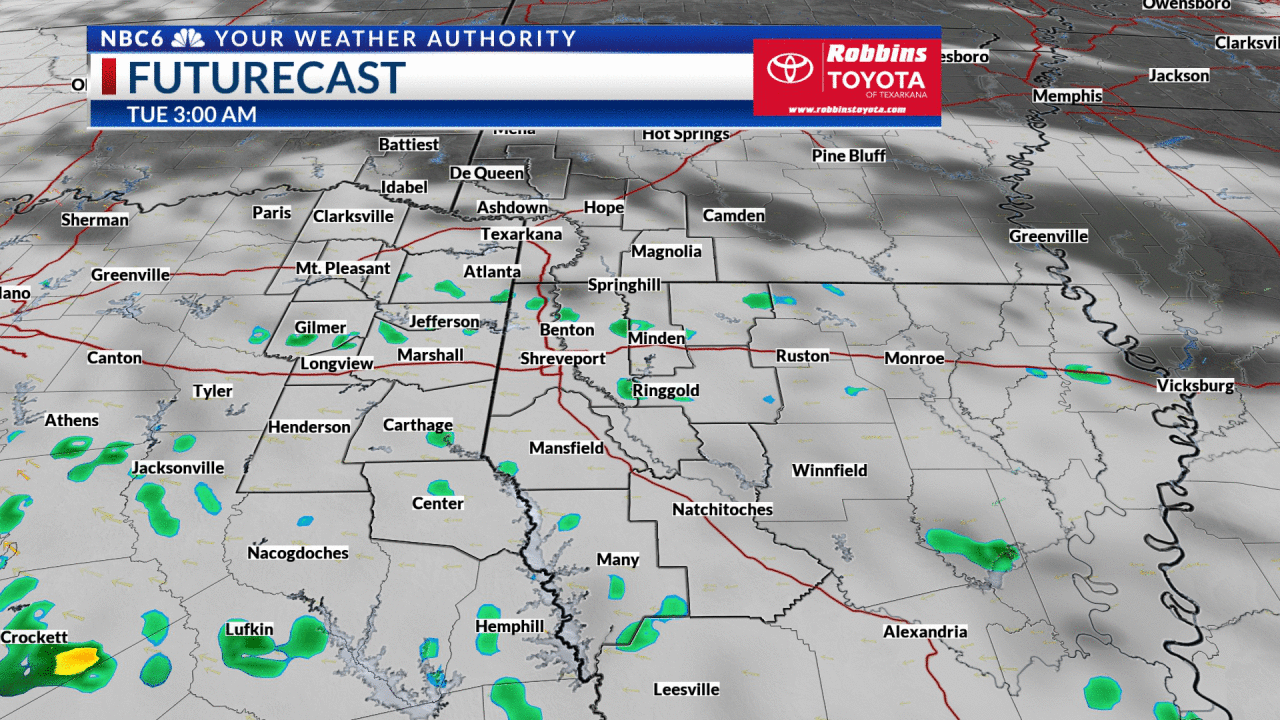 Hot and humid with very isolated showers Wednesday through Friday: We should see a gradual decrease in the amount of rain Wednesday and Thursday as high pressure builds. Afternoons will be partly cloudy and hot in the low 90s. The humidity will slowly build as well, so temperatures will feel warmer than advertised. For maximum comfort try to limit your outdoor activities to the cooler mornings that will remain in the 60s and low 70s.
Scattered thunderstorms increase this weekend: High pressure will exit the region Friday, and that will open the door for more rain this weekend, mainly during the p.m. hours. The warm and humid pattern will lead to scattered thunderstorms each afternoon. The threat of severe weather will remain low as we transiting out of Spring and into Summer.
---