Today's threat of severe weather has ended across the ArkLaTex. Severe storms with the capability of producing several tornadoes will move through Thursday afternoon & evening. All severe weather worries will be possible including a few strong tornadoes.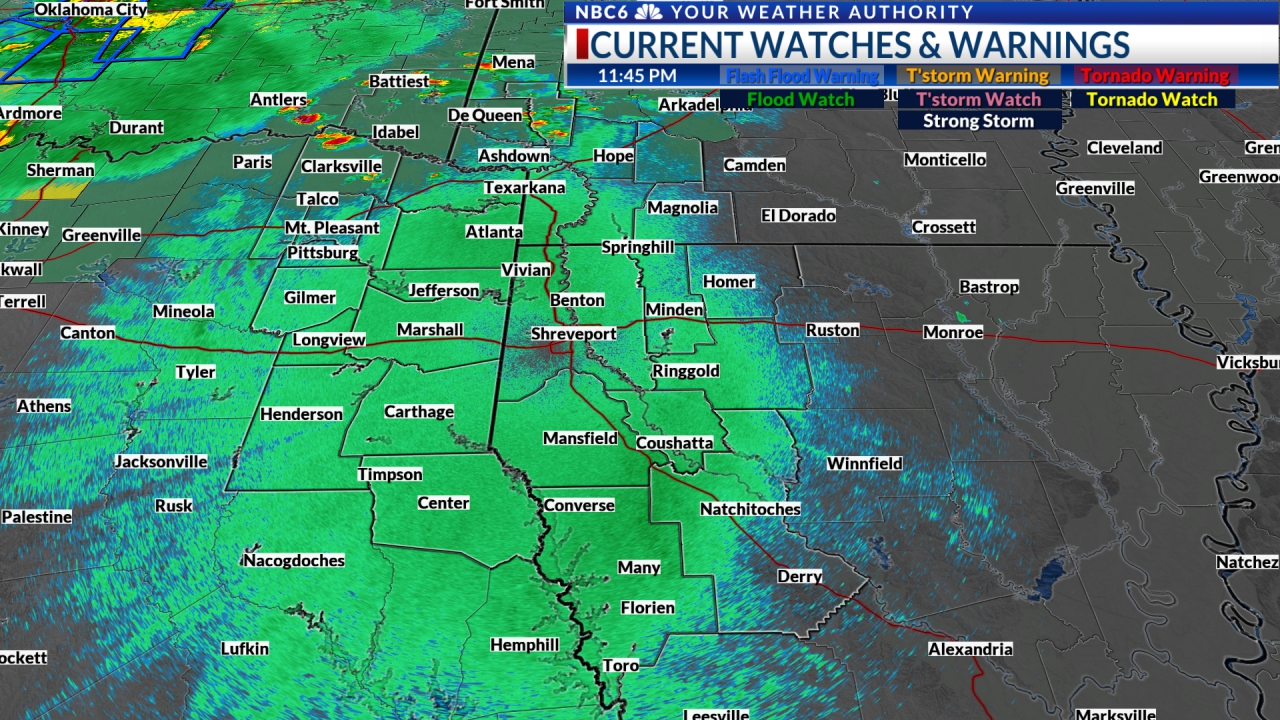 Severe Weather Outbreak Thursday: The main upper-level disturbance will approach our area Thursday. Thunderstorms will increase in coverage and intensity Thursday afternoon with several of these cells having the potential of producing a tornado. A broken line of storms will develop to the west of our area very late Thursday afternoon. This line will bring the most widespread severe weather threat including damaging winds of over 70 mph, large hail, and a few strong tornadoes. It will move across our area Thursday evening before exiting the eastern edge of the area near or shortly after midnight.
SPC today: The Storm Prediction Center outlook for the rest of Wednesday shows that the main severe weather threat will be over the northern half of the area where we will see a slight risk. Residents in these areas should be alert for the chance of very large hail and a tornado or two.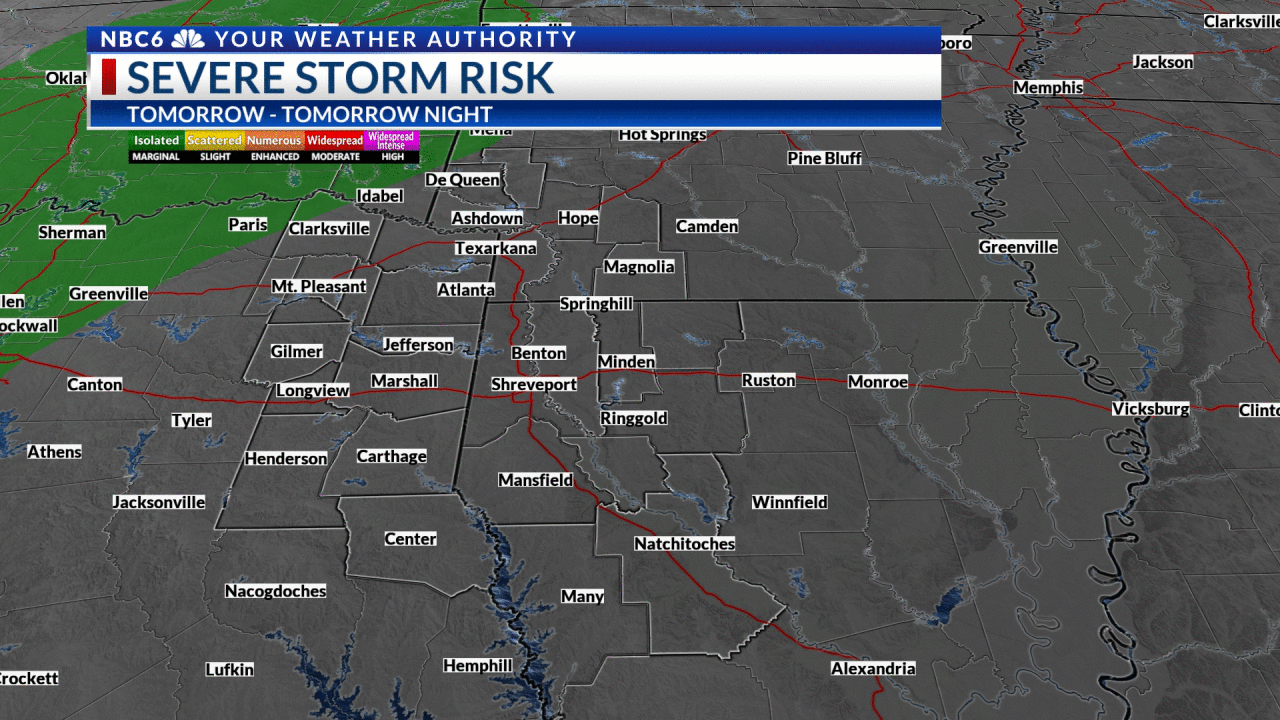 SPC Thursday: SPC's outlook for Thursday includes a rare moderate severe weather risk which is a four on the one to five risk scale. Last year there were only 16 days where a moderate risk was issued in the entire country with only one that included the ArkLaTex. This should put in perspective the level of severe weather that we could face tomorrow. If you haven't already, make sure that you review your severe weather plan. If you don't have one, please get one.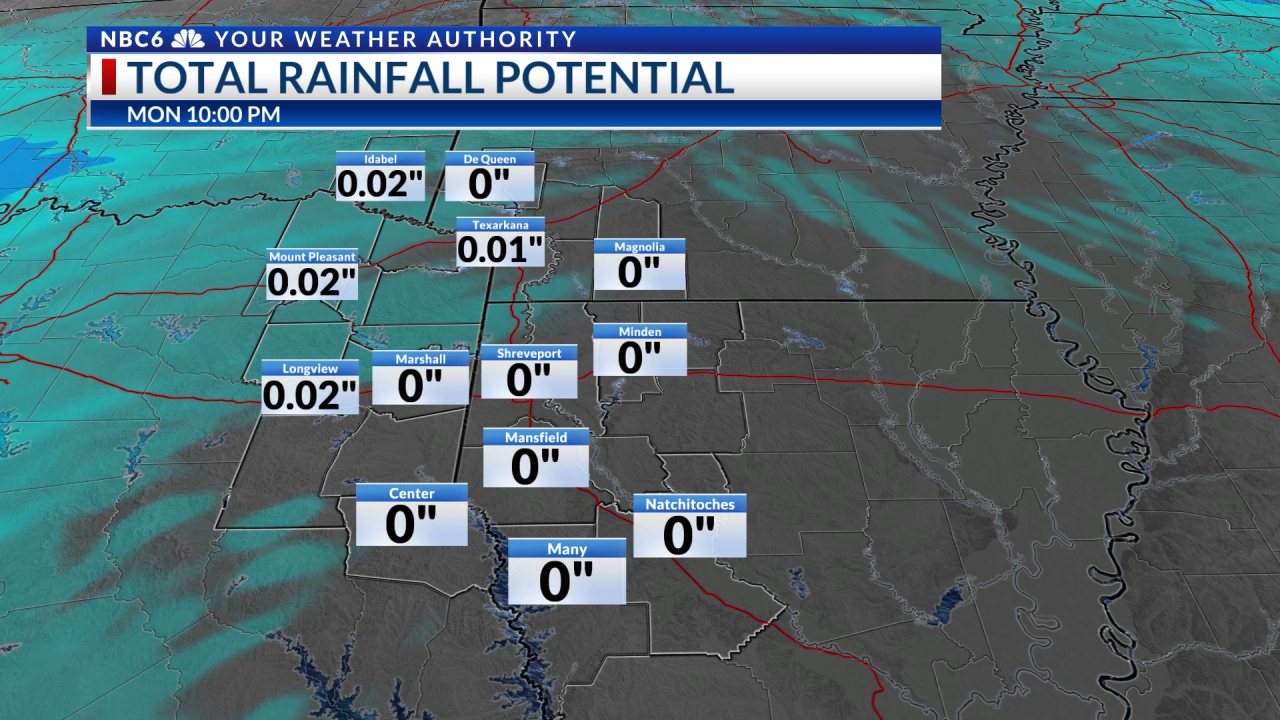 Rain potential: High-res models including Futurecast show that the heaviest rain over the next few days will likely fall over the northern half of the area where one to over 3" of rain will be possible. It still appears that amounts south of Interstate 20 will be well below 1". Once the storms exit the area Thursday night, we will begin a period of dry weather that will last several days.
Get daily forecasts and exclusive severe weather details on storms as they approach your area by downloading the Your Weather Authority app now available in the App Store and Google Play