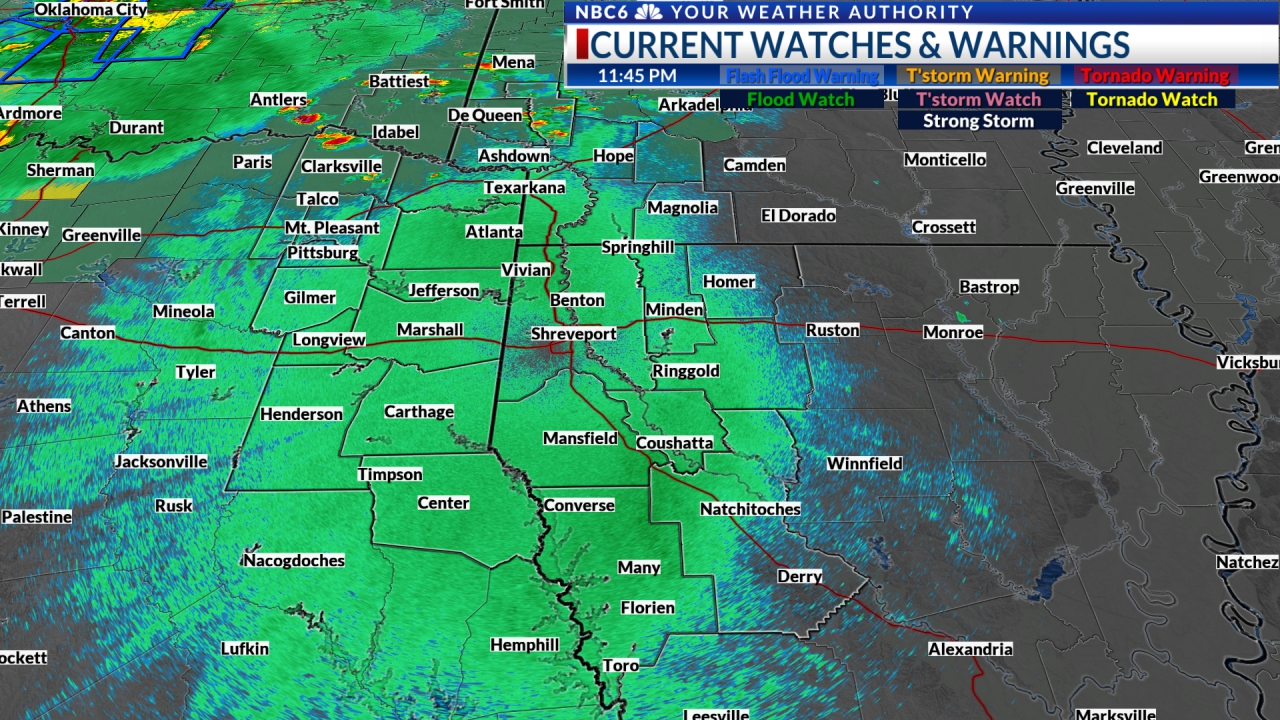 Most hi-res models have backed off on the amount of rain on the way for the next few days. The good news is that above-normal rainfall still looks promising on Sunday and Monday. Drier weather settles in next week with normal temperatures.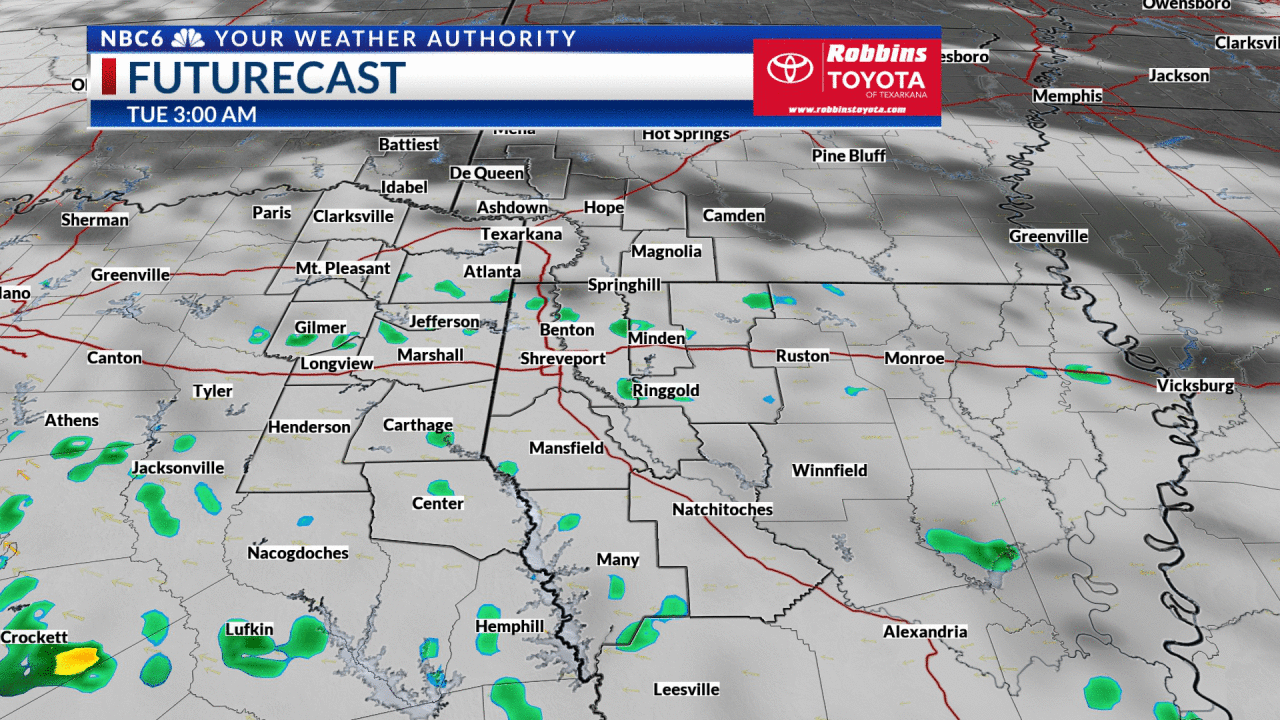 Sct'd storms Friday and maybe Saturday: It still appears that we will see some scattered t'showers over parts of the ArkLaTex Thursday night and Friday. The loop of Futurecast above probably paints the most aggressive picture regarding the coverage and amounts of rain over the next 48 hours. It shows that rain will be likely over most of the area Friday with little rain over the area Friday night and Saturday. The northwest quarter of the ArkLaTex in NE TX, SE OK and the western half of SW AR appear to have the best chance of seeing more than an inch of rain from now through Saturday. Much of the next few days will feature a mix of sunshine and clouds. Severe weather is looking highly unlikely through Saturday.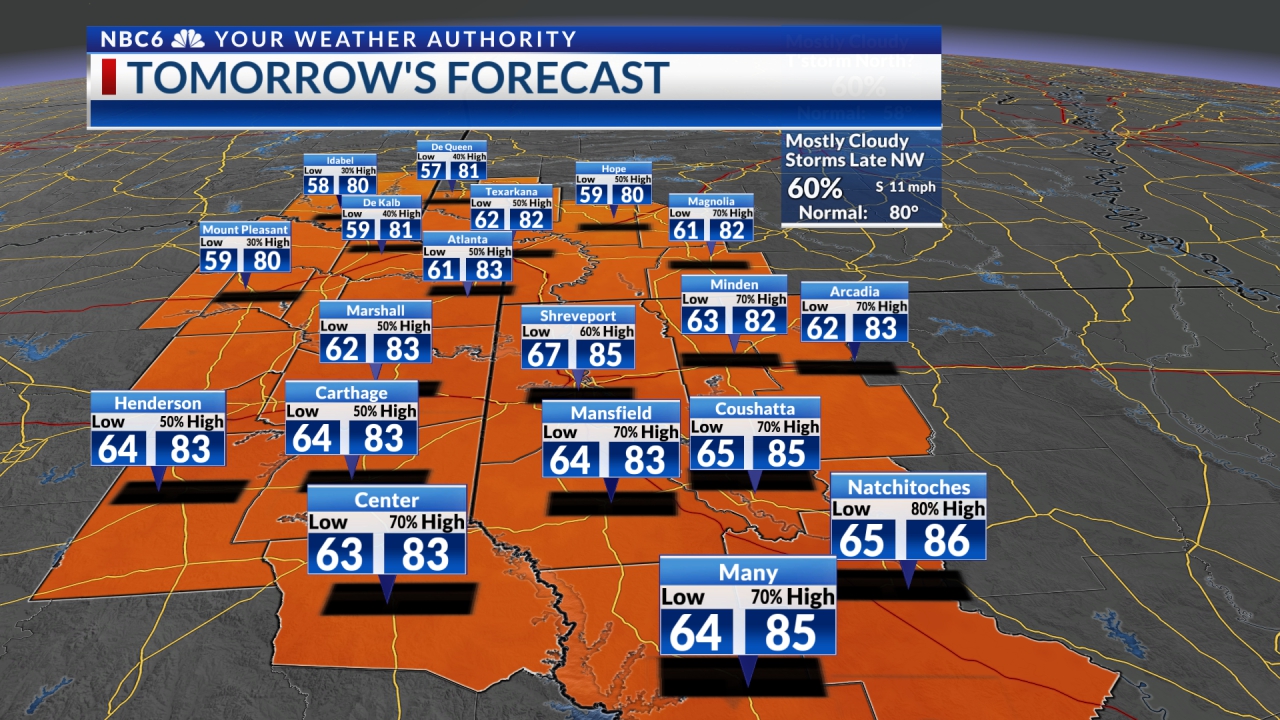 Above-normal temperatures: Normally this time of year, daytime highs are in the upper 80s. It appears that we should see enough sunshine at some point over the next few days to allow highs to climb into the low 90s over the southern half of the area and mainly mid to upper 80s over the north where rain chances are looking highest. Overnight lows will mainly be in the upper 60s and low 70s from now until the much-advertised front moves through at the very end of the weekend.
Heavier rain this weekend: The most widespread and heaviest rain is still looking most likely late Sunday, Sunday night, and Monday as the front mentioned above eases its way through the area. There is good model agreement that most of the area will see at least normal rainfall from now through next Tuesday. The long-range model blend continues to show rainfall totals ranging from one to two inches over the southeast half of the area to two to four inches over the northwest. Normal for a 10-day period this time of year is 1.3".
Drought monitor gets worse:  It will be very important that this rainfall outlook is verified.  The latest Drought Monitor issued today shows that conditions have gotten quite a bit worse since last week.  Exceptional level 5 conditions not seen since 2011 have expanded to include most of Shelby, Sabine, and Natchitoches parishes.  Almost half of the ArkLaTex is now experiencing Level 4 drought.  Conditions are the least dry in SW AR where Level 1 & 2 conditions exist.  Unfortunately, once the threat of rain ends Monday night or Tuesday of next week, the rest of the week is looking dry with near or above-normal temperatures.
Get daily forecasts and exclusive severe weather details on storms as they approach your area by downloading the Your Weather Authority app now available in the App Store and Google Play