Above-normal temperatures will continue in the ArkLaTex through the rest of the work week with near triple-digit highs.  A little rain will be possible on Wednesday and at the beginning of the weekend.  Cooler air settles in next week!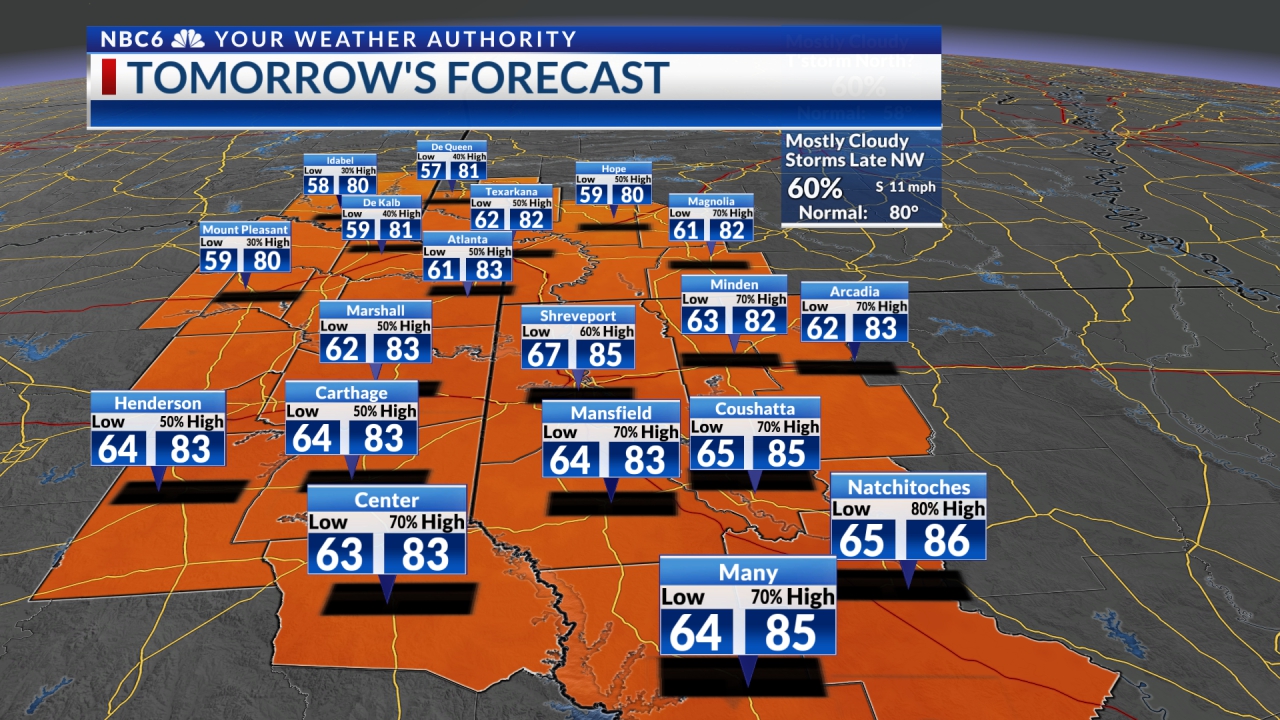 Several days of triple-digit heat possible: The upper-level disturbance that has brought our recent rains is moving away from our area and upper-level high pressure is strengthening over West Texas. This will reduce the chance of rain and increase the heat through Friday. Temperatures Wednesday will likely begin in the mid to upper 70s. We will see daytime highs in the upper 90s to near 100 degrees. An isolated t'storm will be possible Wednesday afternoon. This will likely determine whether a location makes it into the triple digits. Rain is looking unlikely on Thursday and Friday. Consequently, we will probably see temperatures in the triple digits with lows in the mid to upper 70s.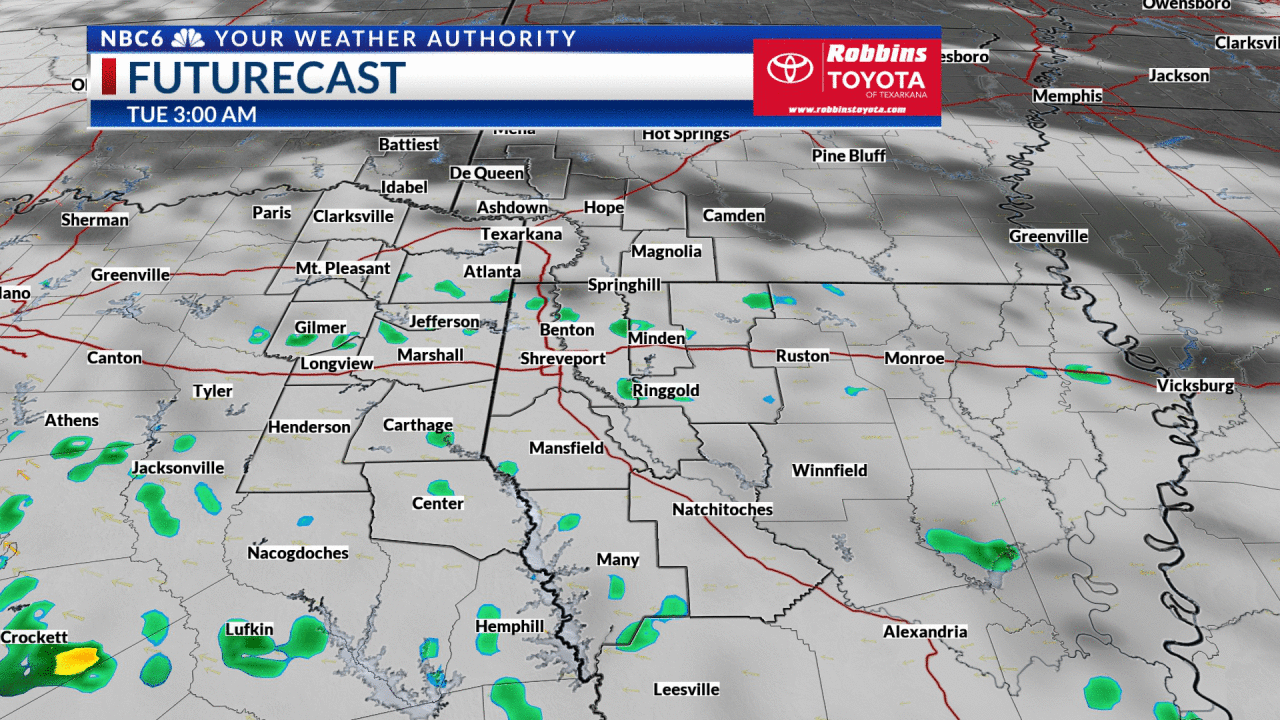 Some rain possible Wednesday: Hi-res models including Futurecast are hinting that we could see a few isolated thunderstorms develop Wednesday afternoon over the northern half of the area that gradually spread south. Otherwise, we will likely see a partly cloudy sky Tuesday night and a mix of sunshine and clouds Wednesday. Similar conditions are likely on Thursday with little chance of rain. We will see a slight chance for an isolated thunderstorm return late Friday.
The last of the triple digits? I often point out during my Facebook lives which can be seen here on weeknights at 8:30 p.m. or on my Facebook page, Todd Warren Weather, that when we make the transitions from summer to winter and winter to summer, we often do it in plateaus. At the peak of the heat this summer, we were constantly seen highs of 105 to 110 degrees. Recently, the highest temperatures that we have seen and will continue to see this week have been closer to 100. It appears that we could be taking our next step down next week. Cooler air will move into the ArkLaTex this weekend. Daytime highs will retreat to the low to middle 90s and lows will dip into the upper 60s to lower 70s. It appears that most of next week will feature highs in the upper 80s to lower 90s and lows in the mid to upper 60s. My point is that with days getting shorter, it is quite possible that Thursday or Friday could be the last of the triple-digit heat that we experience this summer!
How much more rain? Typically, during a 10-day period during the first half of September, we get about 1" of rain.  With rain possible Wednesday, early this weekend, and maybe during the middle of next week, one would hope that we would reach that threshold.  It is possible that we will, but models are split at this point.  Some show much of the area could see 1 to 1.5".  Others show that most of the area will receive less than ¼".  Given the time of year and just how scattered any rain will likely continue to be, I would say that both are correct.  Some will receive little and others receive a decent amount.  We will know more as we go through the next ten days.  Stay tuned!