If you're looking for a fun activity to enjoy with your kids, tie-dyeing might be the answer. Tie-dye kits contain the basics you need to get started, simplifying the process. With tie-dye garments on-trend right now, this activity is sure to earn you cool points with your children.
High-end tie-dye kits are hard to come by. While you can find some that fit the description, most are fairly mid-range. We wouldn't discount these midrange kits as long as they come from a reputable brand and contain quality dyes.
Shop this article: Tulip One-Step 5-Color Tie-Dye Kit, Indigo and Shibori Natural Dye Kit and Mosaiz Tie-Dye Kit
What is tie-dyeing
Tie-dyeing is a method of dyeing clothing or fabric by tying parts of it to protect it from the dye. This creates interesting patterns with some parts dyed and other parts not. You can fold and tie fabric or garments in various ways to create particular patterns. You can also create multicolored patterns by using different dyes on various parts of the fabric.
How do you tie-dye?
The exact tie-dyeing process varies depending on the dye you use and the patterns you want to create. Tie-dye kits come with instructions, so you should follow these to get the best results. Most include a guide on folding and tying garments to achieve specific patterns. However, you can also find this information online, should you need further details.
What age groups can tie-dye?
The great thing about tie-dyeing is that it can be just as entertaining for 5-year-olds as it is for teenagers. It's a safe activity for kids of all ages, but those under 8 years old generally need extra help in varying degrees.
What do you get in a tie-dye kit?
The exact contents of a tie-dye kit vary. It can contain all of these items or a combination of some. The only item all kits contain is the dye.
Dye: All kits contain the dye you need for tie-dyeing. Some kits include just a single color, while others offer more than 20.
Squeeze bottles: These bottles make the dyeing process easier because they allow you to apply the dye more accurately.
Soda ash: Some dyes have soda ash mixed in, but if not, you must soak the fabric in a soda ash solution for 10 minutes before you begin dyeing.
Gloves: Disposable gloves keep hands from getting stained by the dye.
Rubber bands: You use these to tie your fabric or garments to achieve your desired tie-dye pattern.
Aprons: Plastic aprons protect clothing from the dye. These are especially important for little kids who are more likely to make a mess.
Table covers: Table covers protect the table or other surfaces you choose to dye on.
T-shirts: Some kits contain plain white T-shirts to dye. However, buying T-shirts or other garments yourself lets you pick the size and quality.
Best tie-dye kits with less than 10 colors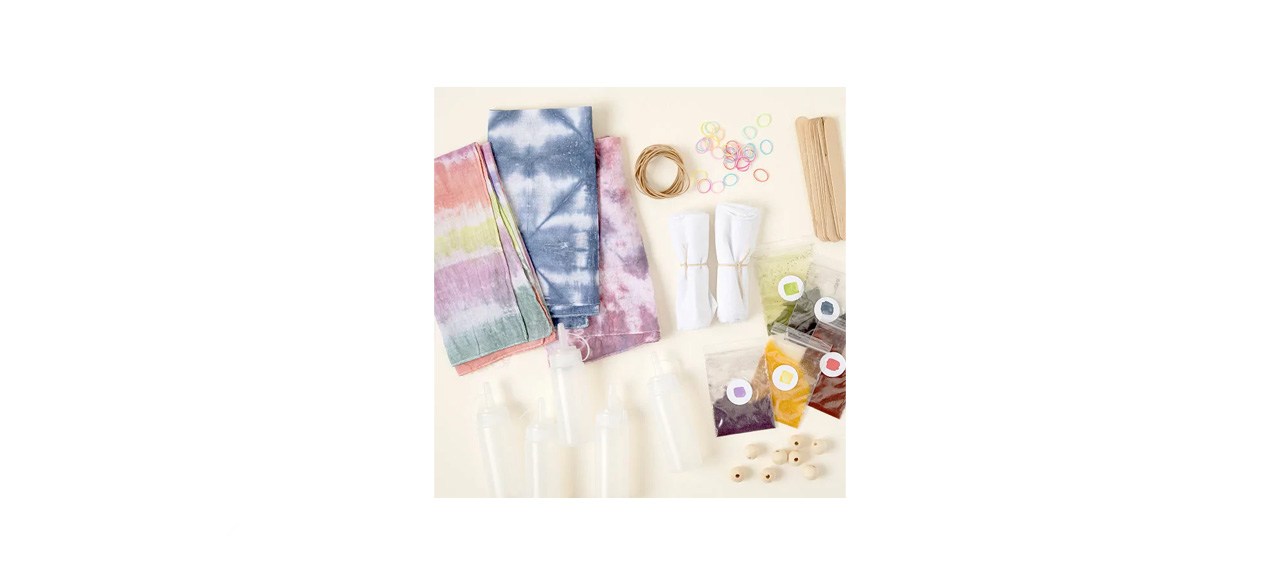 Uncommon Goods Tie-Dye DIY Kit
This kit contains everything you need for tie-dye fun, including five dyes, five squeeze bottles and two bandanas to dye. You'll also get a tutorial booklet and a guide to color mixing.
Sold by Uncommon Goods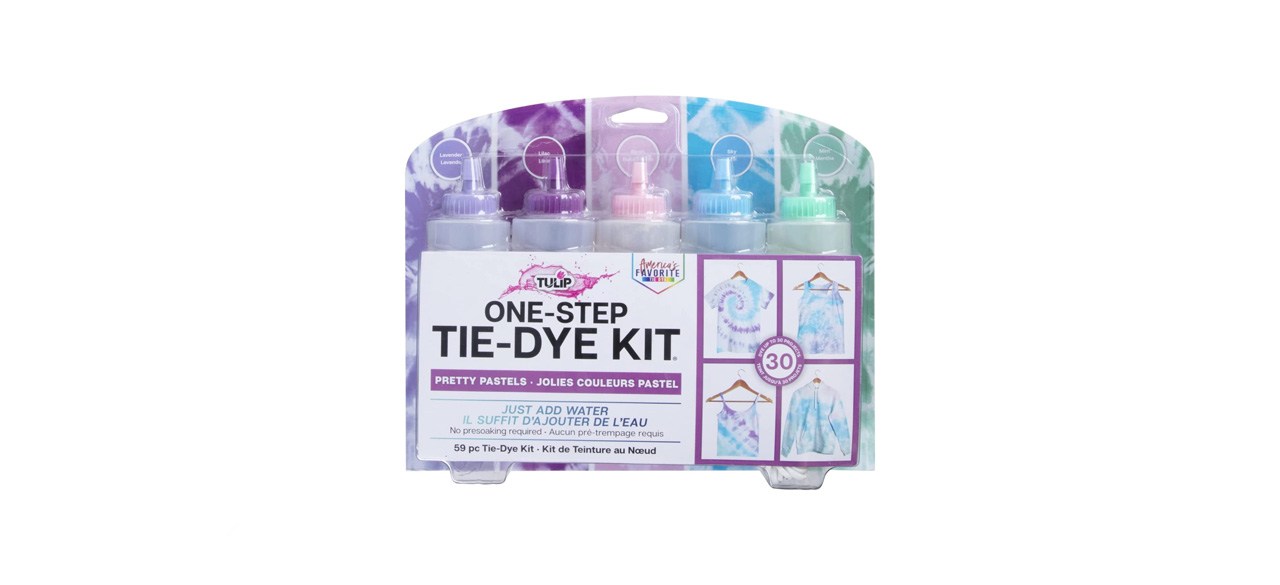 Tulip One-Step 5-Color Tie-Dye Kit
You can choose from a range of color palettes with this five-color kit, including pretty pastels, wilderness, mermaid and neon. It's a simple one-step dye process. Just add water to the squeeze bottles, and you're ready to dye.
Sold by Amazon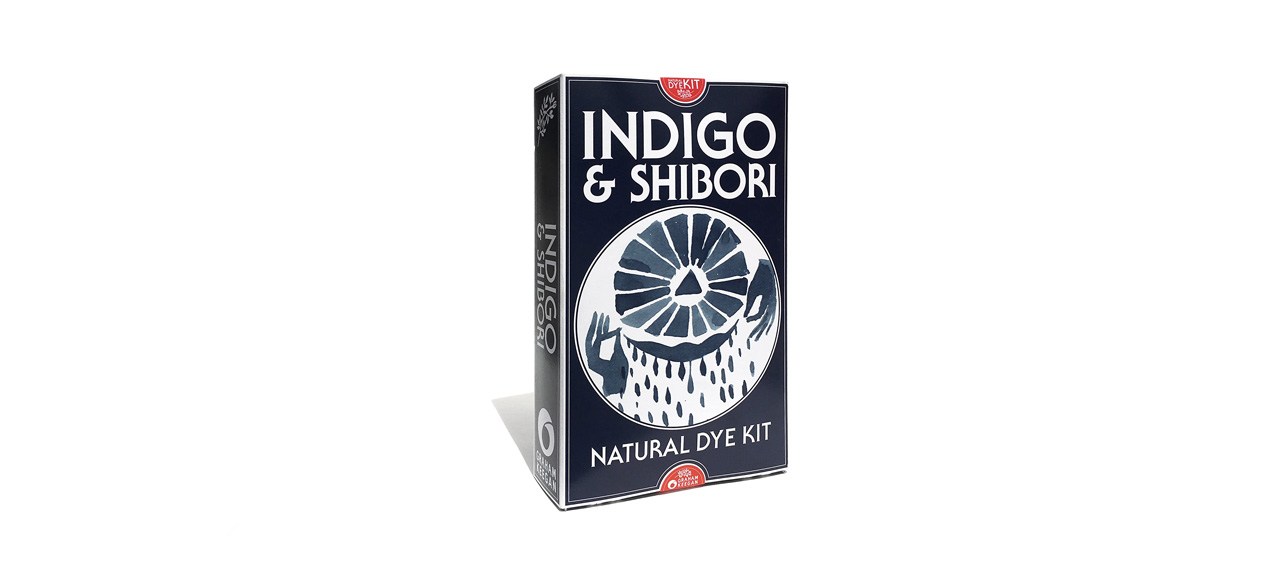 Indigo and Shibori Natural Dye Kit
Shibori tie-dye is a type of Japanese tie-dye that's more delicate than the standard method, as it involves tying multiple small parts of the fabric. This kit contains all you need for shibori dyeing using natural indigo dye.
Sold by Amazon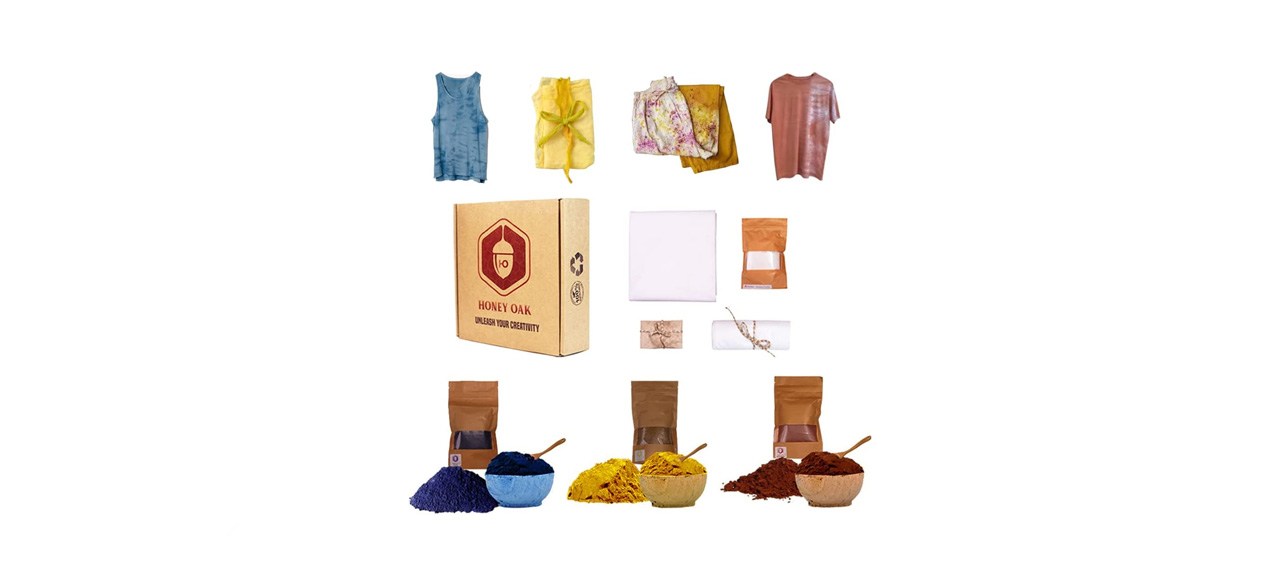 Honey Oak Store Indigo Dye Kit
If you like the idea of using natural dyes but don't want to be limited to just one color, this kit contains natural indigo, sunflower yellow and turkey red dyes. It also includes aprons, gloves, a table cover and elastic bands.
Sold by Amazon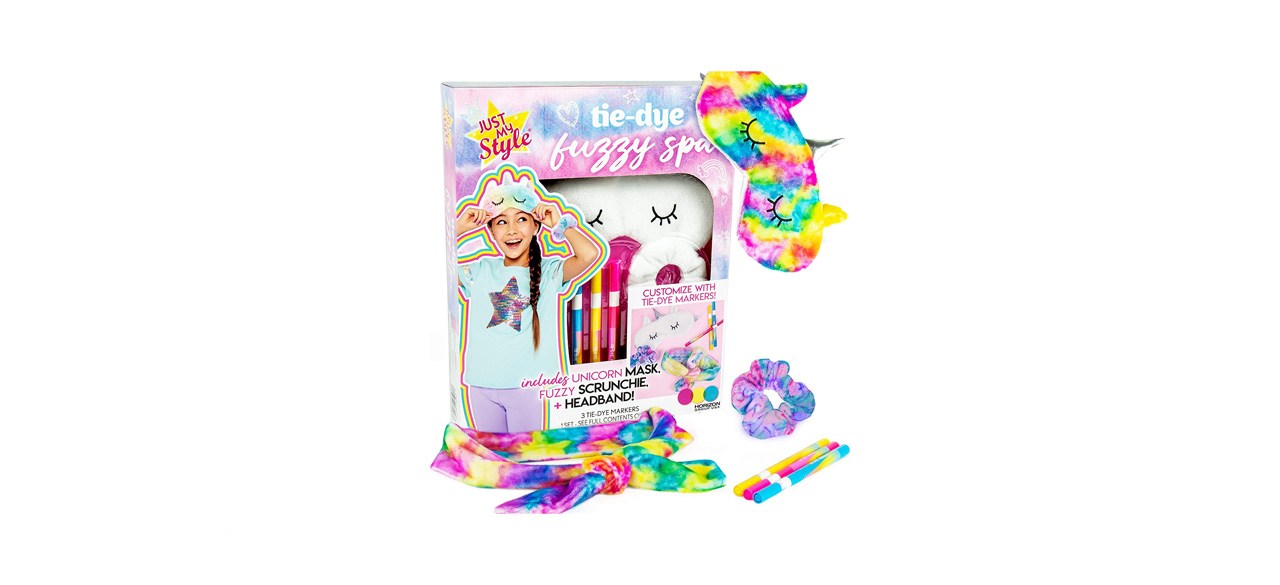 Just My Style Fuzzy Spa Tie-Dye Set
This kit includes three tie-dye brush makers, which minimizes the mess of dyeing, and three accessories. The makers only fit the set, so having more than one child dyeing at once will require extra sets.
Sold by Amazon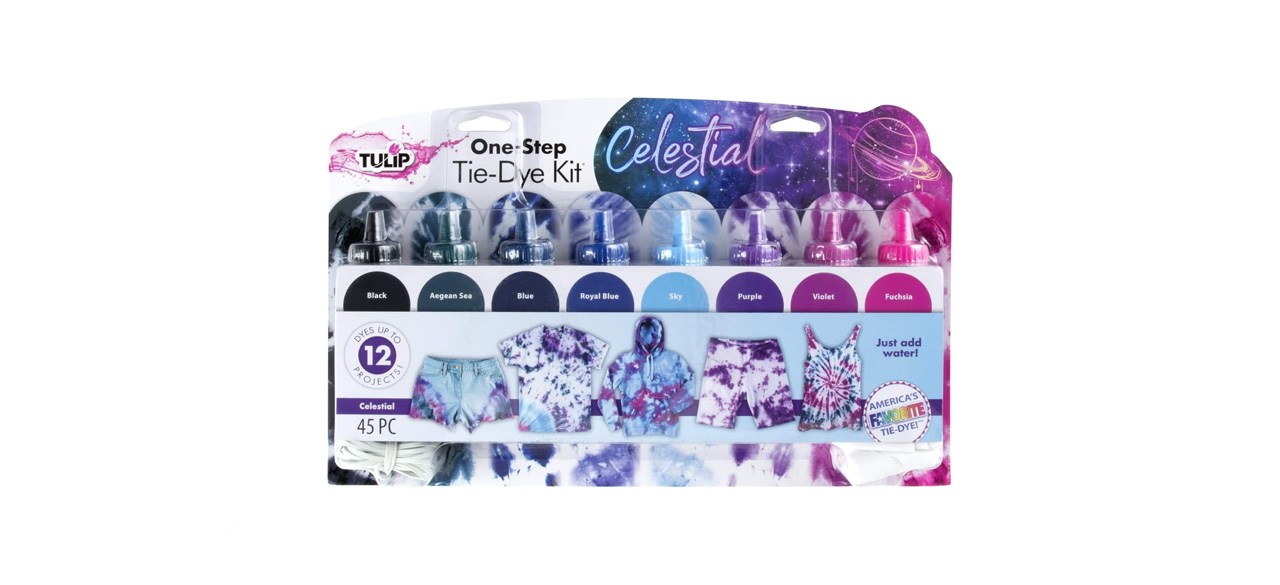 Tulip One-Step 8-Color Tie-Dye Kit
This eight-color kit is available in various color palettes, including celestial, which features rich galaxy hues, and summer splash. You get enough ink for approximately 12 projects.
Sold by Amazon
Best tie-dye kits with more than 10 colors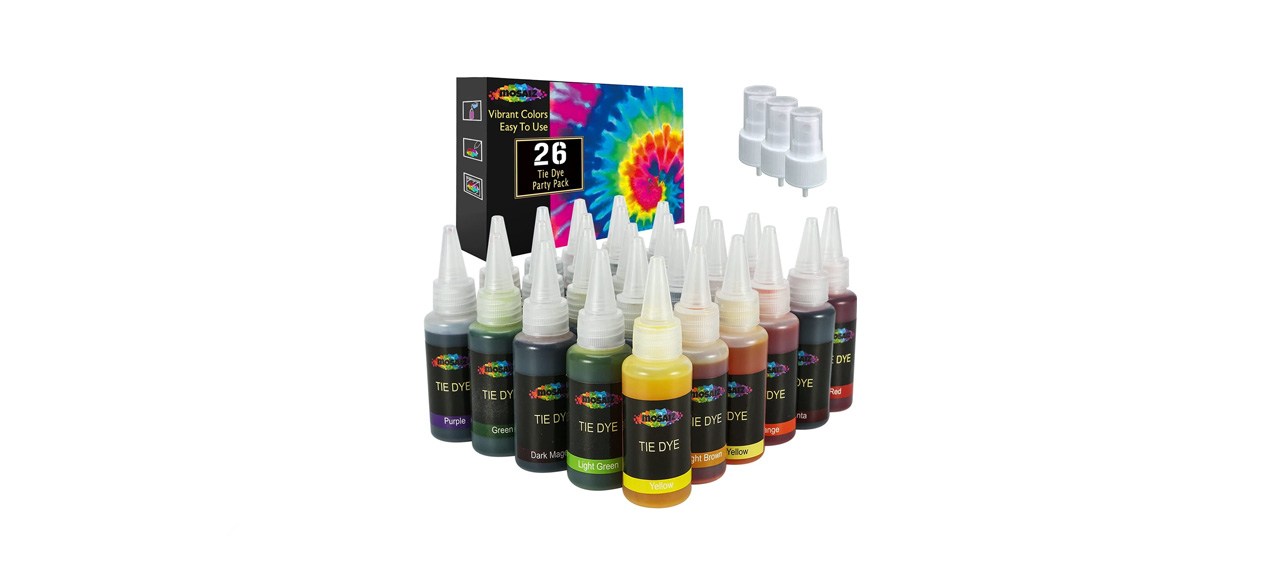 This 26-color kit is perfect for big households or anyone serious about tie-dyeing. In addition to the dyes and squeeze bottles, this kit contains a table cover, three spray nozzles, five aprons and 100 rubber bands.
Sold by Amazon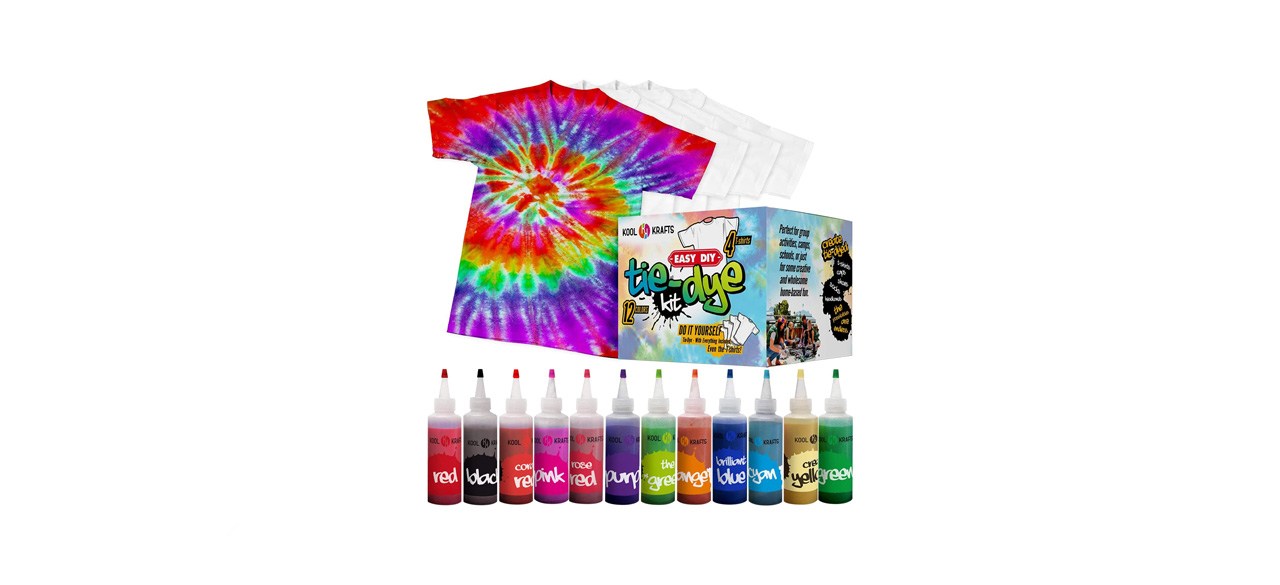 Not only does this kit contain dyes in 12 colors, but it also includes four white T-shirts to dye: two small, one medium and one large. You also get gloves, table covers and rubber bands.
Sold by Amazon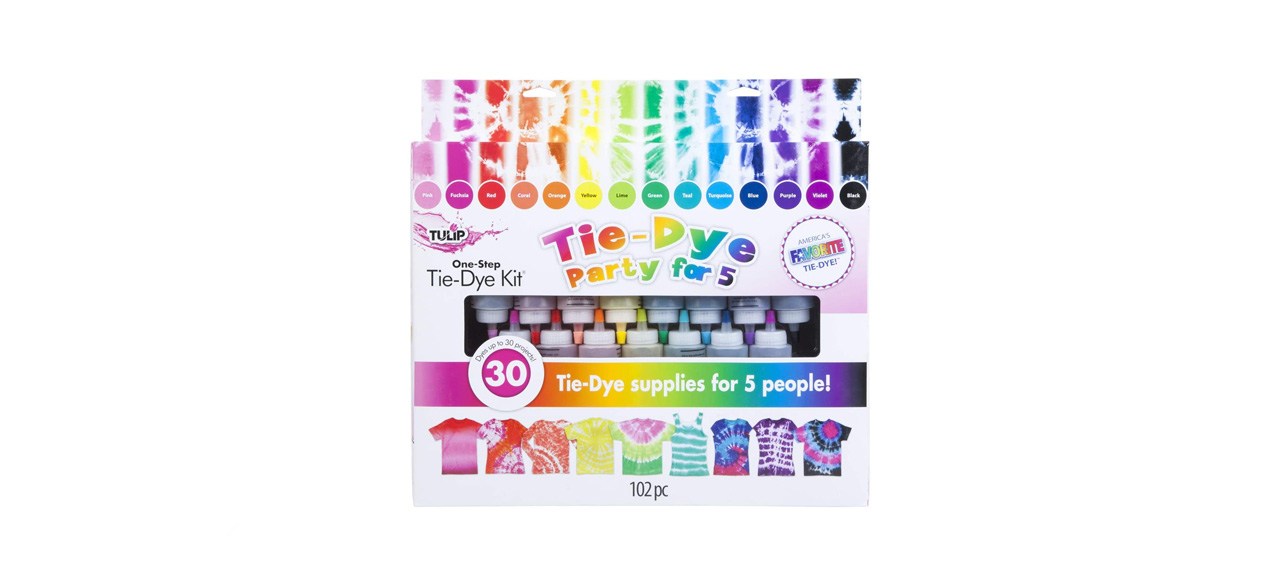 Tulip One-Step 15-Color Tie-Dye Kit
If you want to buy from this popular tie-dye brand but need a greater range of colors, this 15-color kit is ideal. It contains an attractive array of colors and tie-dye supplies for five people. All you need to supply are the garments.
Sold by Amazon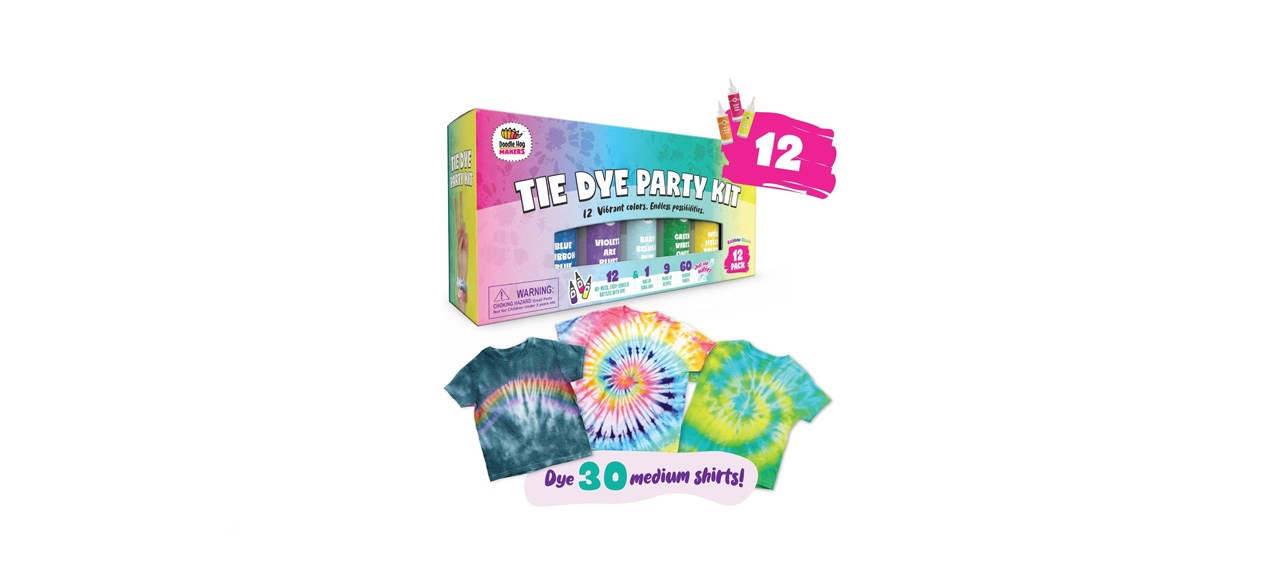 With dye in 12 classic rainbow colors, gloves and rubber bands, this kit contains the basics you need for tie-dye fun. You can also buy packs of 24 and 36, and each contains two and three of each color, respectively.
Sold by Amazon
Want to shop the best products at the best prices? Check out Daily Deals from BestReviews.
Sign up here to receive the BestReviews weekly newsletter for useful advice on new products and noteworthy deals.
Lauren Corona writes for BestReviews. BestReviews has helped millions of consumers simplify their purchasing decisions, saving them time and money.
Copyright 2023 BestReviews, a Nexstar company. All rights reserved.