This is an archived article and the information in the article may be outdated. Please look at the time stamp on the story to see when it was last updated.
Physical activity is vital for helping babies grow into strong toddlers and encouraging preschoolers to hit developmentally appropriate milestones as they enter school. But in the age of tablets, video game consoles and TV, motivating kids to be active can be difficult, especially when the weather is cold and dreary.
We sat down with BestReviews baby and kid expert Dr. Aimee Ketchum to learn about healthy movement in early childhood and creative ways to get children moving on rainy days.
In this article: The Floor is Lava, Little Tikes 3-Foot Trampoline and Nintendo Switch Ring Fit Adventure.
Benefits of physical activity for kids
Movement is essential in the physical development of babies and toddlers. From learning to hold their head up to crawling, walking and jumping, all major milestones are encouraged by healthy movement.
For infants and toddlers, movement activities are great for the development of fine motor skills and gross motor skills. Movement also helps children learn balance and coordination skills.
The Green Hearts Institute for Nature in Childhood says creating a habit of active play in children helps combat obesity and leads to a healthy adulthood. The institute notes many benefits of letting children play in trees or fields rather than equipment-focused playgrounds, such as better concentration, increased inter-gender play and a reduction in symptoms of attention-deficit hyperactivity disorder.
So don't be afraid to let your kids jump in puddles and play with mud on a rainy day.
How to motivate children
Parents know all too well the battle of getting children to move, especially when the temptation of video games or TV is beckoning. The Centers for Disease Control and Prevention recommends a minimum of 60 minutes of physical activity a day for young children, and Ketchum said parents should aim for several hours a day of movement, play, outdoor activity and free movement.
Even babies aren't exempt from movement. Ketchum recommends 10 to 20 minutes of supervised tummy time per day, starting at birth.
To motivate children to move, Ketchum recommends "setting time limits on screen time and providing toys that encourage movement, such as jump ropes, hula hoops, hopscotch, balls, Twister and other play equipment." While she didn't encourage screen time for young kids, Ketchum gave fitness video games, such as Ring Fit Adventure, a pass on rainy days.
Developmentally appropriate movement for kids
"Children need unstructured play where their play is not dictated by adults," said Ketchum. "This helps them to build self-efficacy skills, confidence, problem-solving skills and creativity. Allowing infants to play on a play mat or play gym is great for visual stimulation and strengthening of neck and trunk muscles. Encourage crawling, rolling and movement on the floor."
Along with unstructured play, guided play is also helpful, where a parent or caregiver steers the play by providing specific toys.
"Give toddlers musical instruments to play and dance along," said Ketchum. "Make forts out of sofa cushions to play in. Set up obstacle courses with pillows and things to crawl through and jump on. I also like mini trampolines for toddlers and crawl-through tunnels."
Best games and toys to encourage healthy movement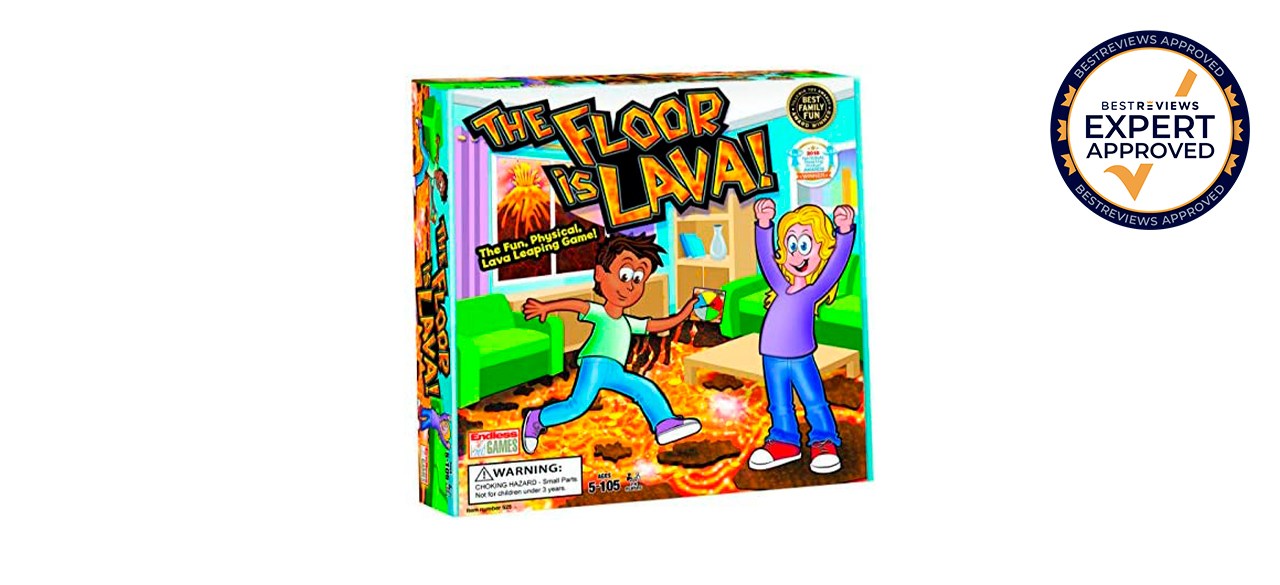 You can promote exciting physical activity with this TV-show-inspired interactive game where players jump from one obstacle to the next to escape molten lava. It comes with 25 foam stones in bright colors, 27 challenge cards and a game spinner. Kids won't even realize they're improving their strength, conditioning and balance while having a blast.
Sold by Amazon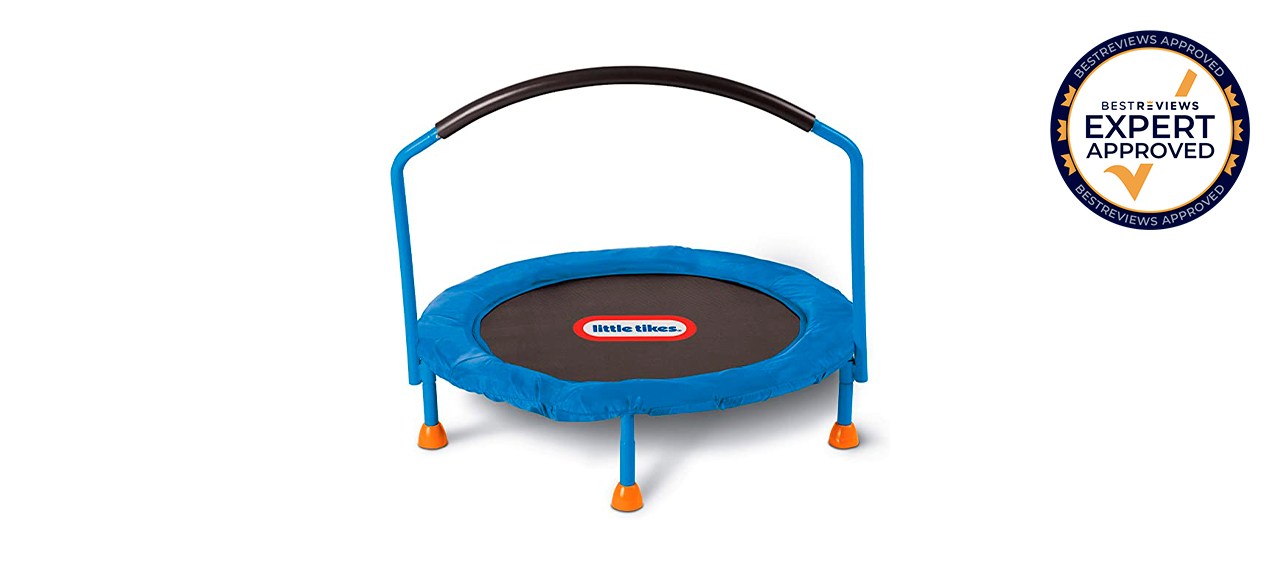 Little Tikes 3-Foot Trampoline
Ketchum recommends a mini trampoline for kids to encourage balance, coordination and strength. This model includes a handlebar for stability wrapped in foam to keep little ones safe. Kids will burn energy and stay active as they bounce for hours.
Sold by Amazon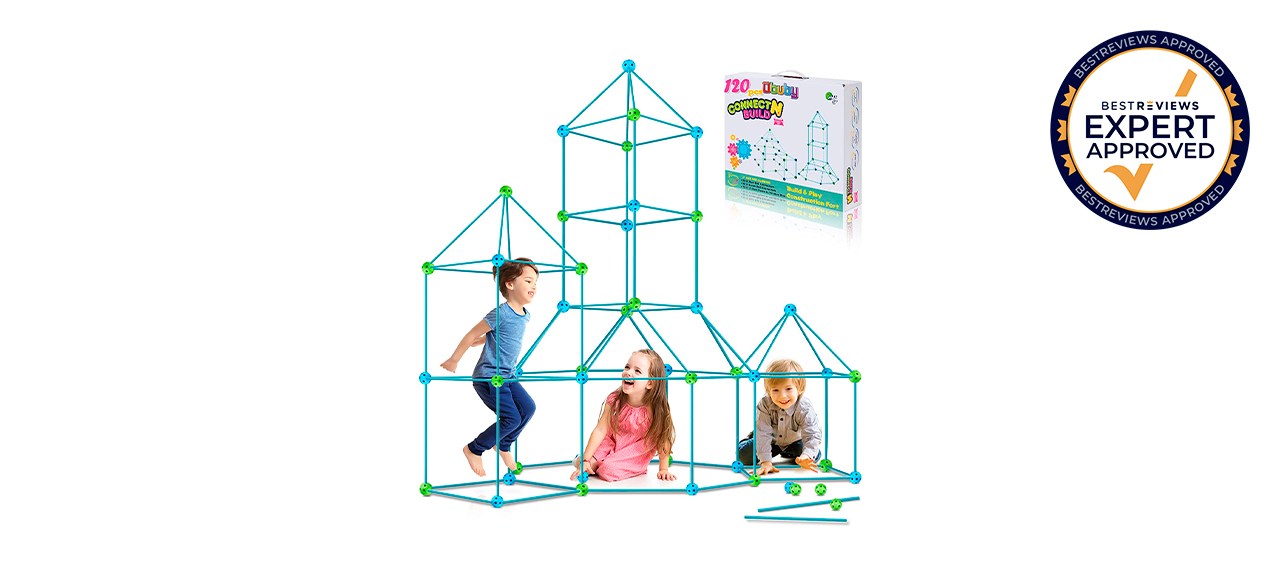 In addition to exercising their creativity, this fort-building kit also helps kids exercise their bodies by building any structure their minds imagine, such as a rocket ship or princess castle. Kids can insert and twist the 75 sticks into the 45 balls independently and disassemble them in minutes.
Sold by Amazon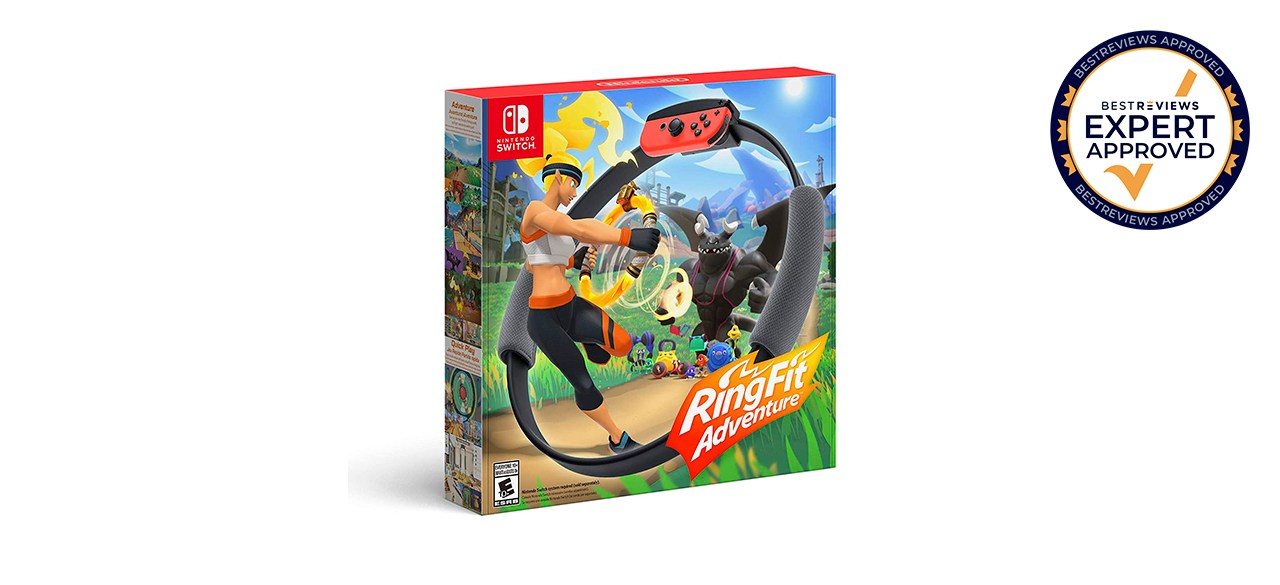 Nintendo Switch Ring Fit Adventure
Even if you aren't a fan of video games for kids, this adventure game is the perfect way to get kids moving on a rainy day. They can explore a new world and defeat enemies while exercising in real life, including jogging and high-knee movements.
Sold by Amazon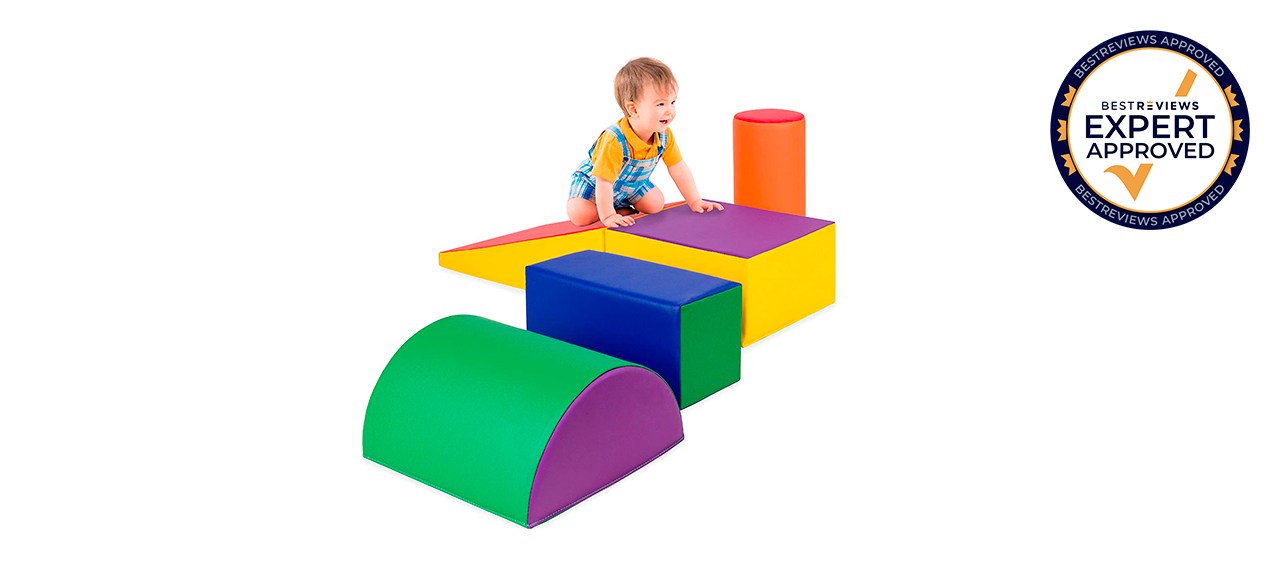 Best Choice Products 5-Piece Kids Climb and Crawl Soft Foam Blocks
Toddlers need physical activity, too, and these climbing blocks provide an ideal surface for climbing, exploring and exercising muscles. Plus, they help develop coordination and gross motor skills. The vinyl surface also makes these blocks effortless to wipe down and keep clean.
Sold by Amazon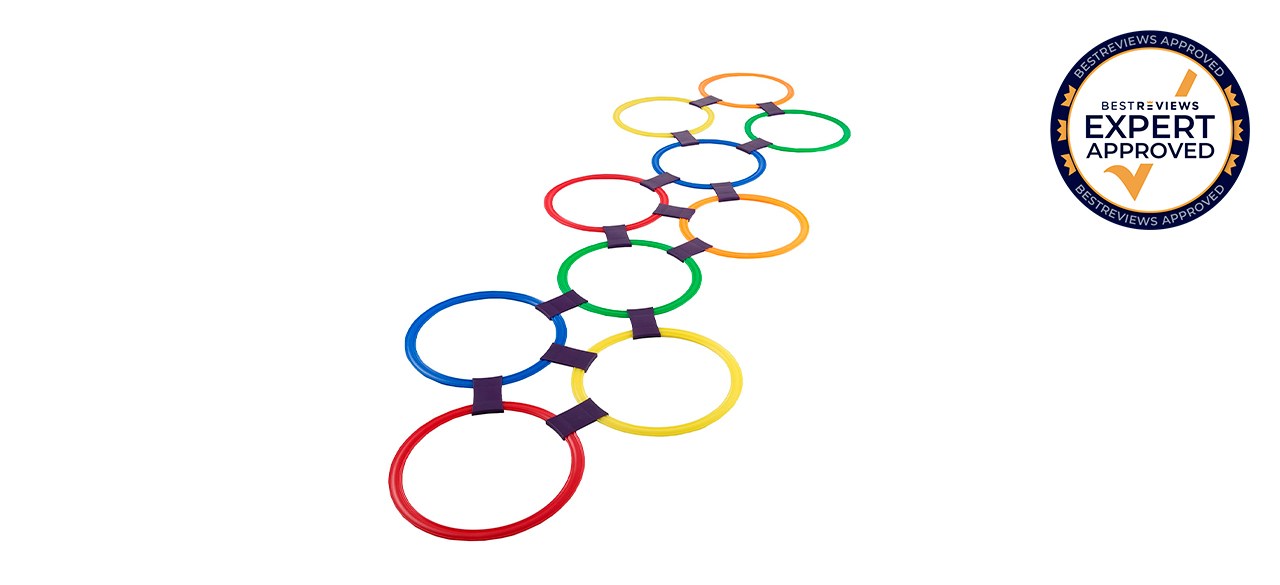 Hey! Play! Hopscotch Ring Game
From gross motor skills to balance to coordination, this hopscotch ring game boasts excellent benefits during a rainy indoor day. The set includes 10 colorful rings and 15 easy snap connectors kids can use to set up in any configuration.
Sold by Amazon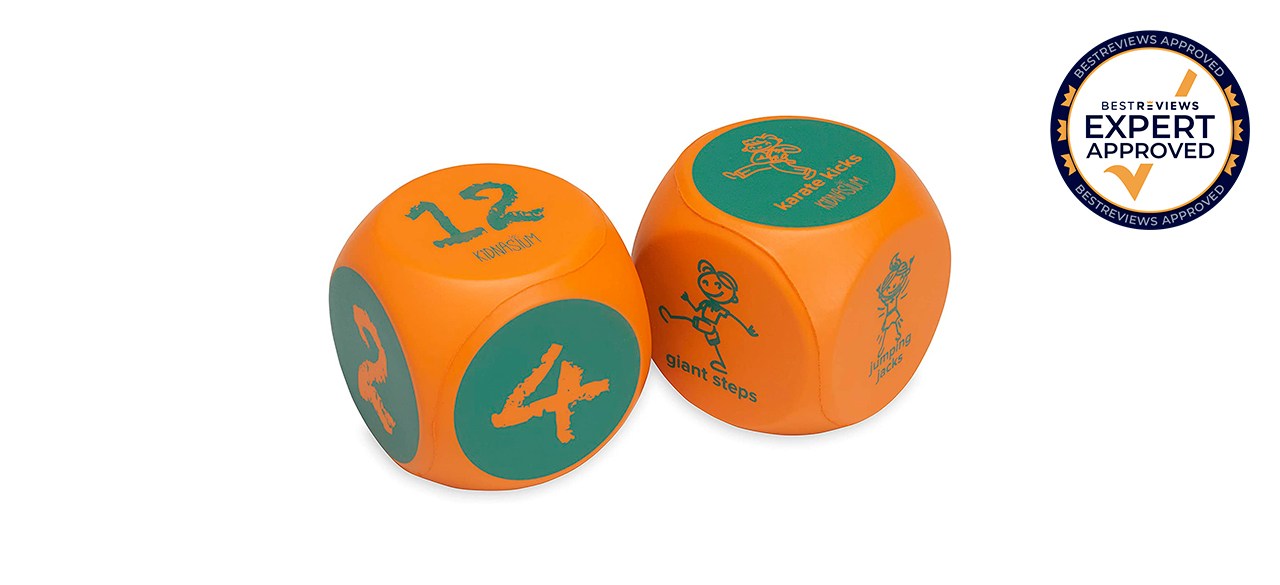 Engage children's bodies indoors, thanks to these exercise dice. One die contains a number, while the other has both a drawing and words of an exercise, such as crab walks and jumping jacks. Combine the dice for healthy movement and excitement.
Sold by Amazon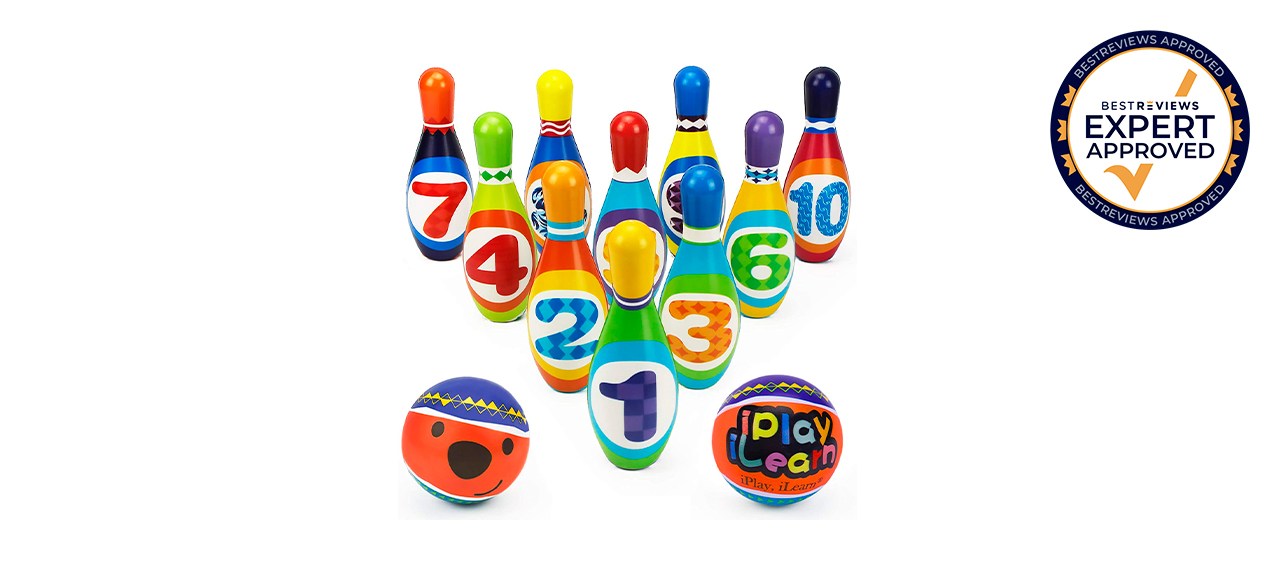 iPlay, iLearn Kids Bowling Toy Set
Soft foam material and miniature balls make this bowling set great for little hands. It comes with 10 pins and two balls that are the perfect size for indoor play or taking on a playdate. Miniature bowling teaches eye-hand coordination and balance.
Sold by Amazon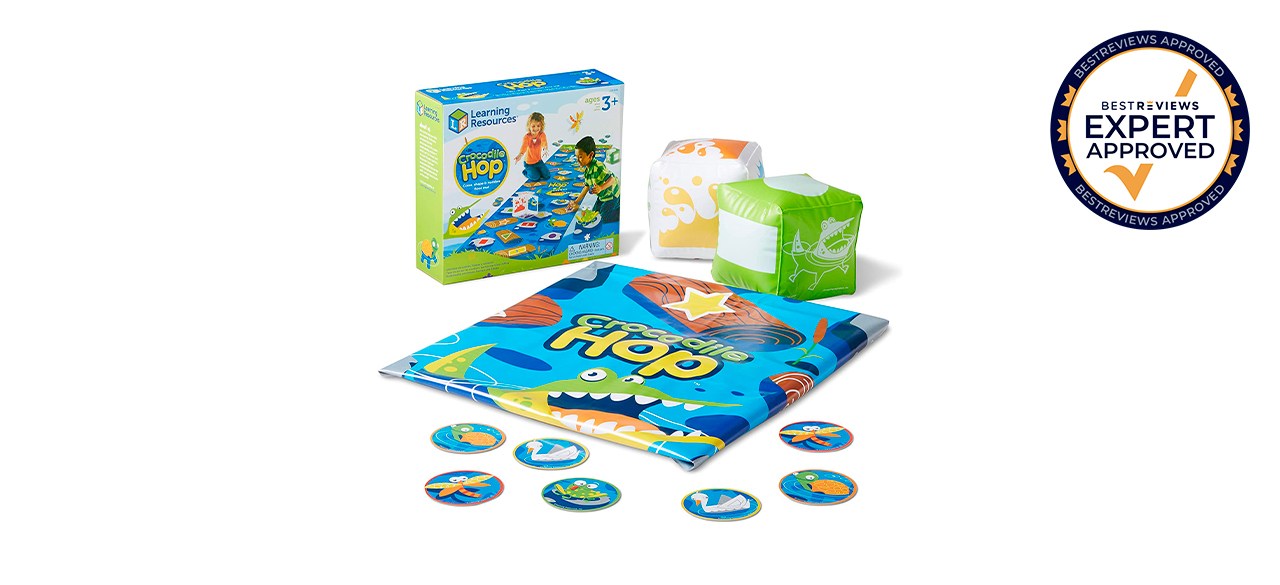 Learning Resources Crocodile Hop Floor Game
From learning colors and shapes to following directions to gross motor skills, the benefits of this floor game are almost endless for little ones. Simply roll the inflatable cube and make your way across the 100-inch vinyl mat.
Sold by Amazon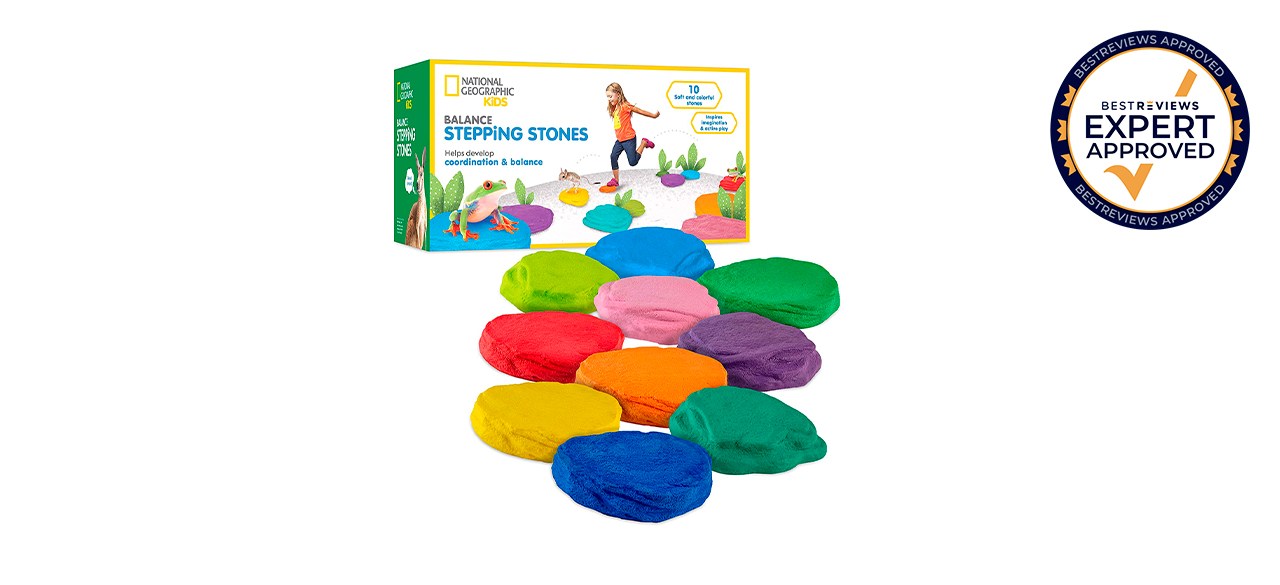 National Geographic Stepping Stones For Kids
This set comes with 10 soft foam stones in bright colors that kids can use to create an obstacle course. In addition to inspiring imagination, these stones get kids moving, while developing balance and coordination.
Sold by Amazon
Want to shop the best products at the best prices? Check out Daily Deals from BestReviews.
Sign up here to receive the BestReviews weekly newsletter for useful advice on new products and noteworthy deals.
Bre Richey writes for BestReviews. BestReviews has helped millions of consumers simplify their purchasing decisions, saving them time and money.
BestReviews spends thousands of hours researching, analyzing, and testing products to recommend the best picks for most consumers.
Copyright 2023 BestReviews, a Nexstar company. All rights reserved.