A twin-turbocharged 5.5-liter V-8 known as the LT7 has been rumored for years as the engine of choice for the C8-generation Chevrolet Corvette ZR1, and it may have just been confirmed by a parts catalog listing.
A member of the Mid Engine Corvette Forum noted a description for a turbo adapter in an alleged General Motors parts catalog, listed for a "5.5L-LT7" engine. It's a strong indication that the rumors of a turbocharged Corvette ZR1 are true.
A new ZR1 has been expected since the mid-engine C8 Corvette's arrival, sitting atop the base Stingray, the E-Ray hybrid, and the Z06. GM hasn't announced a new ZR1, but prototypes thought to be exactly that have been spotted testing at the Nürburgring in recent months.

The engine rumors point to a twin-turbocharged version of the 5.5-liter V-8 found in the Z06, which is why the parts catalog find is such a big deal. The naturally aspirated Z06 engine is codenamed LT6, so it would make sense for the ZR1 version to be designated LT7.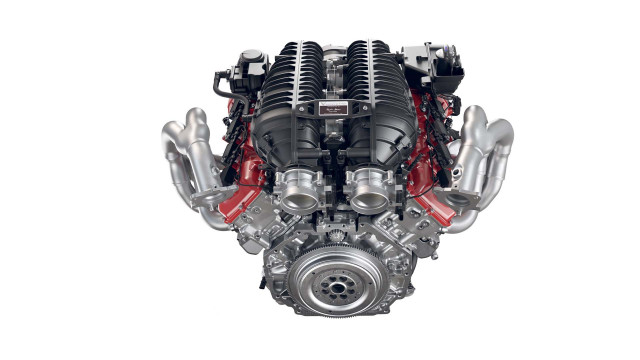 2023 Chevrolet Corvette Z06
Such an engine would have a lot to live up to. The LT6 is the most powerful naturally aspirated production V-8 ever, producing 670 hp. It's also an engineering work of art, boasting a flat-plane crankshaft, dual overhead cams, dry-sump lubrication, and a redline of 8,600 rpm.
The twin-turbo LT7 is expected to produce even more power—rumors suggest 850 hp—to be routed to the rear wheels through an 8-speed dual-clutch automatic like the Stingray and Z06. Camouflaged prototypes also have a wide-body design, with additional aerodynamic aids compared to the Z06.
The ZR1 is expected to debut as a 2025 model, but fallout from recent strike action, as well as supply chain issues, could push it back to 2026.
Chevy may not finish there, though. The automaker is thought to be developing an even more extreme Corvette variant called the Corvette Zora, in honor of early Corvette engineer Zora Arkus-Duntov. This variant is rumored to combine the ZR1 engine with the front-axle electric motor from the Corvette E-Ray to make an all-wheel-drive hybrid with as much as 1,000 hp.
Related Articles